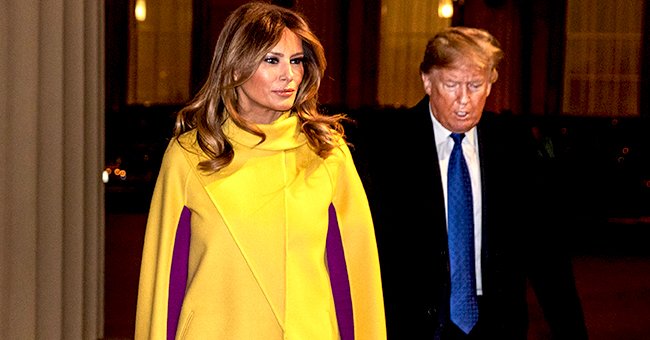 Getty Images
Melania Trump Pairs $7,700 Bright Yellow Cape Coat with Magenta Dress for Visit to Buckingham Palace
Melania Trump dressed exquisitely for her visit with the royal family in London. Wearing a full-blown cape, she looked like she was also ready to save the queen.
On Tuesday, Melania Trump joined husband Donald Trump for tea with Prince Charles, 71, and Camilla, 72, at Clarence House before going to a NATO reception.
During the first event, Melania went with a Valentino wool coat that exuded grace and elegance as she greeted the royals. Photos are found below.
Melania Trump takes a portrait in the White House in Washington, DC in April 2017 | Photo: Getty Images
Melania's pricey dress
The 49-year-old former model's dress was priced at $7,700, reported the New York Post. She paired it with magenta suede Christian Louboutin stiletto pumps.
The shoes perfectly matched the mostly-hidden magenta dress Melania wore underneath the bright yellow gown. Just the sleeves of the dress were visible, starkly contrasting the cape.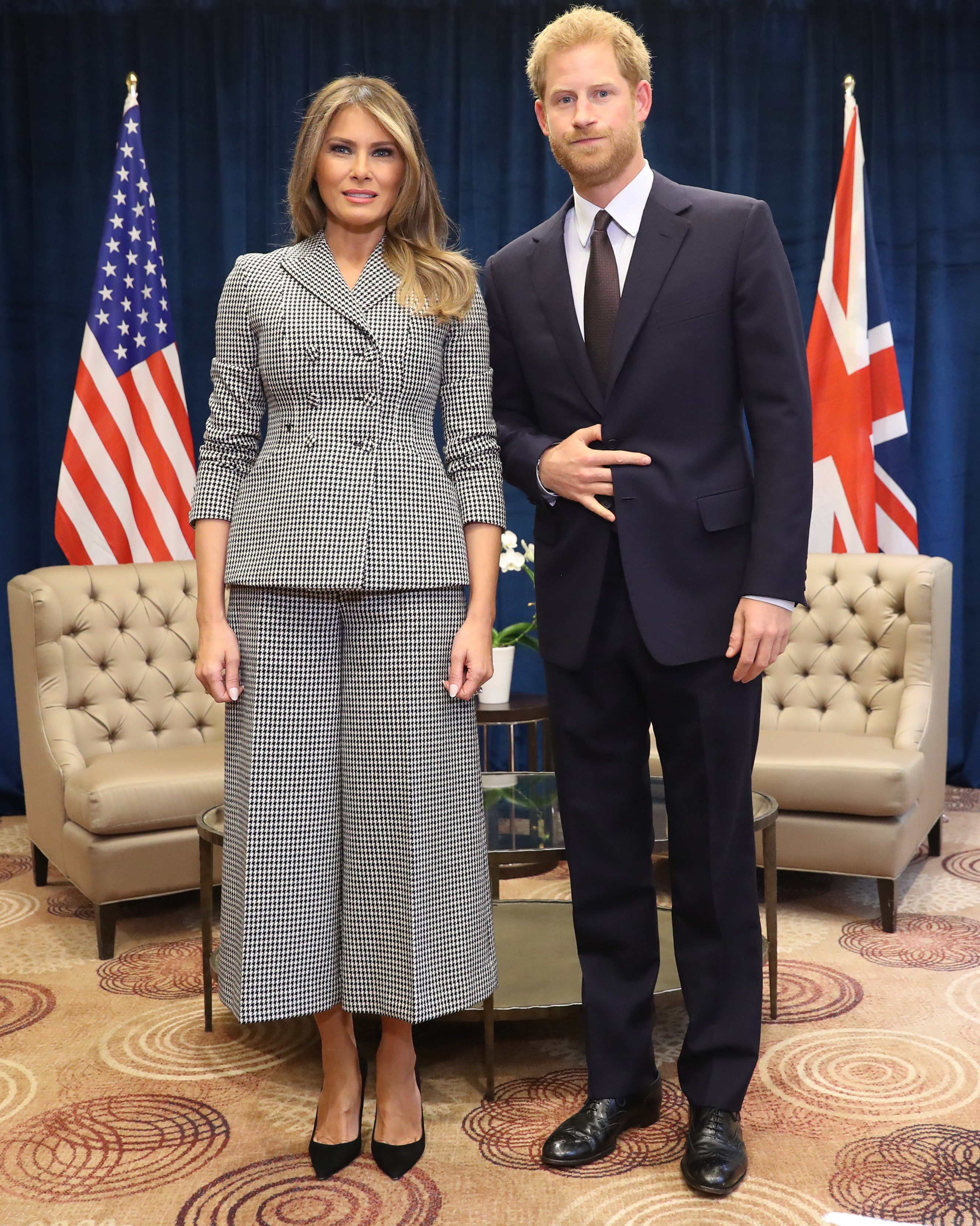 Melania Trump poses with Prince Harry at the Invictus Games in Toronto, Canada on September 23, 2017 | Photo: Getty Images
The yellow piece itself featured an asymmetric design, modest pockets, and a high neck. The cape-like sleeves went down the full length of the ensemble.
Who missed the event
Melania wore her hair in her signature loose waves and had on a full face of makeup. President Trump wore his usual suit and tie for the affair.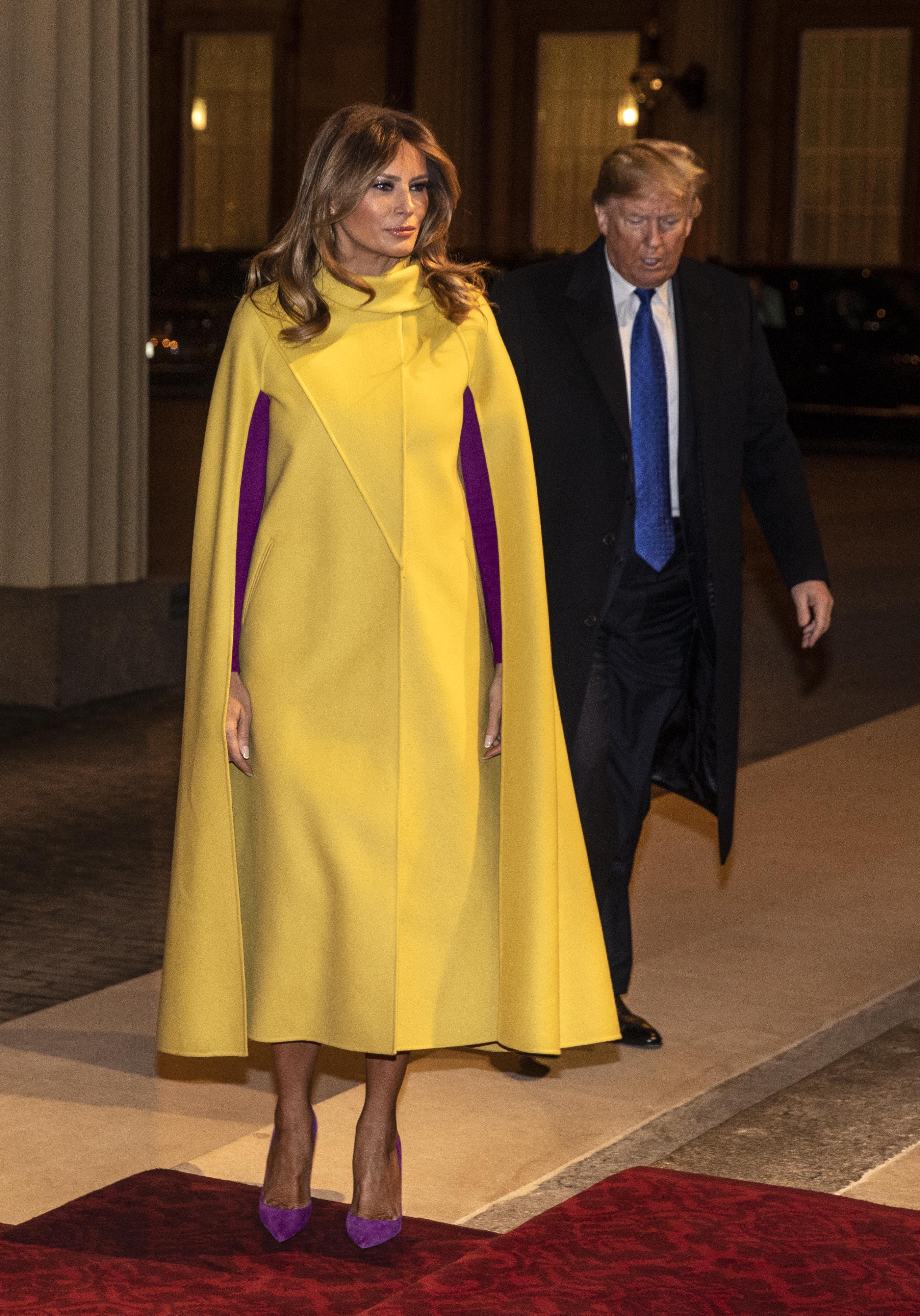 Melania Trump attends a NATO leaders reception in Buckingham Palace, London on December 3, 2019 | Photo: Getty Images
When the couple later attended the NATO summit hosted by the queen, they saw Kate Middleton — without husband Prince William. Prince Harry and Meghan Markle were also absent.
William is out in Kuwait performing his royal duties while the Duke and Duchess of Sussex have taken some time off to bond as a family. As the holidays approach, Melania also did something joyful.
White House decorations
A couple of days before she flew off to London, the First Lady revealed the White House Christmas decorations for this season. This year, it was a white affair in DC.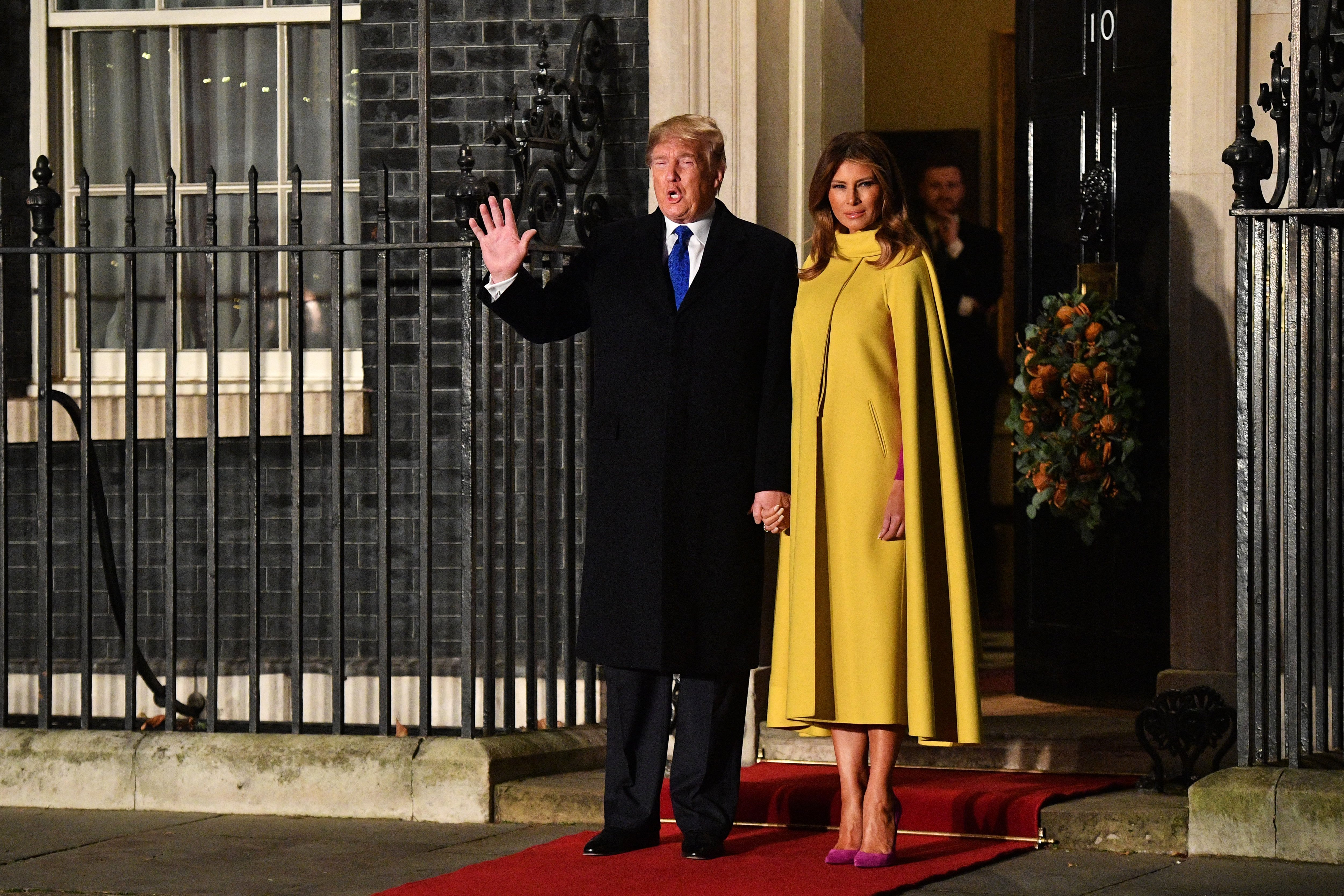 Donald Trump and Melania Trump attend the NATO Summit in London, England on December 3, 2019 | Photo: Getty Images
To represent the theme, "The Spirit of America," numerous white roses littered the White House halls. Christmas trees of all sizes were decorated with white holiday lights.
The Winter Wonderland also featured imitation snow underneath the trees. There were 58 Christmas trees, over 15,000 bows, and 2,500 strands of light reportedly used.
Melania's white ensemble
For her part, Melania also wore white in the clip she shared of her showing off the various decor. Other rooms had different themes, with at least one containing a heap of red roses.
Melania wore a white sleeveless dress with a long coat as she strolled through the White House demonstrating some of the attractions. We hope she enjoyed seeing the royal family's 20-foot Christmas tree in London.
Please fill in your e-mail so we can share with you our top stories!