Princess Anne Appears to Shrug at Queen Elizabeth as the Royals Greet Donald & Melania Trump at Buckingham Palace
Princess Anne is caught on camera, shrugging at her mother, Queen Elizabeth, during her meet and greet with President Donald Trump and Melania Trump at the reception for the NATO summit.
During Queen Elizabeth's personal welcome with her guests during the NATO reception, a moment caught between the Queen and her daughter has many people speculating about their interaction.
Shortly after shaking hands with President Donald Trump and Melania, the Queen look's over to Princess Anne, who responds by giving her shrug.
Is Princess Anne in trouble?

The Queen appears to glance awkwardly at Princess Anne who responds with a shrug 👀🤷‍♀️ as the royals greet US President Donald Trump and the First Lady at Buckingham Palace.

More here: https://t.co/oHytOtFUl7 pic.twitter.com/KKs9y9BgQe

— Sky News (@SkyNews) December 4, 2019
It was speculated the gesture was either a sign of a disagreement between the two or an outright snub towards Trump and his wife.
Setting the record straight, a royal inside, Valentine Low, shares his version of events on Twitter and disputes all the negative speculation surrounding Anne's response to the Queen.
OK, here goes... Princess Anne: the truth. No, she didn't snub the Trumps. And she wasn't told off by the Queen.
1/5

— valentinelow (@valentinelow) December 4, 2019
Valentine says he got the information from Laura Elston of the Press Association. He reveals that she was an impartial witness to interaction who shared the real story with him.
He says that what actually occurred was that the Queen turned to Anne after greeting the Trump's to prepare herself for the arrival of the next world leader waiting to greet her.
However, she was not made aware that the U.S leaders were the last people in the line waiting to meet her. With no one else left to greet Anne responded with a shrug, Valentine goes on to explain saying:
"Anne raised her hands in the air, laughed and said: "It's just me," adding a moment later "and this lot" as she pointed to the members of the household behind her."
The interaction between the Queen and Anne is trending on Twitter, with people enjoying the somewhat normal interaction between Anne and her mother.
Many people are expressing their adoration for the rarely talked about only daughter to the Queen and Prince Philip.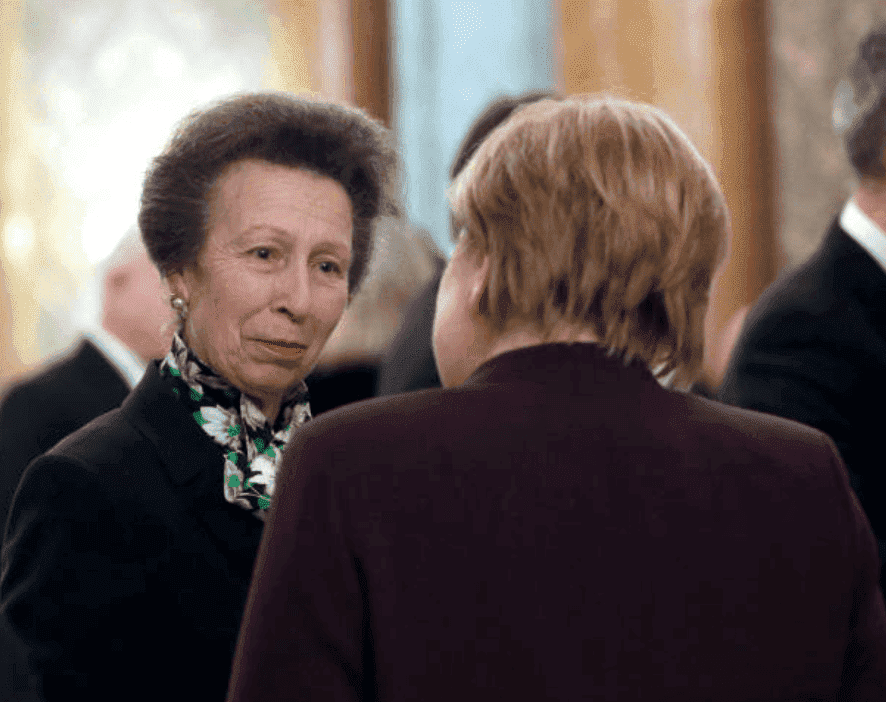 The Queen's greeting wasn't the only thing to steal the show. Melania's yellow Valentino coat dress and Fusia heels had her standing out from the crowd.
During international engagements, the FLOTUS is often styled in a way that honors her hosts. For the NATO reception, she chose to honor the Queens personal style preference for bright colors.