Zach and Tori Roloff's Toddler Son Jackson Kisses Newborn Sister Lilah in Video
"Little People Big World" stars, Zach and Tori's son, Jackson is seen kissing his sister, Lilah Ray in an adorable video. 
Toddlers are known to give out mixed reactions when a newborn is added to the family, ranging from outright love, curiosity to jealousy.
Anyhoo, Jackson Roloff, is one of the many toddlers who are love-struck by their new sibling. The youngster is happy to be a big brother. 
Tori Roloff shared a video of her little boy planting a kiss on the newborn's forehead while she and Zach looked on. In the short clip posted on the reality star's Insta story, the new mom is heard instructing her son to kiss his sister on her head.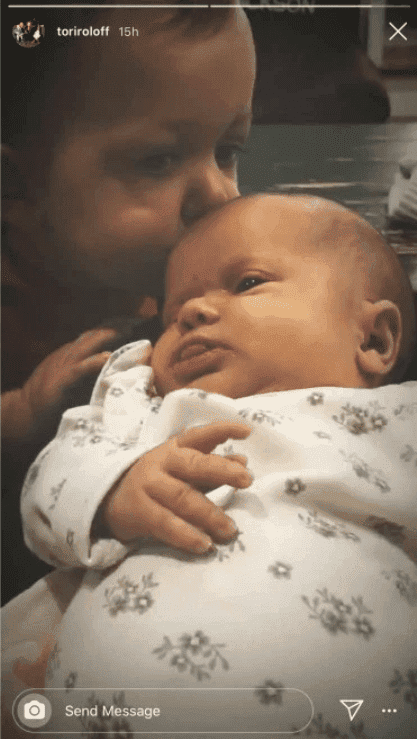 This is not the first time two-year-old Jackson is kissing his sister. The 'LPBW' star shared a clip of the adorable tot kissing her bump while she was pregnant. 
The reality star couple welcomed their new addition, daughter Lilah Ray Roloff on November 19. The TLC announced her daughter's birth via an Instagram post.
 The new mom has been in high spirits since she welcomed Lilah as she has taken to Instagram to splatter pictures of her precious one. 
Tori and Zach aren't the only ones excited at welcoming their daughter. The matriarch of the Roloff family, Amy Roloff, is seemingly ecstatic at welcoming her third grandchild. The grandma who can't wait to spend "grandma time" with Lilah relayed her joy in an Instagram post. 
While fans are eager to know if the newborn inherited dwarfism, the reality star couple is keeping mum about it. Tori revealed that she and her husband chose to be in the dark about their daughters' condition. 
The TLC star's claims are, however, contrary to that of her mother-in-law. According to In Touch, the matriarch of the family told fans in a now-deleted Facebook live video that the little one will have the same dwarfism as her father Zach and brother, Jackson. 
The 29-year old, although basking in the joy of birthing a new child, didn't have an easy pregnancy. The mom opened up to fans about her difficult pregnancy in an Instagram post.