Chrissy Teigen Shares Video of Luna Singing Made-Up Song That Starts out Cute but Ends up Being Creepy
Chrissy Teigen captures her daughter, 3-year-old Luna, singing mindlessly to a made-up song and the lyrics are very interesting. This sweet little girl is just full of surprises.
34-year-old Chrissy Teigen never ceases to post adorable moments of her children on social media. She yet again captured one of such moments when her daughter Luna 3 was giving tunes to made-up lyrics.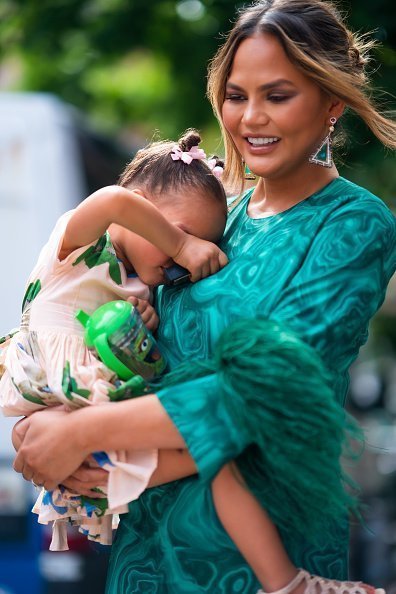 Toddlers are known to hum a tune mostly during their playtime, and Lucy isn't any different. But unlike the others, the words to the song Luna formed are scary.
In the video, the 3-year-old holding a knit-up doll starts by singing "mama love you" and "mama's gonna put you to bed," but the toddler switched it up to a hundred in a blink of an eye as she sang on,
"mama loves you as much as she loves all the dead."
Well, Lucy didn't end there, she continued, "All the deads / All the deads / All the people are red or dead/ Red or dead, " she hummed softly until her mother ended the video. The stunned mom was out of words as her caption implied: "What!"
Chrissy didn't have to fight this alone as her husband was solidly behind her
Earlier that day, Chrissy posted a picture of her daughter standing by the fireplace with a big smile. The mother of two told her audience that the tot had pretended to be ill so she could skip school. 
The video left the supermodels followers in stitches as it garnered a lot of hilarious comments. One follower wrote:
" This makes perfect sense coming from your baby lol. You love dark humor!"
The adorable family of four sure does know how to make parenting look easy. The beautiful family graced the cover of the October issue of Vanity Fair. Behind the scenes of this media perfect couple was a mother who struggled with postpartum depression.
The supermodel turned TV host was candid about the difficulties she faced after she gave birth to her daughter Luna. Chrissy didn't have to fight this alone as her husband was solidly behind her.
The singer who just got named the sexiest man alive shared with People that seeing his wife in that state deepened his emotions for her. Although Chrissy loves being a mom to Luna 3, and Miles 1, the TV host is stepping on the brake pedal for now.
The social media savvy mom tweeted alongside a picture of a playing Miles that she is "good with two" for now.