Chrissy Teigen Claps Back at Trolls Accusing Her of Not Covering up Enough around Daughter Luna
Chrissy Teigen claps back at trolls trying that criticize her outfit during a tender behind the scenes mother-daughter moment with Luna, at a photo shoot.
Chrissy Teigen just proved why she has been dubbed the queen of social media clap backs. During a recent photo shoot, she shared a behind the scenes moment with her daughter, Luna. She captions the moment:
"On set with my stylist."
The picture shows Chrissy wearing a peach blazer sitting on a wooden staircase, with her daughter. Dressed in a zebra-print dress with a bow placed on top of her head, Luna helps to adjust her mother's collar.
In typical fashion, the family pictures of "PEOPLE's Sexiest Man Alive", always have fans gushing over how adorable their children look. 
Cute, adorable, beautiful, and sweet are just some of the words that have accompanied the post, which has received over 1 million likes on Instagram.
In the middle of all the positive feedback, Chrissy also has to deal with the opinions of her ever-present trolls. One follower comments on her low cut blazer and says:
"Do you ever wear underwear?"
During an episode of the "Kelly Clarkson Show", Chrissy admitted that is takes a lot to get to her. Proving just how tough her skin is when it comes to haters, she replies to the question about whether she wears under and jokes:
"You cold up there?"
It wasn't long before the trolling turned to mom-shaming over her choice of outfit. Stilling focusing on the sexy blazer, another follower says:
"Jesus cover up your daughter is right there."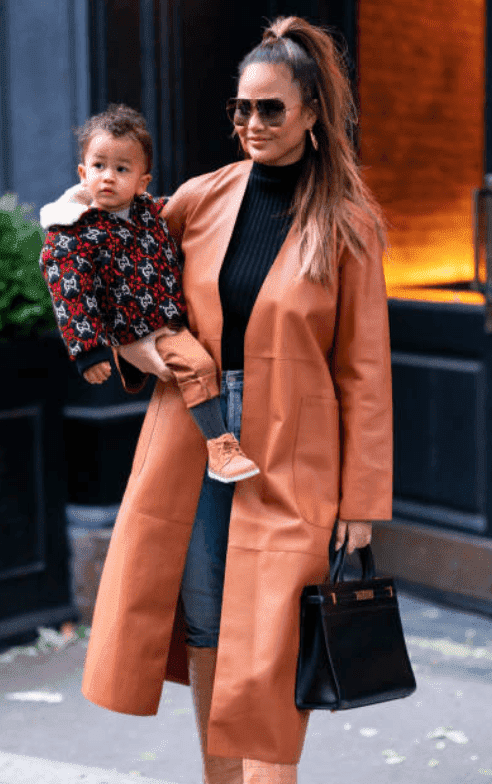 Almost a year ago, Chrissy was targeted by trolls over a picture she shared breasting her new-born son, Miles, and Luna's doll. 
Handling the comment like she did during the last controversy, she responds to her latest critic, saying:
"She sucked it for months and doesn't mind it much."
Although Chrissy enjoys sharing pictures of her children on social media, she admits to Vanity Fair that she worries about how it is affecting her daughter.
She revealed to the magazine that three-year-old Luna is already starting to understand how social media works and sometimes asks her about what haters are going to say about their pictures.