Sting and Shaggy Shared the Stage at the Rainforest Fund's 30th-Anniversary Benefit Concert
The Rainforest Fund held a star-studded benefit concert on Monday, and non-other than the organization's founding member, Sting took the stage with Shaggy among other artists in aid of the Indigenous people.
In celebration of the organization's 30th anniversary, Robert Downey Jr. hosted the event that included guests such as John Mellencamp, Ricky Martin, Bruce Springsteen, among others at the Beacon Theatre in New York. 
Tonight at the Beacon, Sting & Friends banded together for the 30th Anniversary Benefit Concert for The Rainforest Fund. 🌴🦧🌺 (📸: @KevinMazur / Getty Images for the Rainforest Fund) pic.twitter.com/jLzHEcXN7O

— Beacon Theatre (@BeaconTheatre) December 10, 2019
The benefit concert focused on the artists and songs of the 80s and 90s, a time when "music and activism united to change the world," according to the fund's website. Profits made from the evening are earmarked for the support and protection of the Indigenous people and their land.
Sting looked dapper in a black double-breasted suit when he arrived on the red carpet with his wife Trudie for the big event. Matching in style, Trudie looked stunning in a long-sleeved black dress. 
Once the concert got underway, Sting and Shaggy took the stage together, among others, and the reggae musician couldn't help but share pictures of time spent with other legendary musicians such as Bruce Springsteen. 
However, Sting and Shaggy are used to sharing the stage by now. The two toured their Grammy-winning album "44/876" across the UK in May, and the songs are said to be reminiscent of hits from both artists.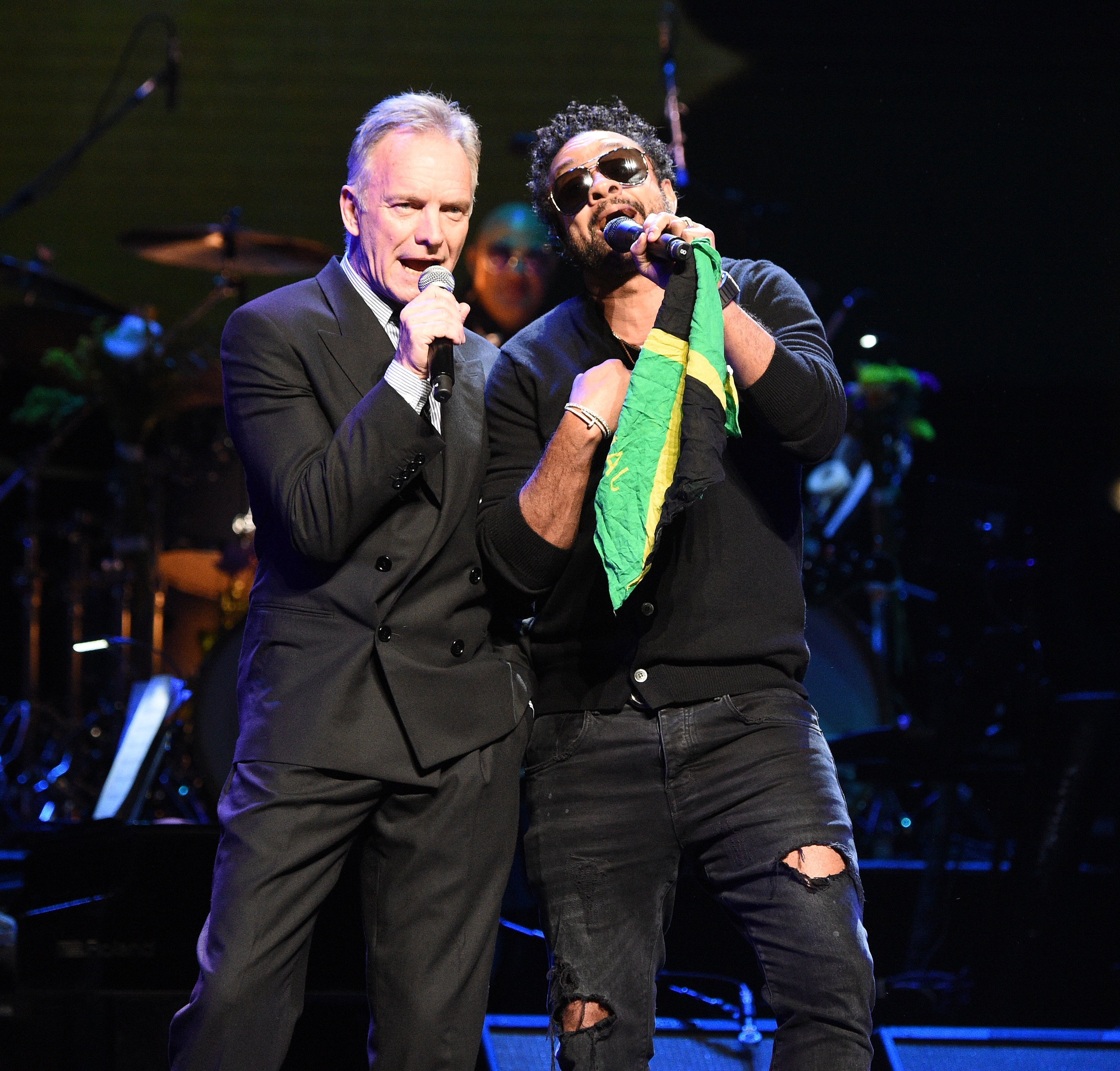 Next year Sting will continue his busy schedule with "The Last Ship" tour of his musical kicking off in Los Angeles on January 14, 2020. Shortly after the tour's last performance in Detroit on April 26, 2020, Sting will get ready for his "My Songs: The Las Vegas Residency" at Ceasers Palace in Las Vegas from May 22 until September 2, 2020.
In between his Las Vegas Residency, Sting will also do a European "My Songs" tour during June and July, which will start in Dresden, Germany, and end in Merida, Spain. The singer also announced today that an extra show in Linz, Austria, has been added to the tour on July 26.
Relatedly, legendary  57-year-old singer Paula Abdul recently began her residency in Las Vegas titled "Forever Your Girl."
Following years of being an onlooker, Paula almost felt it surreal that she would be the one on the stage in the city that never sleeps. "I can't believe it's here," she said.