Eric Trump's Wife Lara Shares Cute Pic of Son Eric Next to Their Christmas Tree
Eric Trump's wife shares a picture of their son getting up to some mischief and playing with the ornaments on the family Christmas tree.
Lara Trump just shared a very relatable picture of the first moments after putting up their brightly decorated Christmas tree. In a caption directed at her husband, Eric Trump, she joked:
"As promised, here he is, trying to destroy the tree. ? #ToldYouDad ?."
Lara and Eric have two children together, a son Luke Eric Trump and a daughter, Carolina Dorothy Trump. They welcomed their daughter in August.
So it is safe to say the couple has their hands full with their newborn and toddler. Writer, Ryan Moore responded to the picture and suggested alternative uses for Luke to make with the ornaments.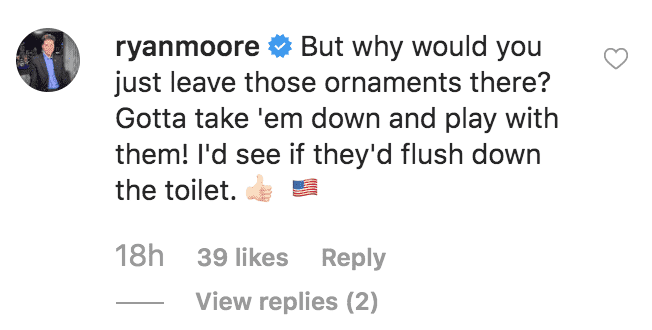 Understanding the challenge of expecting a toddler not to be drawn to the shiny ornaments, a fellow mother shared a tip and said:
"When my kids were that little we kept the bottom of the tree bare so they couldn't grab anything. ? He's a cute little guy."
In the picture, the tree stands in front of a mirrored wall and is adorned with ornaments, and it is speckled with green and red lights. 
Luke appears to have one ornament in his hand and trying to reach for another. Sharing her tip, another mother added:
"Maybe a train under the tree would keep him entertained!"
It might be expected that the first family would be living a relatively lavish life. However, Eric and Lara lead pretty normal lives.
In October, while sharing another candid moment of her life as a mother, she posted pictures of herself enjoying apple picking with her son, two dogs, and a friend at Stuart's Fruit Farm in Granite Springs, New York.
Eric and Lara's display of their family tree comes only days after President Donald Trump and Melania Trump rang in the Christmas season by lighting the National Christmas tree.
After facing backlash for last year's red Christmas trees, Melania, who displayed her hand-picked Christmas decorations for the White House went for a traditional look.