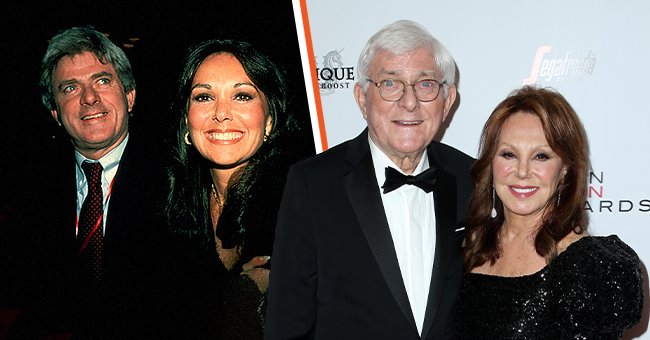 Getty Images
Marlo Thomas & Phil Donahue Have Been Married for over 40 Years despite Her Plan to Never Wed
Marlo Thomas was already in her 30s when she met Phil Donahue, the man she would later call her husband. Despite finding love late in life, her marriage has lasted longer than most in Hollywood, and she shared the secret as to why.
"That Girl" star Marlo Thomas didn't think she would ever get married because of her perception of love and matrimony. When she met Phil Donahue, a divorced man who doubted he would wed a second time, she thought it was perfect that he had the same idea.
However, the pair found themselves exchanging vows to mark the beginning of a long life together. Here's a glimpse into their life together and their secret to a happy and long-lasting marriage.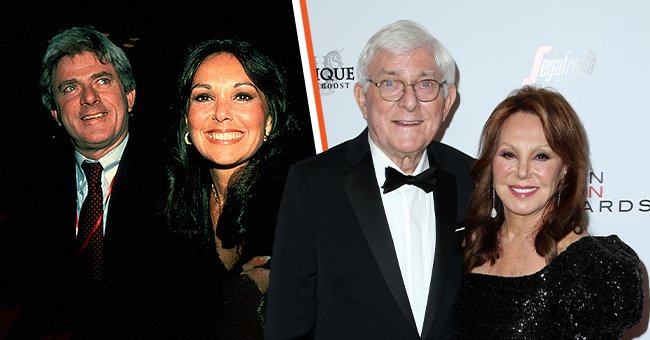 A side-by-side photo of Marlo Thomas and Phil Donahue from years before and during the the American Icon Awards at the Beverly Wilshire Four Seasons Hotel on May 19, 2019. | Source: Getty Images
THOMAS' PERCEPTION OF MARRIAGE
In the '70s, the actress believed that matrimony wasn't such a great thing for women, or at least for her. She previously said: "Marriage is like a vacuum cleaner. You stick it to your ear, and it sucks out all your energy and ambition."
In the same decade, she met Donahue after being a guest on his show. The pair went out shortly after and Thomas learned that Donahue had the same view on marriage, thinking he wouldn't see another bride walk down the aisle.
Even after meeting the Irish talk show host, Thomas retained her relationship mentality. Somewhere along the way, when their lives were already intertwined, the couple decided to rethink their lives and focused "​​​​not on what we thought they would be but, rather, on what they could be."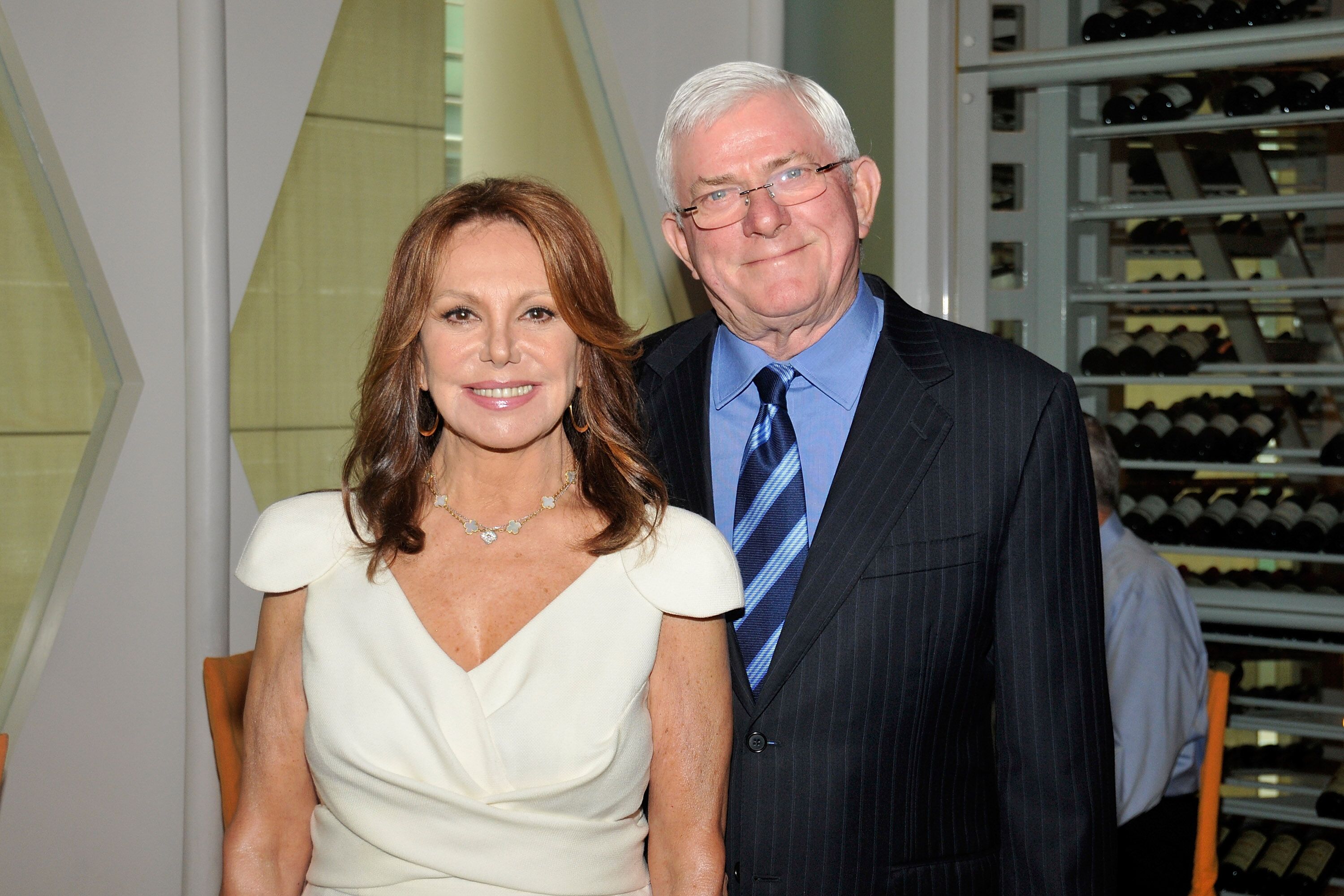 Marlo Thomas and Phil Donahue attend the 2011 Jefferson Awards for Public Service. | Source: Getty Images
TYING THE KNOT
Three years later, in 1980, they legitimized their commitment to each other by tying the knot. When Thomas married Donahue, she became a stepmom to his five children, Mary Rose, Jim, Michael, Daniel, and Kevin, whom he all shares with his first wife.
The couple's successful relationship even turned into a book, "What Makes a Marriage Last: 40 Celebrated Couples Share With Us the Secrets to a Happy Life."
Since Thomas did not have kids, she decided to raise her stepchildren like she would her own. Although in love, Thomas and Donahue's relationship did not come without difficulties.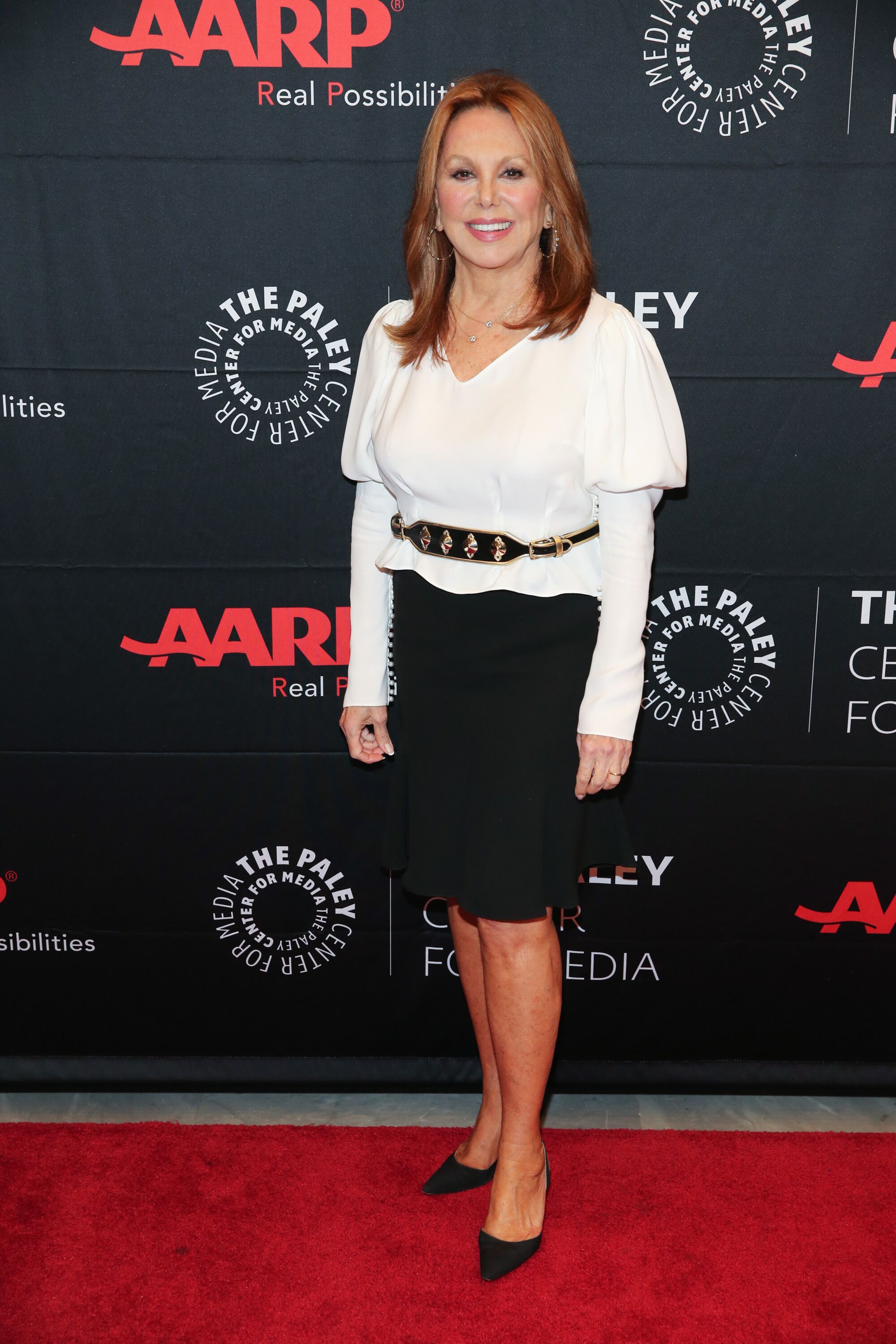 Marlo Thomas attends "The Paley Center For Media Presents: Better Than Ever: Actresses Are Fighting Ageism - And Winning." | Source: Getty Images
THE DIFFICULT YEARS
Being two grown adults with separate lives was not easy for their relationship. They had to reconcile their living situation and meet in the middle to make it work. Thomas resided miles away in Los Angeles, California, while Donahue lived in Chicago with his four sons and a stable career.
He was a film producer and creator, writer, and host of "The Phil Donahue Show." Neither chose to relocate, making seeing each other a challenge. As a result, dinner dates had to be booked with a leave of absence and an airfare.
Still, the entertainers were able to build a loving relationship that worked well for them. "Had Phil and I been younger, we might have been more impatient and missed each other. But being older – me in my late 30s, Phil in his early 40s – we trusted our hearts and made the effort," the award-winning actress shared.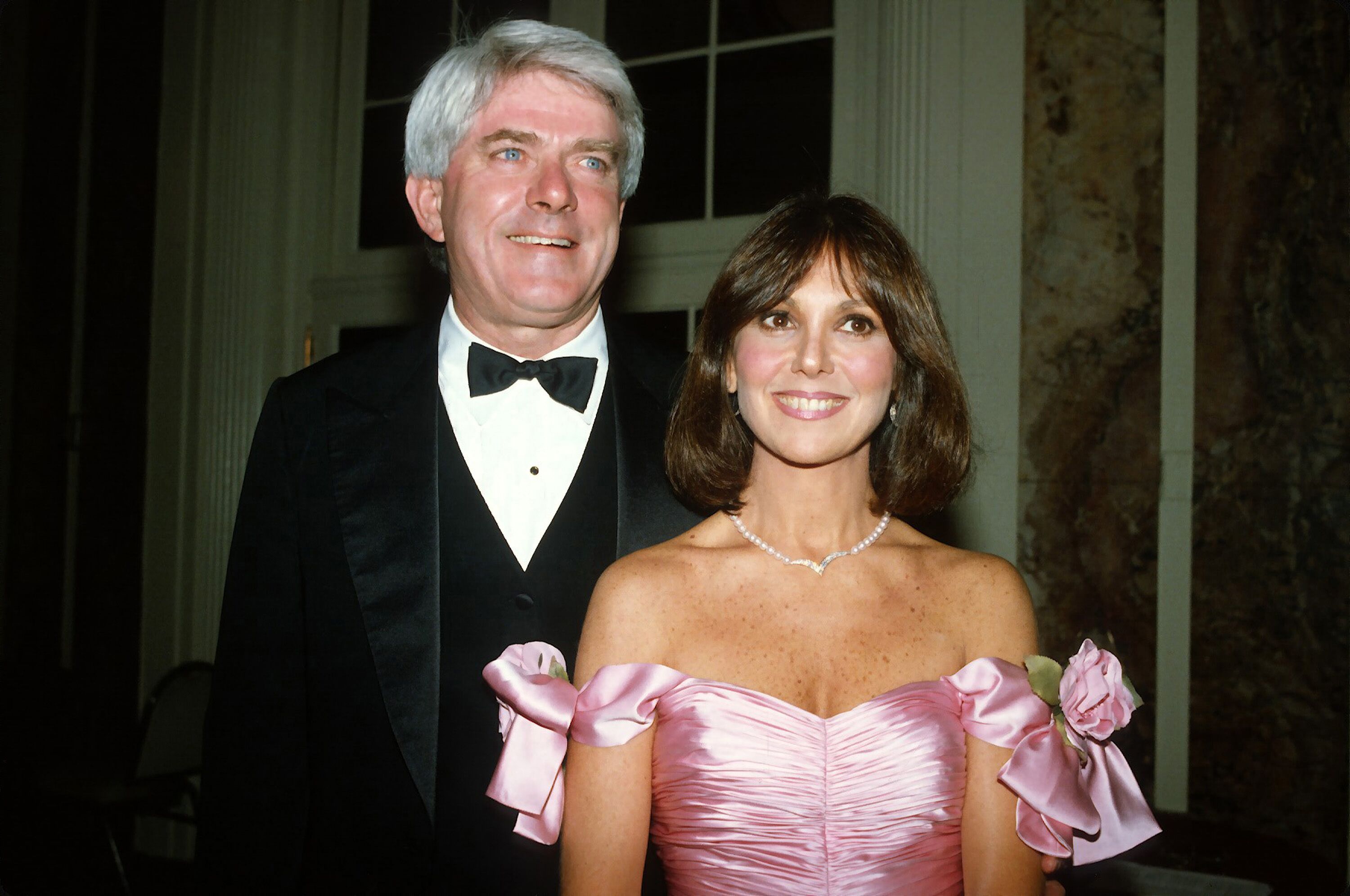 Phil Donohue and Marlo Thomas pose for a photograph at Gloria Steinem's 50th birthday celebration. | Source: Getty Images
SECRET TO A LONG-LASTING MARRIAGE
The couple has since been married for 41 years, and through those decades, they always found a way to make things work. Previously, the couple shared their secret to a long-lasting marriage. Thomas said:
"We had never worked together because we were always afraid we would kill each other because we are both Type-A personalities, and we are both kind of bossy so we felt we wouldn't make it."
Much to Thomas and Donahue's surprise, they are still going strong after 40 years together. In marriage, one crucial thing is that a couple should want to have a long married life. The star imparted the lessons from her relationship, including loyalty, faithfulness, and quality time for each other.
Phil Donahue and Marlo Thomas attend the American Icon Awards. | Source: Getty Images
She shared that vacations are an integral part of their relationship, even if it only means a few days of quality time, as it is "the most important gift" a partner can give.
She also admitted that their love ages like fine wine – it only gets better. Time spent being alone and enjoying the things they love to do together has definitely contributed to that. However, handling breaking points is also integral in any marriage, as this shows a couple's strength. She said:
"What makes a marriage last is what you do when you're confronted with the really big stuff."
Phil Donahue and Marlo Thomas attend the Off-Broadway opening of "Ernest Shackleton Loves Me." | Source: Getty Images
She added: "Through the years, you learn that everything is not that big a deal, and this isn't going to break us up no matter what, so you get used to saying, 'Ok, let's just talk it out.'"
The couple's successful relationship even turned into a book, "What Makes a Marriage Last: 40 Celebrated Couples Share With Us the Secrets to a Happy Life," where the two penned their thoughts on what makes a successful marriage.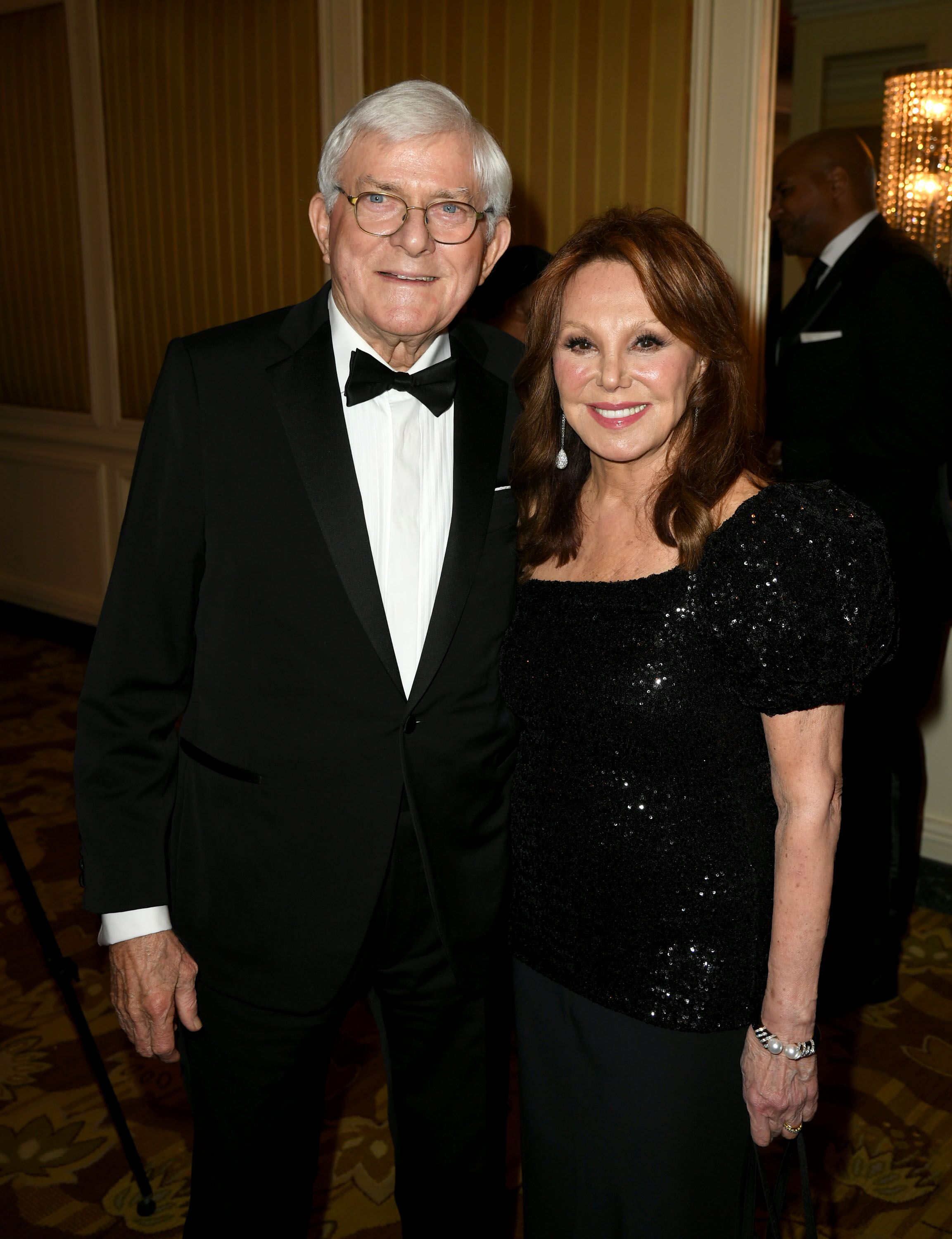 Phil Donahue and Marlo Thomas arrive at the American Icon Awards. | Source: Getty Images
LOVE IN LOCKDOWN
While many thought that Thomas and Donahue already knew each other by heart, the television personality revealed that there is much to learn about Thomas still, especially during the pandemic. He said:
"You're going to learn more about your significant other during the pandemic than you may have learned throughout the rest of your relationship."
He added: "She is a water bug, going five places at one time in all these different directions. It's never been so clear to me that -- Your energy, your purpose, your commitment -- you keep on keeping on."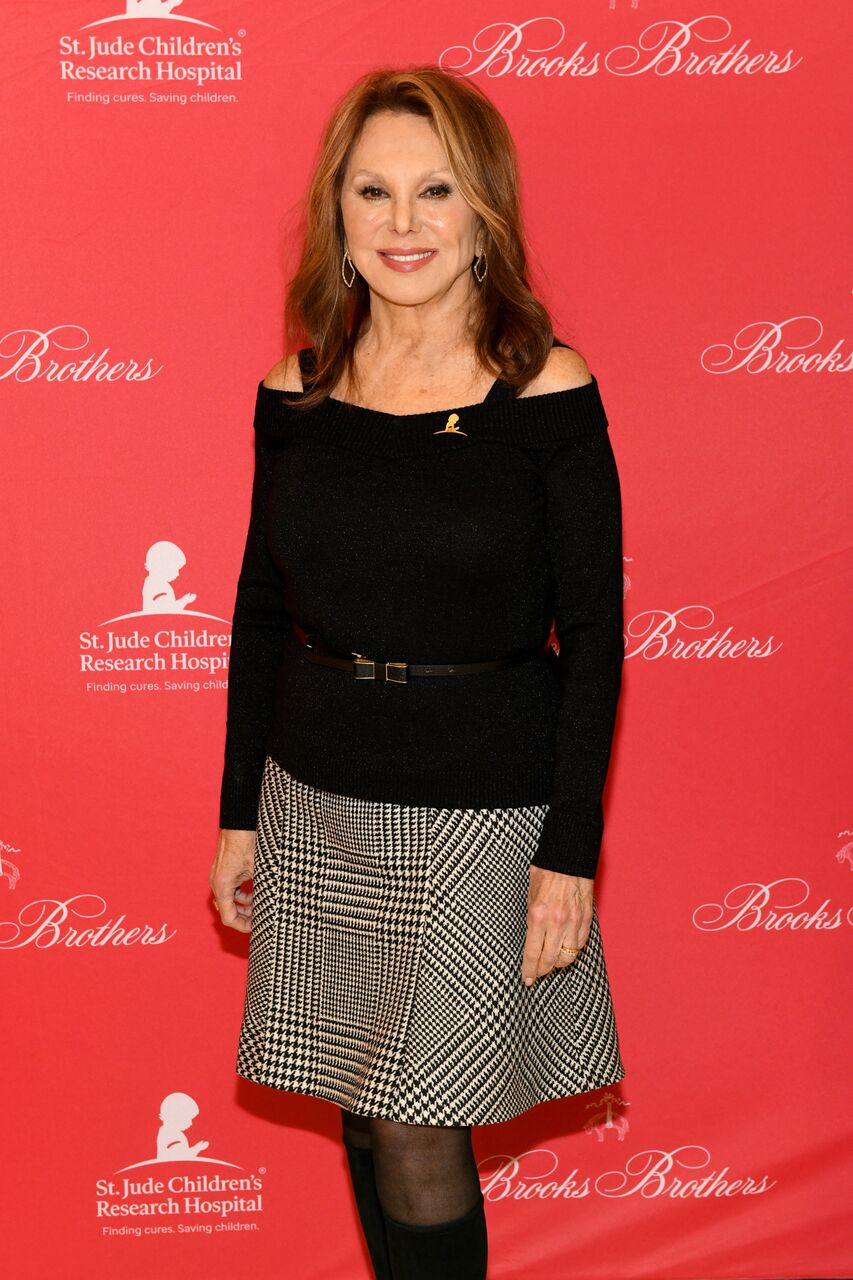 Marlo Thomas attends the Brooks Brothers And St Jude Children's Research Hospital Annual Holiday Celebration. | Source: Getty Images
THEIR OWN ACCOMPLISHMENTS
Both Thomas and Donahue are successful in their careers with the support they give each other. The actress has appeared on screen since the late '50s with shows like "The Many Loves of Dobie Gillis" and "The Joey Bishop Show."
She has won several awards, including a Golden Globe and many Emmy Award nominations during her career. Thomas even won a President's Medal for all her work as an actress, activist, and philanthropist.
On the other hand, Donahue is also a familiar face on television as a host, actor, and producer known for "Watching the Detectives," "Donahue," and "Body of War."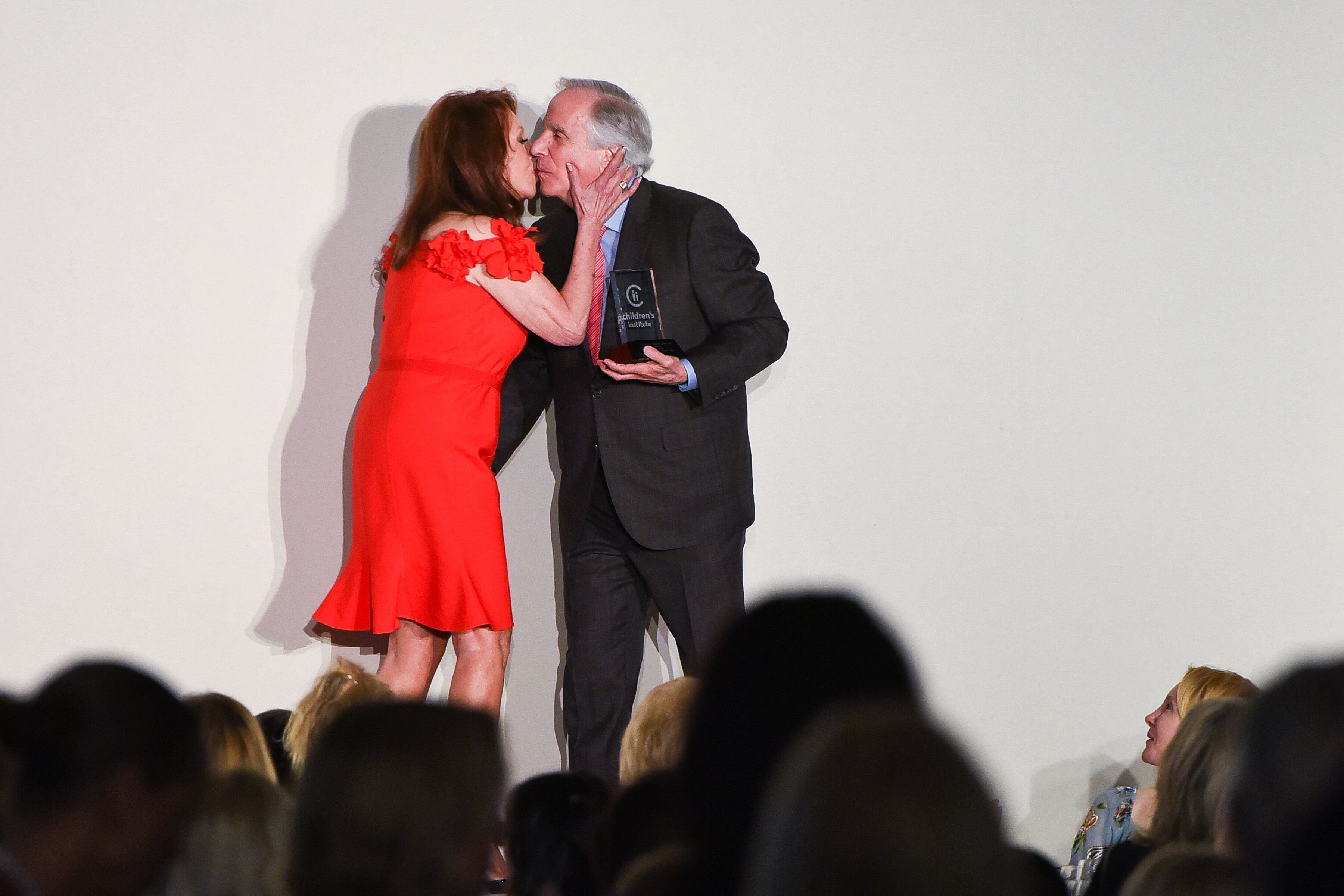 Marlo Thomas and Henry Winkler attend 31st Annual Colleagues Luncheon. | Source: Getty Images
Donahue released his book "Donahue, My Own Story," and was featured in "That Girl and Phil: An Insider Tells What Life is Really Like in the Marlo Thomas/ Phil Donahue Household."
Despite their different and separate accomplishments, the couple remains proud and supportive of each other. Donahue and Thomas are not the only ones who have successful marriages in Hollywood. Others include Ron Howard and John Goodman.
Please fill in your e-mail so we can share with you our top stories!