Melania Trump Welcomed the President & First Lady of Guatemala in $2,640 Plaid Coat with Oversized White Lapels
Melania Trump looks sophisticated in a plaid coat dress as she joins President Donald Trump to welcome Guatemalan President Jimmy Morales and his wife.
Melania Trump set aside her festive colorful looks and went for a simple black and white ensemble for the official presidential welcoming of visiting Guatemalan leaders.
The first lady played host at the White House with President Donald Trump to Guatemalan President Jimmy Morales and his wife, Hilda Patricia Marroquín Argueta de Morales.
Today @POTUS and I welcomed the President & First Lady of Guatemala to the @WhiteHouse. pic.twitter.com/AKmBS0bxyn

— Melania Trump 45 Archived (@FLOTUS45) December 17, 2019
Melania exuded sophistication in a black and white plaid coat dress designed by Chloé. According to Daily Mail the coat retails for $2 640.
Chloé appears to be a favorite of hers. A year ago she wore a wool navy blue coat by the designer as she departed the Oval Office for Manchester, New Hampshire. It is reported, the coat was sold out not long after.
Braving the rain in Washington, D.C, Melania chose the appropriate attire. The design stood out as it added a modern spin to coat with it's oversizedwhite lapels. 
The loose-fitting coat showed off her waist with an A-line silhouette and a midi hemline that had a matching belt. When she sat down the it showed off a white dress underneath.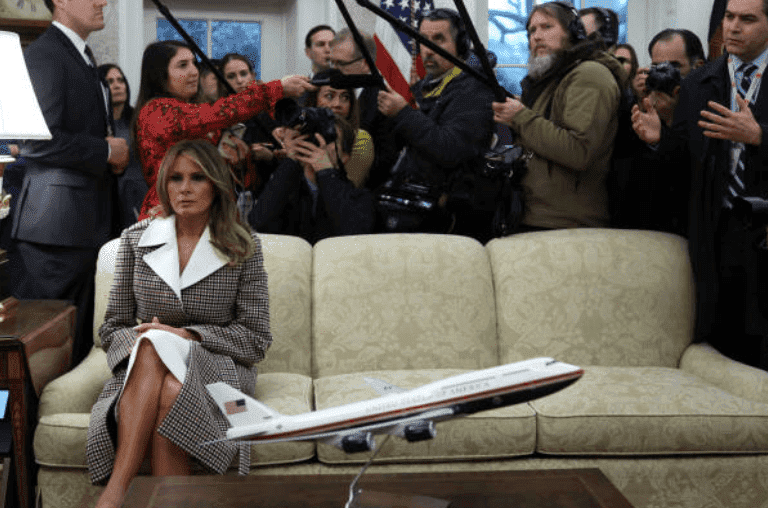 The former model, whose go to heels are normally Christian Louboutin's "So Kate" and Manolo Blahnik's "BB Pump" heels wore an unknown brand for the event.
Her heels perfectly complemented her outfit as they added a pop of color to her look. They were velvet and showed off a deep burgundy color. 
President @realDonaldTrump welcomed President @jimmymoralesgt to the White House today and gave an update on progress curbing illegal immigration. pic.twitter.com/YUQUzVVH3e

— The White House 45 Archived (@WhiteHouse45) December 17, 2019
The heel design was a low-cut vamp and topline, which helps to flatter the foot by extending the length of the leg.
Melania had a very toned-down look as she wore no jewelry and kept her make-up simple with a dark blush and nude lip.
Chequered coats have been a regular feature for her this season. Earlier in the month, she wore a similar black coat when she donated toys at the Salvation Army Clapton Center.
Ivanka Trump was also spotted going for a chequered look this month when she wore a black and white Dolce and Gabbana houndstooth pants suit at the White House.