Eddie Murphy Hosts 'Saturday Night Live' for the Very First Time in 35 Years
There are people who can genuinely light up a room with their personality and Eddie Murphy is one of the. Last night, the actor made a spectacular return to "Saturday Night Live" after 35 years.
Fans of the show had been waiting for the actor's comeback for what seemed like an eternity but when Murphy walked up on stage it seemed like he had never left.
The 58-year-old was greeted with cheers and a standing ovation by the crowd and he immediately felt at home, so much that he started cracking jokes right off the bat.
The comedian opened up with a line about it being the last episode of 2019, adding "but if you're black, this is the first episode since I left back in 1984."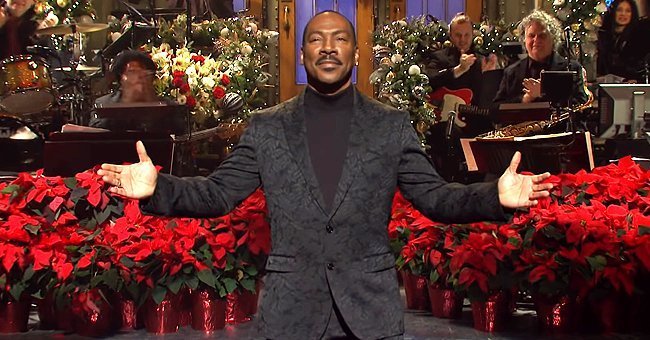 A TRIP DOWN MEMORY LANE
Murphy went on to show a black-and-white photo of himself the first time he appeared on the show and went to talk about his children, using fellow comedian Kevin Hart as a punchline:
"So much has changed. I actually just had a new baby, just about a year ago. That means I have ten kids now... Eleven if you count Kevin Hart."
MINGLING WITH SOME OLD FRIENDS
After that, Murphy was joined on stage during his monologue by long-time friends and comedians  Tracy Morgan, Christ Rock and Dave Chappelle.
The 58-year-old starred on the show from 1980 to 1984 and quickly became a fan-favorite
December 22, 2019
Rock, Morgan and Chappelle each took turns throwing in a few jokes, such as Rock's: "Come on, man, I wouldn't miss this for the world. My kids love Lizzo!"
Chappelle also drew quite a lot of laughs after joking about Murphy being his role model: "I followed your blueprint my entire career. I became the biggest star on television and then I quit."
A FANTASTIC PERFORMANCE
Throughout the episode, Murphy brought back some of his iconic and most-beloved characters, including Mister Robinson, a Mister Rogers' parody, Velvet Hones and "Little Rascals" Buckwheat.
Overall, it was a very special night for Murphy and his fans, as "Saturday Night Live" helped him rise to fame by making him a regular member of the cast back in the 80s.
The 58-year-old starred on the show from 1980 to 1984 and quickly became a fan-favorite, always delivering hilarious performances and being able to cover for his colleague whenever a hosting gig was canceled.