Kenya Moore's Estranged Mom Sent Gifts for Baby Brooklyn's Birthday
The "Real Housewives Of Atlanta" star, Kenya Moore couldn't be any happier as she celebrated her toddler's birthday. However, the proud mother isn't keeping calm after receiving gifts from her mother.
Patricia Moore sent some gifts in an attempt to mark her grandchild's first birthday. 
This, however, came as a huge surprise since both mother and daughter do not have a cordial relationship; neither do they behave like relatives.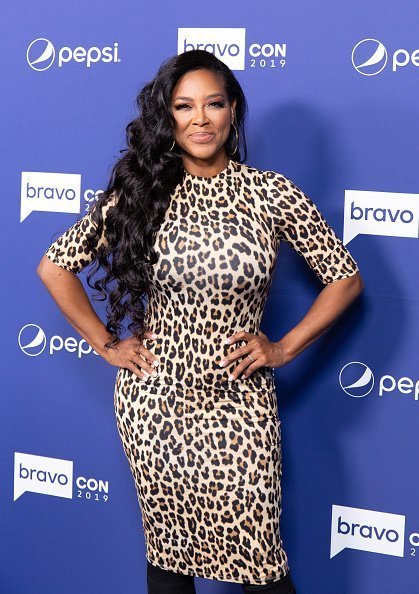 According to reports, this is the first time the older Moore is reaching out to her daughter. Although Kenya welcomed the gesture; however, she took to the gram to share her thoughts on the action. Kenya Moore shared an image of her daughter in a star crested purple top paired with a plain white skirt.
In the caption, apart from announcing to her audience that baby Brooklyn got a gift from grandma, she also stated that the long-overdue birthday was met with a surprise package. She wrote:
"My prayer has always been to have a family. We had a late celebration @thebrooklydaly and got a surprise of a lifetime. My mother sent a gift for her. I had stopped praying for our relationship, but God sent a message through my child...And despite challenges, God is always on time."
Fans and followers of the tv personality penned down different emotional comments to celebrate with her, and they also showed gratitude to God for the perceived reconciliation possible.
However, one striking comment that stood out was that of her colleague on the "RHOA," Claudia Jordan, who joyfully expressed her hope for a better relationship between the two.
Kenya and her mother haven't had the privilege to bond since she had her baby, especially since Patricia has made herself unavailable and distant from her daughter. 
A teenage Patricia Moore abandoned her daughter, who became the responsibility of her in-laws. With the support of her dad's mother, Doris Grant, and her aunt, Lori, Kenya was raised.
The reality tv star who never had her mom around during her childhood opened up to her fans when she embarked on a quest to confront her mother about her decision. In her words:
"...I journey back to my hometown of Detroit with my father to confront my mother, which has been 40 years overdue...But I finally got what I needed for my family."
Despite the visit, both women didn't get the closure Kenya needed. She later revealed that her mother didn't even answer the doorbell.
Even though the "RHOA" star didn't have her mother present in her life, she now shares a close bond with her dad, Ronald Gran, after years of a shaky relationship.
The onscreen diva over the years has been devastated over her mother's decision and has never failed to open up about it.
However, she maintains that she will be a better mother to her toddler. She took to Instagram shortly after her baby's birth to promise her eternal love.