Alfonso Ribeiro's Wife Angela Shares Adorable Family Photo with Husband and Their 4 Kids on Christmas
Angela Ribeiro and her husband, the actor famous for "Fresh Prince of Bel Air" posed in front of the door of her house with her three children and Sienna, Alfonso's eldest daughter, with a big smile that radiates happiness and joy.
Angela and Alfonso married in 2006 and waited several years to add the first baby to their family of three, since Sienna, Alfonso's daughter with his first wife actress Robbin Stapler, is an important part of their lives.
Alfonso Jr, familiarly called AJ, is Angela's first child and was born in 2013. Two years later, they received Anders, who was born in 2015 and finally this year they had Ava, their little daughter.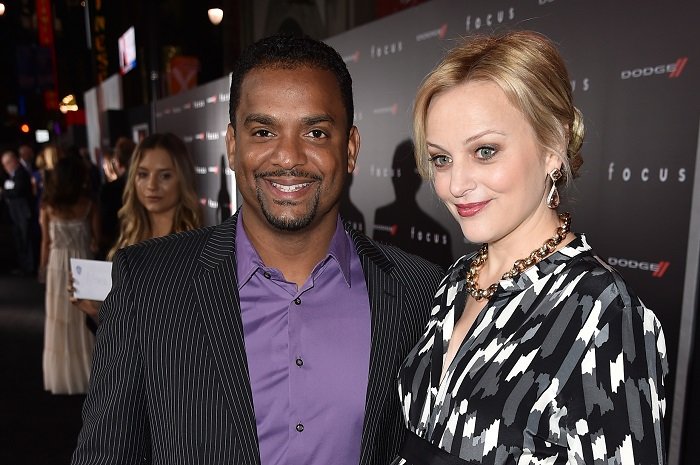 PHOTOGRAPHIC RECORD
Alfonso's wife usually shares photos on her Instagram of special moments or just fun with her family. Having family members away is a way of keeping them up to date.
For example, before Ava was born, the family went on vacation to Disney and in a beautiful photograph she shared on her social networks, Angela said:
"Crazy to think this was our last vacay with two little ones. Oh, how flights will have such a different dynamic with three littles. Man-to-man to zone coverage"
FAMILY MAN
But mom is not the only one proud of her family and happy to share her moments on social networks. Alfonso has also shared amazing photos with his family where he is happy and relaxed.
On Halloween, the "Fresh Prince of Bel-Air" star shared a photo of his house's door on his Instagram with the funny costumes they chose before going out for treat-or-trick.
TEAMWORK
Alfonso has commented that his main job in life is to be a father and to give his children the experiences and teachings that allow them to grow and learn to solve the problems and situations they present.
Ángela is used to working hard, as an outstanding athlete at Northwestern University, she knows the value of the effort to reach the goals set and work as a team to go further.
NO MORE CHILDREN
In a recent interview, Alfonzo shared that both he and his wife have completed their family and want to stay with the four children they already have. At this time, all family members are in love with Ava.
The little girl is delighted to everyone with her big round blue eyes and her doll appearance. Something that Alfonso has shared on his Instagram and that they reflected in the costume that the little girl used recently.
TRAVEL TEACHES
Ángela and Alfonso believe that traveling will give their children the opportunity to experience and know not only their country and nature but also the people. Of course, reading is learned a lot, however, both are in favor of first-hand experiences.
Every year the whole family travels to Iowa to share with the family and see the mountains up close and allows them to learn to love and take care of the environment and this world where it is up to them to grow and live.