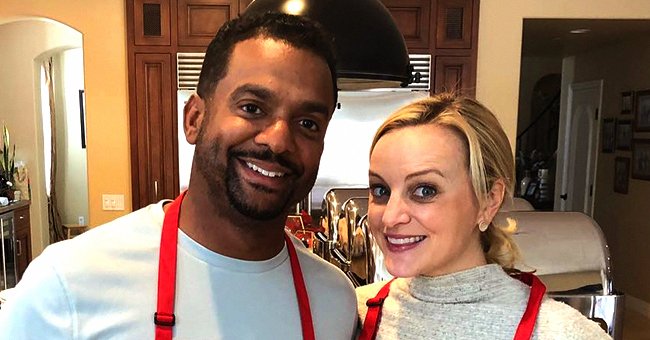 Instagram/mrsangelaribeiro1
Alfonso Ribeiro's Daughter Ava Sue Snatches Hearts with Her Blue Eyes and Pink Hat in Photos
Alfonso Ribeiro doted on his months-old daughter during his family's Disney cruise vacation. The little sweetheart looked adorable in her blue swimsuit and pink hat.
Alfonso Ribeiro delighted his Instagram followers with an adorable snap of his daughter, Ava Sue while on vacation. The actor's family went on a Disney Cruise for the New Year and Ava, according to Alfonso, was "loving her time" there.
A portrait of Alfonso Ribeiro. | Photo: Getty Images
Shades of pink and blue greeted Alfonso's fans on a Saturday when he shared a photo of Ava dressed in a lovely blue swimsuit and pink hat. She appeared to be lounging on her father's chest.
Though she's months away from turning one, the little girl enjoyed her time and pleased her parents.
Ava cruised with her family along Castaway Cay. The affair also included her mother, Angela Ribeiro and brothers, AJ, 5, and Anders, 4. The host of "America's Funniest Home Videos" thanked the cruise liner for their wonderful experience which included a stingray sighting close to the shore. He quoted his boys in one of his posts saying it was "the best adventure and coolest time ever."
But the highlight of the trip appeared to be Ava's presence which clearly made it extra memorable. Though she's months away from turning one, the little girl enjoyed her time and pleased her parents.
Like Alfonso, Angela posted a photo of Ava on the same day showing her sucking her thumbs. Her wide blue eyes were captivating as she sat on her father's lap. Angela captioned the pic, "Just some blue-eyed cuteness for your Saturday feed."
Alfonso and Angela welcomed Ava in May, their first and most likely last daughter together apart from Alfonso's 16-year-old daughter, Sienna from a previous relationship. The actor admitted to Access's Mario Lopez back in November that they were done having kids. "My program has ended," he had said. "We not playing no more."
It's crazy in his household as it is, according to the "Fresh Prince of Bel-Air" alum who admitted to People that his two boys can be quite a handful. They would literally climb walls, he recounts.
But they love their sister dearly because she's basically a happy baby who likes to smile a lot and communicate. The doting dad calls her a "sweetheart" and gushes over how perfect she is.
Please fill in your e-mail so we can share with you our top stories!