Jill Duggar of 'Counting On' Fame Looks Stylish & Happy as She Shares Photos from Date Night with Her Husband Derick
Jill Duggar and her hubby are trying not to keep their relationship boring as they indulge in a romantic date night.
Tv personality, Jill Duggar, shared new photos of her and her hubby on Instagram, and the two looked gorgeous as they enjoyed a dinner date.
The "Counting On" alum made it known in her caption that she and her spouse were keeping things spicy with a "last-minute" dinner. Fans agreed that date nights are a necessity as they gushed over the couple in the comment section.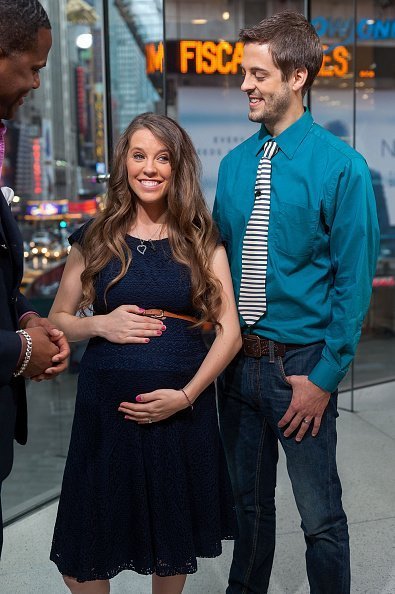 THE IDEAL COUPLE
Last year, the couple put up some tips about marriage on their shared blog. The family blog is an Avenue for Jill and Derick Dilliard to reach out to fans on marriage issues. One of Derrick's tips read:
 "Regularly discuss ways you can help each other feel more secure in your relationship and then do it!"
The particular tips the couple shared stirred their fans as they threw questions at the Christian couple. In her write up, Duggar had pointed out how wives should spice up the sexual aspect of their marriage. Derick suggested something similar for men as well.
FANS HAVE A DIFFERENT OPINION ABOUT THE COUPLE 
Although Duggar and Dillard seem like the ideal couple, fans, however, do not think they are a happy couple. While the pair were on "Counting On," different issues cropped up, which got some fans skeptical about their union.
After Derrick got in a row with fellow members, he reportedly took his family off the show. Although Jim Duggar was the one who introduced Derrick to his daughter, some fans are of the opinion that Jill does not like her spouse. 
FANS PREDICTIONS ABOUT THE COUPLE 
With all that fans have noticed about the Dillards, some Redditors took it upon themselves to make predictions about the couple.
With Hope that Jill will get enough courage to ditch her spouse, fans speculated that the couple would go through a divorce. One Redditor wrote:
"I think as her kids grow up and as she becomes independent, she will make tons of friends and realize she can live life if she so chooses, without...Derick."
DERRICK DILLARD 
When Dillard was first introduced on "19 Kids & Counting," fans were glad that Jill had found "the one," but a few years into their marriage, their opinion about Derrick took a different turn.
During his time on TLC, Dillard got in social media brawls and public fights with fellow TLC stars.
Fans have continued to be unhappy with the star since it seems like he continues to get himself into controversies.