Jill Duggar's Son Sam Caught Eating with Spoon He Dipped in Toilet and Fans Weigh In
After she finds her toddler eating cereal with a spoon he just dipped in the toilet bowl, fans weigh on Jill Duggar's son, Sam Dillard's less than pleasant fascination with their toilet.
After returning from a kid free weekend with her husband, Jill Duggar shares with her followers the mischief her children got up to that day, saying:
"Back home with these kiddos and they're back into trouble haha. Sam emptied nearly a whole roll of toilet paper into the toilet because he wanted the 'trumpet.'"
Probably missing her children from the time she spent away from them, Jill didn't seem too bothered by the incident adding:
"Love these little guys so much and embracing the crazy journey of motherhood because I know this sweet season doesn't last forever!"
Possibly explaining her calm demeanor to the situation; not only does she take the time to relish the unexpected yet precious moments with her sons, but she also acknowledges how refreshing her getaway with Derick Dillard was, she says:
"Also much easier to handle after getting a kid-free weekend with my hubby @derickdillard thanks to @cldilla Y'all are the best! ??"
Relating to Jill's hilarious toilet bowl chronicles, one mother who recently went through a similar experience, says:
"We went through 2 toilet rolls yesterday ?."
Showing her support for what she is going through in trying to manage two rumbustious boys another mother adds:
"In the trenches with you momma. Boy mom of four, seven and under here! Lord help us enjoy this crazy, messy stage of life!"
Only moments after getting the toilet situation under control, she shares the toilet chronicles on her Instagram story, this time this got a little unpleasant and she reveals:
"He came out of the bathroom eating the remainder of his cereal with that little spoon…only to find out he had dipped it in the potty first!"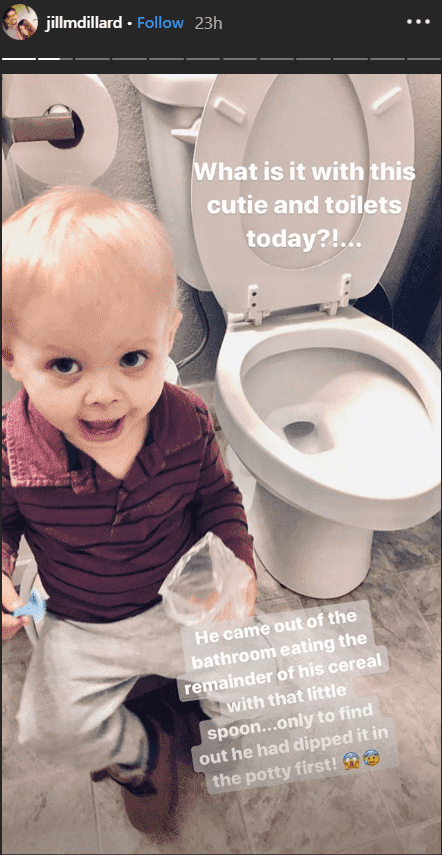 Revealing the evidence of Sam's mischievous adventures in the toilet, she shares an up close picture, which shows little bits of cereal swimming in toilet water.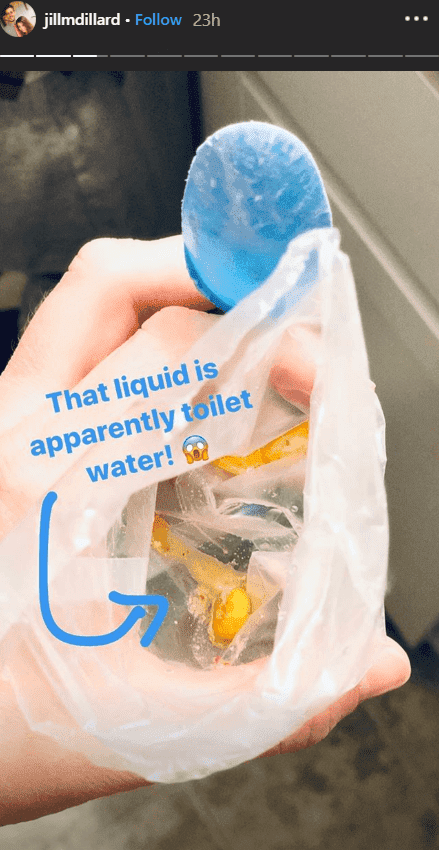 This isn't the first time Jill's sons have eaten something questionable. In August she detailed another incident on her Instagram story of her other son, Israel Dillard getting a piece of gum stick in her long hair.
After helping her find the piece engorged in her hair, she shared a hilarious update with her fans that he proceeded to eat the gum again.