Ralph Lauren Apologizes for Using Black Fraternity's Symbols on a Pair of $334 Chinos
Ralph Lauren released a statement of apology and revealed it has stopped selling its controversial pants after receiving complaints of infringement.  
Ralph Lauren is the latest high profile brand to acknowledge a retail "oversight" after releasing a line of pants featuring a logo of a Black fraternity. Due to complaints, the famous clothing brand was forced to apologize for the blunder and has since pulled out the product from the market.
It all began when an ad for the controversial pants sold at $334 was featured by Ralph Lauren's French website. It showed the Greek symbols of Phi Beta Sigma printed on the back of the left pant leg. Phi Beta Sigma is a fraternity established at Howard University which is a historically Black college in Washington DC.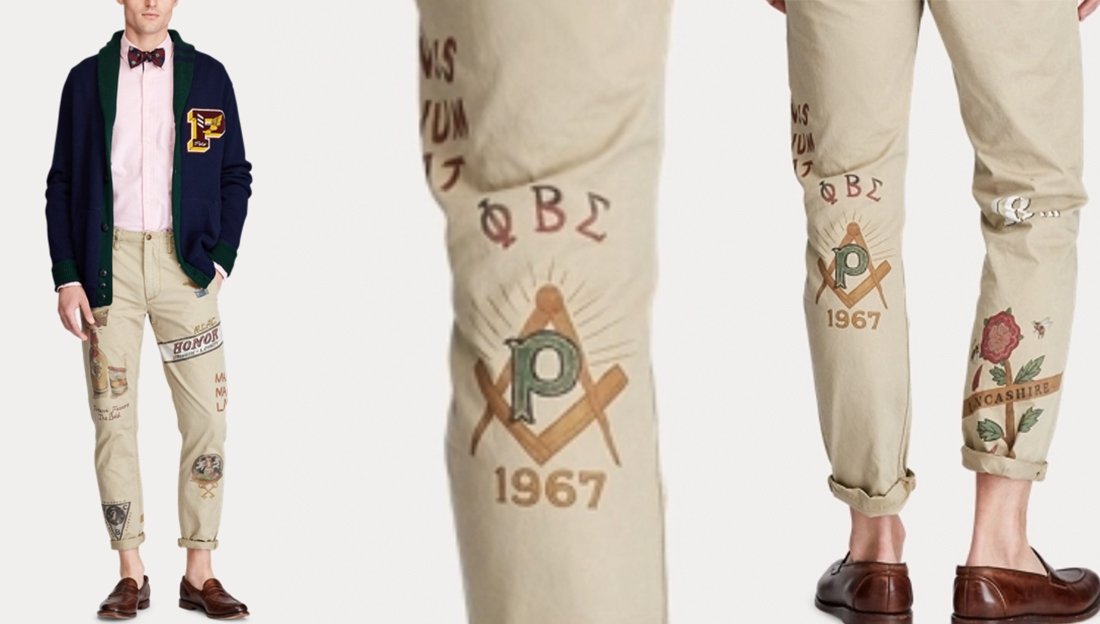 THE BACKLASH
It was the website Watch The Yard that picked up on the pants and reported about it. Soon after, a legal representative of Phi Beta Sigma called out Ralph Lauren for using their logo without their knowledge.
"We are shocked and appalled that Ralph Lauren, without our client's consent, would violate our client's trademarks by using them on articles of clothing," the representative said in a statement to Forbes. "We are currently investigating this matter and we hope that Ralph Lauren will cooperate in providing relief for their infringing conduct."
The infringement also spawned a petition on Change.org demanding Ralph Lauren to recall the product and apologize. It slammed the brand for "trying to capitalize off of black culture."
Ralph Lauren apologizes for using black fraternity symbol on pants. https://t.co/vZWLSe8I4A

— NBC News (@NBCNews) January 14, 2020
RALPH LAUREN'S IMMEDIATE RESPONSE
Within three hours since Watch The Yard released its story, a spokesperson for Ralph Lauren responded through the website with a statement apologizing for the mishap. 
"The use of these symbols on our products was an oversight for which we deeply apologize," the statement read and added that the pants have been recalled and are no longer for sale. 
The company is the latest to commit a racially-laced mistake following Gucci, Dior, and Prada.
We're glad Ralph Lauren made it right and pulled the $334 khakis from their site.https://t.co/K0nv6ZD33T

— BET News (@BETNews) January 15, 2020
The brand further assured that measures will be taken to ensure the oversight will not happen again. Among these measures is a "rigorous review process" for their designs and a review of its protocols.
"As an American brand with more than 50 years of heritage, Ralph Lauren is inspired by many facets of American culture. As part of this, we are firmly committed to respectful and appropriate use of all cultural icons and insignias."
COMPANIES THAT COMMITTED SIMILAR BLUNDERS
The company is the latest to commit a racially-laced mistake following Gucci, Dior, and Prada. In February, Gucci took the heat after it released a sweater depicting blackface. 
In August, Dior was forced to pull out an ad campaign for its "Sauvage" perfume which featured a Native American wearing a traditional costume.
Meanwhile, Prada's keychain featuring a character with blackface and red lips made headlines in December prompting New York officials to conduct an investigation.
Prada Pulls Its $550 'Blackface' Keychain Amid Backlash https://t.co/uvtdjiAhzo

— Tarek Fatah (@TarekFatah) December 16, 2018
It's unclear for now if Phi Beta Sigma will be taking legal action against Ralph Lauren for copyright infringement. The clothing company revealed it has reached out to the fraternity but did not divulge details regarding its outcome.