Serena Williams, Roger Federer & Other Tennis Legends Raise $4.8M for Australian Wildfire Relief through Charity Match
A crowd of 15,000 trooped to Melbourne to witness tennis superstars "Rally for Relief" and raise close to $5 million. The event culminated with a match between Roger Federer and Nick Kyrgios and saw team captains Serena Williams and Caroline Wozniacki engaging in some fun banter. 
The biggest of tennis stars joined forces to raise relief aid for Australia and managed to raise close to $5 million. Serena Williams and Roger Federer led the pack that filled Melbourne's Rod Laver Arena just days ahead of the Australian Open.
"An amazing night has helped take the total raised to $4,826,014," read a tweet straight from the Australian Open's official Twitter account. The revelation came with a prediction that more money will be raised in the coming days.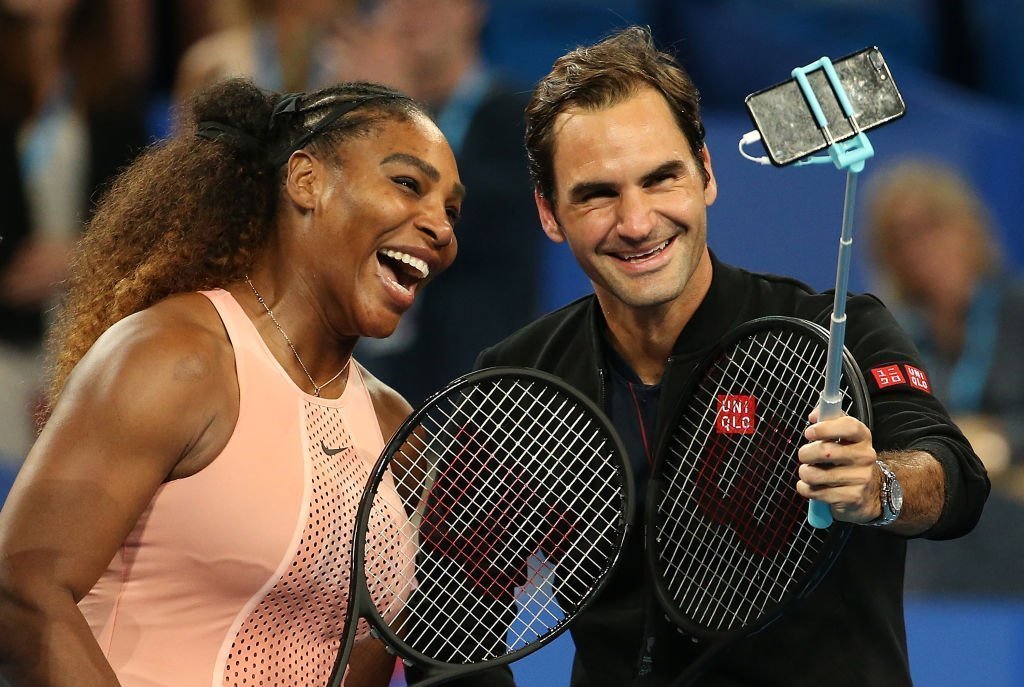 TENNIS FOR A CAUSE
Tennis greats Rafael Nadal, Nick Kyrgios, Novak Djokovic, Naomi Osaka, Caroline Wozniacki, Stefanos Tsitsipas, Coco Gauff, and Alexander Zverev are currently in Australia along with Williams and Federer in anticipation of the upcoming Australian Open that's set to begin on Monday.
"Everyone came together and it's just an amazing feeling."
But on Wednesday, the athletes competed in charity matches dubbed as "Rally for Relief" to help raise funds for the Australian Wildfire relief efforts. They played Fast Four doubles at the event drawing a full-house audience of 15,000 and making a killing in proceeds.  In addition, Nadal and Federer made sizeable personal donations totaling $250k.
A number of the world's top tennis stars, including Serena Williams, Roger Federer and Rafa Nadal, have agreed to play in an exhibition match to raise funds for Australia's bushfire relief. https://t.co/v7Il7UAhP9

— CNN (@CNN) January 8, 2020
A "GOOSEBUMPS" MOMENT
Previously, Kyrgios pledged $200 per acre lost due to the destructive wildfire that's already claimed the lives of 28 people and close to half a billion animals. 2,500 homes have also been destroyed.
Speaking at the event, Kyrgios, who hails from Canberra, revealed he got "goosebumps" seeing all the players uniting for the cause. "Everyone came together and it's just an amazing feeling," he said.
An amazing night has helped take the total raised to $4,826,014 👏 👏 👏

And with #AO2020 around the corner there's more tennis to come, more aces to be hit and more money to be raised.

To contribute: https://t.co/9RPgZ7cBoB #Rally4Relief | #AusOpen pic.twitter.com/virxdKA4GJ

— #AusOpen (@AustralianOpen) January 15, 2020
FEDERER WINS HEARTS
During his interview, Kyrgios was joined by Federer who expressed his happiness to help bring relief to a situation that he says has been difficult to watch. Federer and Kyrgios went head to head in a one-set singles match during the event's finale which resulted in the former beating the latter. 
Meanwhile, in a separate doubles match, Federer invited a volunteer firefighter from the audience to play with him.  The woman, Deb Boirg played alongside the tennis champ against Wozniacki and Zverev and even managed to score some points.
From fighting fires to joining her idol, Rafael Nadal, as a doubles partner.

You're doing great things, Deb. ❤️️

Follow LIVE: https://t.co/7UUqTGiAwf
Donate: https://t.co/tJZtEEMyw0#9WWOS #Rally4Relief pic.twitter.com/FDEMiKjFrr

— Wide World of Sports (@wwos) January 15, 2020
NOT JUST A MATCH AMONG ACES
It was truly a beautiful moment for the audience to witness the camaraderie among the players, ditching the spirit of competition in favor of the spirit of giving.  Team captain Williams even engaged in a little fun banter with fellow team captain Wozniacki when they introduced their team's aces ahead of the final event.
"He's young, tall and sometimes gets in a little bit of trouble!" Wozniacki said before introducing Kyrgios. In response, Williams injects, "I didn't know you were going to bring out Nick, that's not fair. So I guess I'll just have to bring out the GOAT." And in came Federer.
Though fans have seen matches many times in the past in the same epic proportions, the "Rally for Relief" proved to be of a different league.  At the end of that day, "this was not about winning or losing" according to Federer. Because really, it was about helping and having fun in the process. 
For now, the Australian Open is expected to proceed on Monday in spite of the threat of polluted air brought about by the raging fires. But we can expect a different air from the one fans enjoyed on Wednesday as players turn serious to fight for the title.