Kim Kardashian from KUWTK Dazzles in Stunning Golden Bodysuit & Lace up Heels in KKW Beauty Promo Pics
Kim Kardashian has shared two new photographs of herself on Instagram recently. The "Keeping Up with the Kardashians" star looked incredible in her golden bodysuit and lace-up heels.
In one picture, Kim, who initially picked up media attention as a companion and stylist of Paris Hilton, said that she misses her blonde hair. She also urged her fans to comment if she should go back to blonde soon.
These provocative snaps have been posted just as her step-parent Caitlyn Jenner made remarks on her profession, as reported by Daily Mail.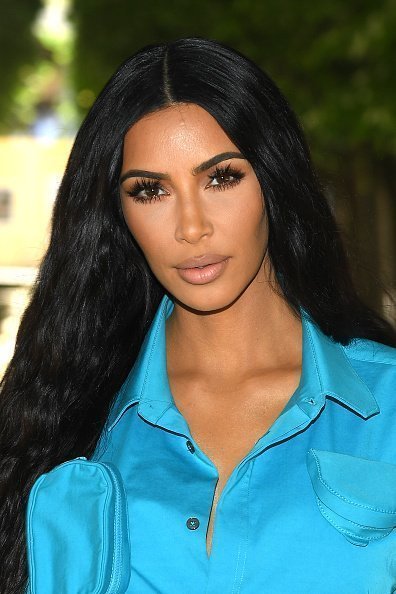 In an interview with OK! Magazine, the television personality and retired Olympic gold medal-winning decathlete said:
"Kim told me she wants to start her own law firm and work on prison reform and try to hire as many former inmates [who've studied law], to help the prison system."
The 39-year-old reality star, who has just completed her first year of studying the law, recently revealed she'd discovered her actual purpose in life. 
When inquired as to whether she has discovered her calling working with criminal justice reform, Kim answered that she truly does.
The mother-of-four added that she doesn't see how she could say no to somebody that actually needs help if she knows she can help them.
Kim got married to rapper Kanye West in a private yet extravagant ceremony in Florence on May 24, 2014.
Kim's father Robert Kardashian worked as an attorney before he passed away in 2003 at age 59 from esophageal cancer, as reported by PEOPLE.
Following her own experience of the criminal justice system, the brunette beauty has developed even more respect for her late father's work.
Meanwhile, Kim was recently granted over $2.7 million in damages and another $60k in lawyers' charges after she sued Missguided USA, TMZ reported.
The media personality who gained wider notice after a 2002 sex tape with her then-boyfriend Ray J was released in 2007, filed suit against the brand for replicating her trendsetting looks without her approval for a huge profit. 
Kim got married to rapper Kanye West in a private yet extravagant ceremony in Florence on May 24, 2014. Since then, they have welcomed four children, North, Saint, Chicago, and Psalm.
The couple are not only two of the most compelling names on the Internet, but in reality television shows as well.