Cassie Shares New Photo of Baby Daughter Frankie at the Singer's Night Workout
Cassie is enjoying the mom-life, and even as she returns to working out to get her body back, baby Frankie Fine is on board. The singer shared an adorable mother-daughter photo from one of her gym sessions, and it's heart-meltingly gorgeous.
Besides Cassie returning to the gym, her husband, Alex Fine, is a fitness trainer, so little Frankie must be familiar with the location by now. The one-month-old did look pretty relaxed in Cassie's latest social media post.
The "Me & U" singer took to her Instagram Story some hours ago with a photo of herself at the gym. Sporting an all-black ensemble, Cassie appeared to take a mirror selfie while her daughter looked peaceful in a pink recliner.
Cassie has received so much praise in the past year for taking charge of her life and choosing happiness.
"Night workout with my fave girl," the doting mom wrote in pink neon letters across the snapshot. She also added a Minnie Mouse sticker above Frankie's head and a pink heart emoji just in case anyone was confused about her feelings for the little girl.
Cassie and Alex welcomed their daughter last December and announced her birth with an adorable black-and-white picture. "She's just different. Frankie Stone Fine. My BFF," Cassie wrote, revealing their first child's name.
It wasn't until earlier this month, however, that the new mom and dad revealed their baby girl's face. Cassie shared photos from a cowgirl-themed photoshoot that had fans falling in love.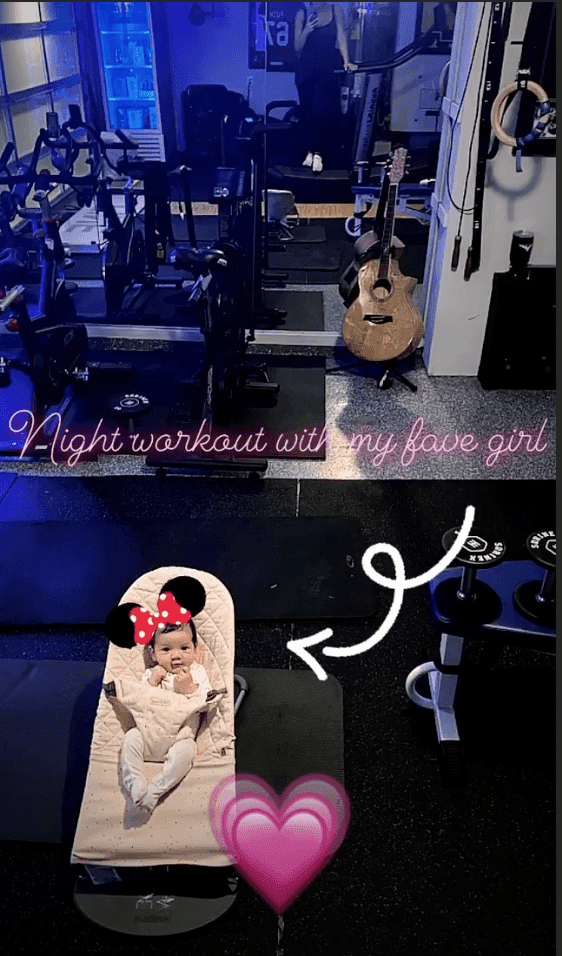 Alex also posted snapshots of himself holding Frankie against his bare chest. "No other love like this in the world," the smitten dad declared, getting thousands of approval from social media users.
Cassie and Alex tied the knot in September 2019 after going public with their relationship in December 2018. Only a few months earlier, Cassie had finally walked away from her decade-long relationship with Sean "Diddy" Combs.
It didn't take long for Cassie and Alex's relationship to take off, and by June, when they announced their pregnancy, it was with a heartwarming love letter from the professional bull rider to their then-unborn daughter.
"I will be the first man in your life and will show you the greatest love and affection now and forever," Alex promised. "I never thought my heart could grow bigger after meeting your mother, then I found out we were having you, and I instantly felt a love that is so indescribable."
From the pictures he and Cassie have been posting with their daughter, the love only seems to grow with each passing day. What's more, it appears Frankie is now very much at home at the gym, which comes in handy.
Cassie has received so much praise in the past year for taking charge of her life and choosing happiness. Per the Source, she's also teased some new music, so Cassie must be at her happiest right now. You go, girl!