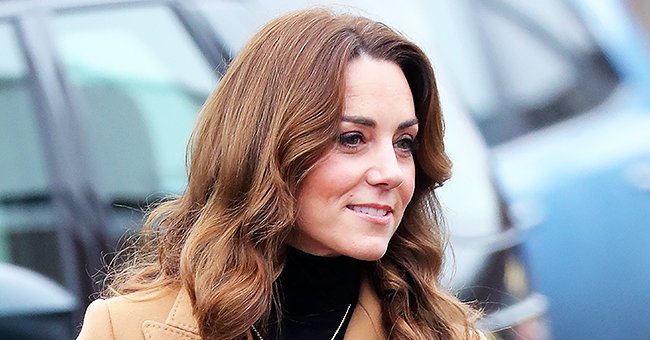 Getty Images
Kate Middleton Dons Long Camel-Colored Coat for Cardiff Visit and Some Fans Compare It to Meghan's

Duchess of Cambridge Kate Middleton's last public appearance saw her wear a long camel-colored coat, and fans couldn't help but compare it to Meghan Markle's.
Kate Middleton was present at the Ely & Caerau Integrated Children's Centre (ECCC) in Cardiff, Wales, where she continued with her tour for kids. A tweet by Simon Perry on the Duchess's visit to the ECCC read:
"Princess Kate arrives @the_eCCC in Cardiff [emoji] for the next stop on her tour promoting a survey into the early years #5BigQuestions #duchessofcambridge #katemiddleton."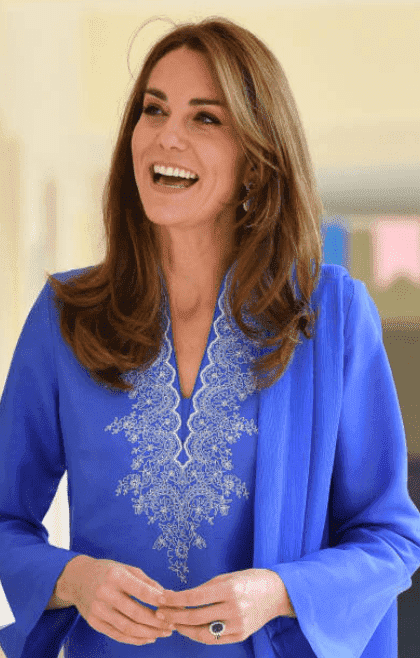 During the royal tour of Pakistan, Kate Middleton visits Islamabad Model College for Girls, on October 15, 2019, in Islamabad, Pakistan | Photo: Getty Images
Accompanying the tweet was a video showing the moment Kate arrived, wearing a long camel-colored coat made by Massimo Dutti. The coat caught the eye of fans who likened Kate's style with Meghan's. One person said:
"A camel coat just like Meghan's!"
A second person said that Meghan had no style, while another fan said that Kate's ensemble was Meghan's style. A fourth fan only admired Kate's look, saying, "She's stunning."
The Duchess of Cambridge wore her coat over a black turtleneck, which she accessorized with a gold chain with a circular pendant. She also wore an animal print skirt underneath the jacket.
Aside from Cardiff, Kate would also visit nurseries and baby sensory classes in Birmingham, London, and Surrey.
Kate Middleton praised workers at the Centre, telling them that their efforts would have a "massive social and economic impact in the years to come."
The Duchess walked around the Centre, played with babies, interacted with some of the toddlers and also chatted about the challenges facing the caregivers and parents.
Kate Middleton's visit to the Centre in Cardiff is part of her fact-finding tour, with which she aims to promote her "5 Big Questions" survey. The visit also marked the second day of her tour.
The tour enacted by the mother of three is one that lasts 24 hours and was agreed to before Prince Harry, and Meghan Markle quit their roles as senior members of the Royal Family.
However, Kate has continued with the tour, and many Royal Family observers are likely to believe that, in doing so, William and Kate are ready to fill the void created by Harry and Meghan's absence.
Aside from Cardiff, Kate would also visit nurseries and baby sensory classes in Birmingham, London, and Surrey, making her survey, the largest of its kind in the UK.
After her tour, there would be a poll that would be online for a month, following which results of the survey would be revealed in March. The results will determine the Duchess's next course of action.
Please fill in your e-mail so we can share with you our top stories!