Regis Philbin Has Been Married to His Wife for 49 Years - Meet Joy Philbin
Regis Philbin has been married to actress Joy Philbin since March 1970. Get to know the famous media personality's wife.
Born as Bette Joy Senese in February 1941, Joy is an actress, known for "Miss Congeniality 2: Armed & Fabulous," "Malibu Express," and Night and the City," according to IMDB.
Joy shares two children with Regis — daughters Joanna Philbin, born in 1973, and J.J. Philbin, born in 1974.
Other than making fun appearances in films, Joy occasionally filled in as co-host of her husband's former morning talk show, as reported by Closer Weekly.
The proud mother was at home, raising Joanna and J.J. when she wasn't traveling the country with her husband. As of now, Regis and Joy are spending their years enjoying marriage and retirement.
Recently, the couple were spotted at Craig's Restaurant in Los Angeles. They were all smiles as they ventured out for a night out at the Hollywood hotspot.
"Regis and Joy are always celebrating their marriage, but 50 years is a long time," a source told Closer Weekly. "They love Craig's, it's a regular staple for them. It's not far from their condo in Beverly Hills."
The source added that he thinks the pair are arranging something more significant with their loved ones for their anniversary in March.
The couple's daughters have made names for themselves beyond their parents.
"There's just something about Regis... I'd rather be with Regis than any other person in the world," Joy once said in an interview with Parade.
As reported by Nicki Swift, in 2009, the couple recorded an album of classic standards titled "Regis and Joy: Just You, Just Me."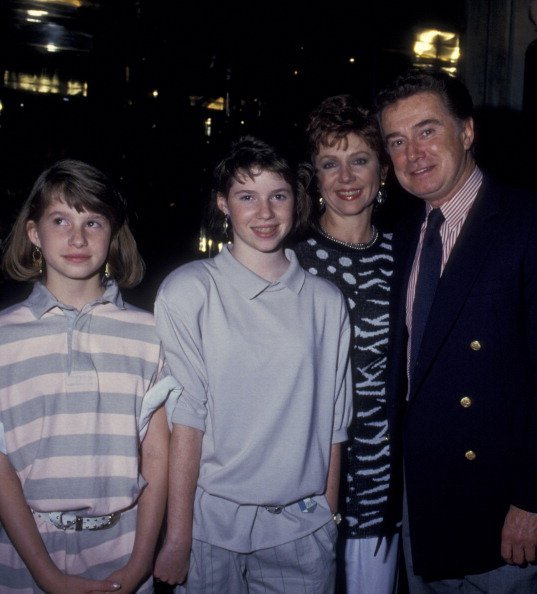 Regis and Joy have performed together on various occasions, including taking the stage in Connecticut in 2015.
The couple's daughters have made names for themselves beyond their parents. Joanna is a writer of books like "The Daughters and Rules of Summer."
Meanwhile, J.J. has written on television programs, including "The O.C." She has additionally filled in as a producer on "Single Parents," "Heroes," and "New Girl."
Regis was previously married to Catherine "Kay" Faylen from 1955 to 1968, and they had two children — Amy and Daniel.