Tori Roloff From LPBW Shares Sweet Moment of Baby Lilah Watching Her Big Brother Jackson Playing
Tori Roloff of "Little People, Big World" is a happy mom who can't get over her bundles of joy. The new videos she shared on Instagram showed that Tori is a proud mama.
Tori Roloff became a mom for the second time late last year, and with the new addition, Jackson sure has someone to share his playtime with.
On her Instagram story, the doting mother-of-two shared some delightful moments between her two children, Jackson and baby Lilah Ray.
LILAH IN AWE OF BIG BRO JACK
Although the baby girl is a few months old, it's not hard to deduce that she is already planning to join Jack during playtime. The video which Tori shared had her captioning sweetly from Lilah's perspective as she wrote:
"Watching Big brother and his cool moves!
In the video, Jack is seen running around till he eventually throws his legs in the air. One would think Lilah was learning as she fixated her gaze on her older brother. Towards the end of the video, Jackson screams, "Baby Lilah Yay!"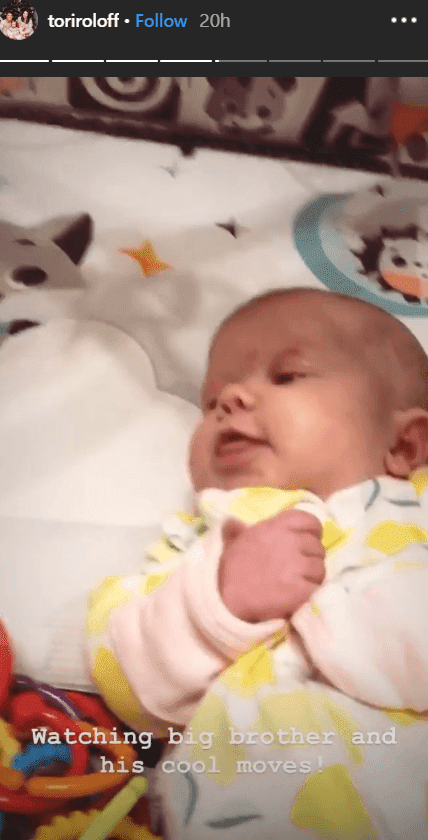 JACKSON HAD MIXED FEELINGS INITIALLY 
After Tori and her Hubby, Zach Roloff welcomed Lilah, Jack seemed not to have taken a liken to her. Tori opened up about this in an Instagram post when she informed fans that her son was adjusting to the new addition.
Zach and Tori Roloff welcomed their first child, Jackson, in May 2017.
She wrote that "he's been a little standoffish and only wants to admire her from afar." With the latest gist about the little celebrities, It is evident that Jackson is getting used to his baby sister's presence.
TORI SAYS HER PREGNANCY WASN'T EASY 
The TLC star might be basking in motherhood, but she once opened up that the pregnancy wasn't easy for her. Tori made it known in a post that there weren't a lot of times she enjoyed being pregnant because she wasn't feeling her "best."
She also faced backlashes from trolls who body-shamed her during the pregnancy. But Tori chose to be the bigger person as she penned down a message warning off such derogatory comments. 
ZACH ROLOFF'S FAMILY.
Zach and Tori first met back in 2010 while Tori was working on the Roloffs' farm. She told People that a co-worker informed her that Zach fancied her. She added that they connected on their first date.
Zach and Tori Roloff welcomed their first child, Jackson, in May 2017. The young boy has achondroplasia, just like his daddy and grandparents, Amy and Matt Roloff.
In May 2019, the couple announced that they were expecting an addition as they informed fans that Jackson was going to be a big brother.
Finally, in November 2019, Baby Lilah was welcomed into the celebrity family while her parents and several family members showed her off on social media.