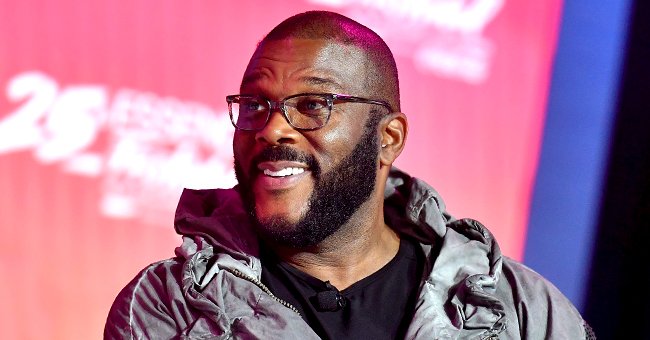 Getty Images
Tyler Perry Asked Georgia Woman in 'Madea's Farewell Play Tour' Audience to Sing for Him and Now She Has a Record Deal

Tyler Perry asks a Georgia woman in the "Madea's Farewell Play Tour" audience to sing for him, and she was quickly offered a record deal.
During the "Madea's Farewell Play Tour" stop in Columbus, Georgia, Jamysa Lytes Hutchins caught the attention of Tyler Perry.
She was singing in the audience during the event at the Columbus Civic Center when Tyler heard it and invited her to sing on-stage for him.
TYLER DISCOVERED A TALENT
Known for discovering artists, Perry quickly set up a meeting for her to meet with RCA Records, where she is set to join the likes of Gladys Knight, Donnie McClurkin, Rance Allen, Mary J. Blige, Freddie Jackson, and Boyz II Men.
According to Hutchins, she was singing background when the cast sang the song called "Weak." While everyone else was singing, she decided to do the song's background tune and Tyler quickly noticed.
A BEAUTIFUL CHANCE
When Tyler asked a woman to bring a microphone to her, he asked her to sing again and she quickly did without hesitation.
"So, I sang the song again and he said he really liked it. He said, 'I don't know you or your name, but I need you.' He had someone come get my information and here we are."
A portrait of Tyler Perry being interviewed at Tyler Perry Studios | Source: GettyImagesUkraine
A NEW OPPORTUNITY
Thanks to their interaction, she got a phone call from RCA Records, and their meeting is scheduled to happen anytime soon.
For now, Jamysa will continue working at Olive Garden, where she's a waiter and often sings "Happy Birthday" to people.
PROVIDING PEOPLE JOBS
Tyler Perry has always tried to provide others with jobs, as recently, she also hired an inmate who was serving a life sentence since 1991.
Perry employed Darrell Hall, who was released after spending more than two decades of a life prison sentence for a drug possession offense.
A FRESH NEW START
While he had trouble finding a job at first, Tyler Perry quickly offered him a job at the Tyler Perry Studios, his recently-opened 330-acre movie, and TV set studio.
Now 52, Hall happily lives with his family and is secured with a job all thanks to Tyler Perry who decided to give him a shot at rebuilding his life.
Please fill in your e-mail so we can share with you our top stories!