Jennifer Lopez Made Five Outfit Changes during Her 2020 Super Bowl Halftime Show - Here's a Look at Them
Jennifer Lopez and her stylists chose famed designer Versace to come up with all of five of the outfits she wore during her grand halftime show at the Super Bowl 2020.
Jennifer Lopez showcased the performance of a lifetime when she hit the stage with Shakira for the Super Bowl 2020 halftime show. 
Her stylists Mariel Haenn and Rob Zangardi told The Hollywood Reporter, with 130 dancers, their team worked tirelessly to design 213 costumes and 143 for her six-minute set. Something which is quite the accomplishment considering her two-hour shows normally need 140 costumes.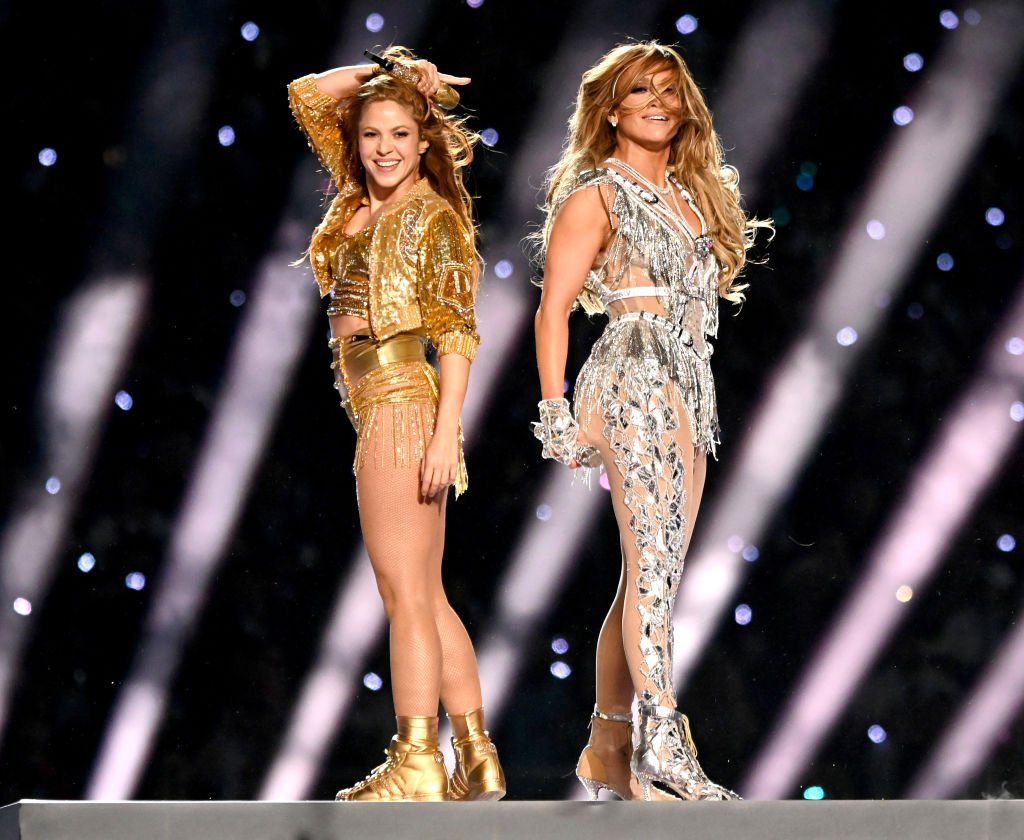 Lopez
 has been working with Haenn and Zangardi since 2011. They have worked on many of her looks for tours, red carpet event and her Las Vegas residency. So when it came to choosing the designer, Zangardi 
revealed:
"We knew we wanted Versace to do the costumes immediately. Nobody does stage costumes like them when it comes to a Jennifer Lopez performance, especially at this level."
The stylists said they worked closely with Donatella Versace herself, and created pieces that could be easily ripped off because Lopez is not the kind of artist who enjoys time consuming outfit changes during her performances.
So they created layered looks, which could be ripped off in seconds. For Lopez' first look for "Jenny From the Block," she was in a black gold studded leather moto jacket, with cut of pants and a pink satin skirt.
As she hit the stage to sing "Get Right" in her leather look, she ripped off the shirt to uncover a bodysuit, which honored the house of Versace with its signature gold belt buckle. 
Her nails were detailed with Swarovski crystals, which matched the mosaic print of the bodysuit she revealed after slipping out of the leather costume.
During her performance for "Waiting for Tonight" Lopez wore sheer bodysuit with silver mosaic patterns outlining her curvy figure. 
Versace explained that it took 700 hours to make the sheer tulle bodysuit. It was embroidered to reflect light with Swarovski crystals, metallic leather inserts, and other plastic materials.
Her daughter Emme Anthony joined her for an epic final performance of "Let's Get Loud." Lopez wore a crystal embellished fringe piece under a cape with over 40 000 feathers. It had the American flag on one side and the Puerto Rican flag on the other side. Zangardi explained:
"As a Puerto Rican-American, she very much wanted both countries and flags represented." 
Preparations for Lopez' Super Bowl costumes began in September 2019, and took hundreds of hours to complete.
Zangardi told The Hollywood Reporter, that even after all the work the done they required 25 people, over 16 tailors speaking three different languages (English, Latin and Spanish) to work 50 hours to prepare the looks after the fittings were done in the costume room.