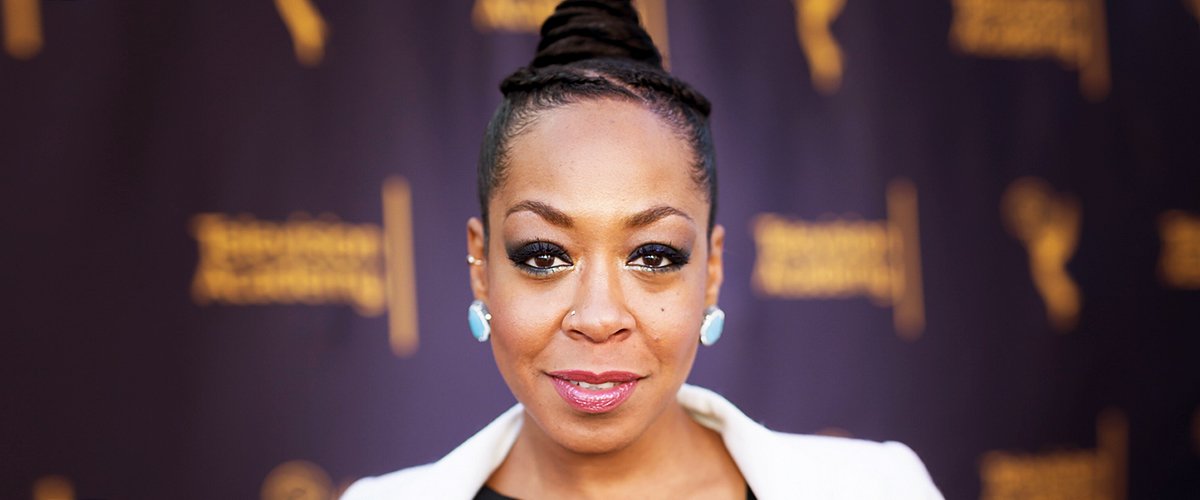 Getty images
The Struggles Tichina Arnold Faced Raising Her Lookalike Daughter as a Single Mom in Hollywood

Raising a child as a single mom is never easy, much less as a single mom in showbiz. For Tichina, raising her daughter, Alijah alone was challenging. She was forced to do what she would ordinarily not do: seek help.
As a first time single parent, Tichina opened up about the struggles she faced while raising her lookalike daughter, Alijah Kai Haggins. It wasn't very easy to balance her career and parenthood, but with the help of family and friends, Tichina was able to scale through.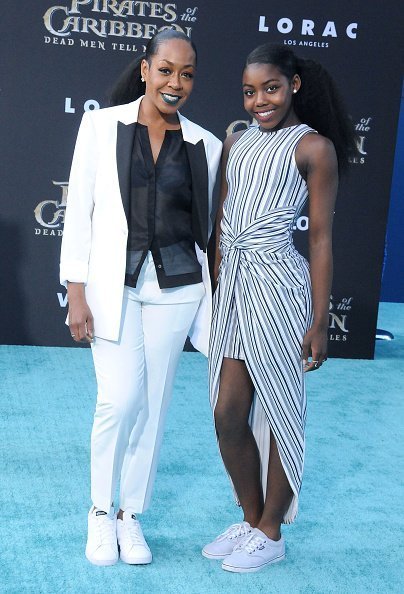 Tichina Arnold and daughter Alijah Kai Haggins at the premiere of Disney's 'Pirates Of The Caribbean: Dead Men Tell No Tales' on May 18, 2017 in Hollywood, California. | Photo: Getty Images
SHE COULDN'T DO IT ALONE
The American actress and singer sat for an interview with OWNTV and opened up about her struggles as a single mom in showbiz.
She said the experience was scary for her as she was afraid of losing out on job opportunities and being unable to attain the level of success she wanted for herself.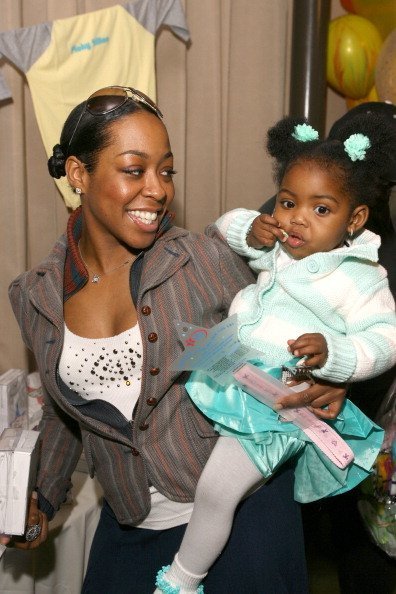 Tichina Arnold at the Golden Globe Gifting Suite - Boom Boom Room at Roosevelt Hotel | Photo: Getty Images
Having a kid alone as a woman in showbiz taught Tichina to do something that was alien to her. She said the number one thing she learned was to ask for help.
"The number one thing that I learned was to ask for help, and I don't ask people for help, I'm not that type of person at all. But when I had her, I learned how to ask for help."
Thankfully she had a backup system with her mother, but there were times her mom wasn't available. During those times, Tichina leaned on her friends for support. Basically, she didn't do it alone. She said she had lots of help as it's almost impossible to be a mother by oneself.
MOTHER AND DAUGHTER BOND
Tichina welcomed her first and only child, Alijah Kai Haggins, in 2004. Alijah is now a teenager and is gradually taking after her mom.
Apart from stealing her mother's face, the 15-year-old also has a fantastic voice like her mother. Unlike her mom, however, Tichina Arnold's daughter is not an early riser.
The duo has formed a very close relationship and love to make fun videos together. Tichina is fond of sharing moments with her daughter with her fans on social media.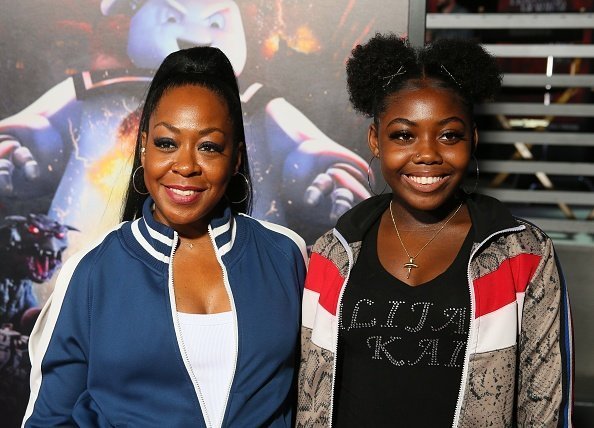 Tichina Arnold and Alijah Kai Haggin attend the opening night of Universal Studios' Halloween Horror Nights held at Universal Studios Hollywood | Photo: Getty Images
THERE WERE MEN IN HER LIFE
In 2002, the 50-year-old comedian tied the knot with basketball coach, Rico Hines. They stayed together for about four years, and in 2016, they divorced and went their separate ways.
Their split was a result of Rico's infidelity. Tichina Arnold's husband made a sex tape with another woman, and Tichina got to see it. She sent it to her close friends and told them she was done with the marriage.
Unfortunately, the tape leaked and became public. In an interview with PEOPLE, Tichina said when she saw it, she felt betrayed. She could no longer be with him as there was no trust anymore.
She went further to say that it wasn't the first time he cheated on their marriage, but it seemed to have become a pattern and so she had gotten to the point where she had to save herself and encourage other women in her shoes to do the same. She said:
"There's a point where you eventually have to jump ship and save yourself, so I just merely saved myself and represented a lot of women that don't know how to save themselves."
On the show "The Preachers," Tichina buttressed her point about how too many women stay in the wrong situations where they are abused physically, mentally, and even spiritually. She has been in those situations, but never again will she allow it.
Tichina's failed marriage to Rico was the last straw for her. The actress who had been married once before from 1992 to 1995 said she was done walking down the aisle.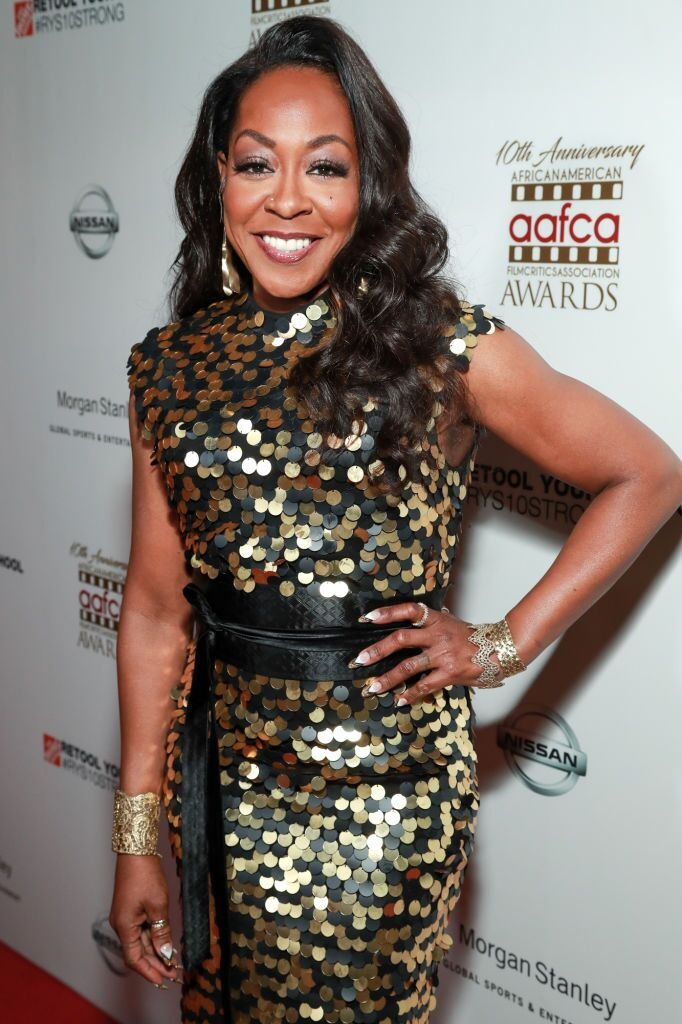 Tichina Arnold attends the 10th Annual AAFCA Awards. | Source: Getty Images
Although getting hitched is not the future for her, Tichina is still open to the option of dating and falling in love. She said she doesn't know how to be single again.
According to Tichina, she has not always been like that. After her first marriage and the birth of Alijah, she got so used to being a single mom, but then, her second husband came along. Now, she can't help but date.
Please fill in your e-mail so we can share with you our top stories!