Obama-Produced Netflix Film 'American Factory' Bags Best Documentary Oscar
"American Factory," Michelle and Barack Obama's first film from their production company, Higher Ground Productions, took home a win at the Oscars on Sunday.
The production won Best Documentary Feature at the 92nd annual Academy Awards, shared by the film's co-directors Jeff Reichert, Steven Bognar, and Julia Reichert.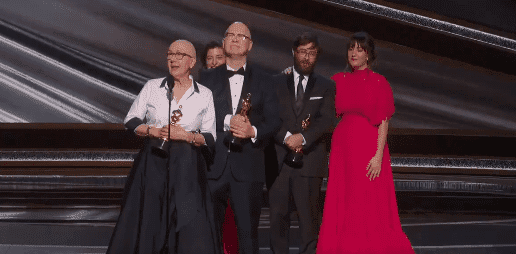 Julia, who previously shared her terminal cancer diagnosis, stepped up alongside Steven Bognar to share their appreciation at the honor and said:
"Being in the presence of our sister and brother documentarians, who risk their lives making stories. We are so proud, we are inspired."
The Netflix documentary went up against "The Cave," "The Edge of Democracy," "For Sama," and "Honeyland," and Julia added that although the documentary is based on events in China and Ohio, it can apply to anyone who "punch a clock" at work.
The team is extremely honored to be nominated by @TheAcademy for best documentary feature at this years #Oscars #oscarnoms #awardsseason #AmericanFactory pic.twitter.com/sgNZzR3vD6

— American Factory Film (@afactoryfilm) January 27, 2020
Elated at the recognition, Michelle Obama took to social media to share her joy and wrote:
"So glad to see their heart and honesty recognized—because the best stories are rarely tidy or perfect. But that's where the truth so often lies."
Barack shared Michelle's sentiment, and felt happy that "downright good people" bagged an Oscar for their had work on "American Factory."
#Oscars Moment: Steven Bognar, Julia Reichert and @JeffReichert9 accept the Oscar for Best Documentary Feature: "American Factory" (@afactoryfilm). pic.twitter.com/p4cWdVWm5S

— The Academy (@TheAcademy) February 10, 2020
Its Julia's first Academy Award win after three previous nominations, and the 73-year-old previously told The Hollywood Reporter that a win the fourth time around would be "extremely meaningful."
She is currently undergoing chemotherapy, and Julia shared that no cure exists for her type of cancer and that it can take her in "six months, a year, or more."
The well-received documentary gives insight into tensions between GM's Ohio-based Chinese-owned manufacturing plant, and the struggles of their workers after the plant closed in 2008.
Ecstatic to be recognized for Outstanding Directorial Achievement in Documentary at yesterday's #DGAAwards #DirectorsGuildofAmerica #AmericanFactory pic.twitter.com/KeSzaDMKPh

— American Factory Film (@afactoryfilm) January 27, 2020
Unionized workers at GM struggled to find jobs that paid even remotely close to what they earned at the plant.
People ended up losing their homes because all they could find paid $9 an hour, as Steven Bognar shared during an interview.
The people felt hopeful about a turnaround of fortune when the Chinese glass manufacturer Fuyao took over the plant in 2016.
AMERICAN FACTORY tells an emotional, local story that resonates globally. Directors Steven Bognar and Julia Reichert have created a masterwork that examines culture, labor and class struggle, and challenges us to consider what unites us instead of what separates us. #Oscars pic.twitter.com/QOYpeXXfTA

— NetflixFilm (@NetflixFilm) February 10, 2020
However, the enthusiasm soon waned when the workers found themselves working "longer hours" at the plant for "half the pay."
Barack Obama previously sang the documentary's praises when the film received it's Oscar nomination last month.
The former president felt it a sincere portrayal of the effects global changes can make in people's everyday lives, and he even added the documentary to his list of most favorite films of 2019.