Ivanka Trump Is All Smiles as She Steps out in $2,260 Plaid Coat Dress during New Hampshire Visit
Ivanka Trump and Vice President Mike Pence looked to be having a good time as they mingled with residents of New Hampshire while enjoying some milkshakes.
Children grow up and often take after their parents. The skills, dedication, fashion sense are among some of the things that children can unconsciously take up by looking at their parents.
The first and oldest daughter of the President of the United States of America- Ivanka Trump is stunning. The 37-year-old beauty showed how stunning she looked while donning a stylish $2,260 coat on a visit to New Hampshire.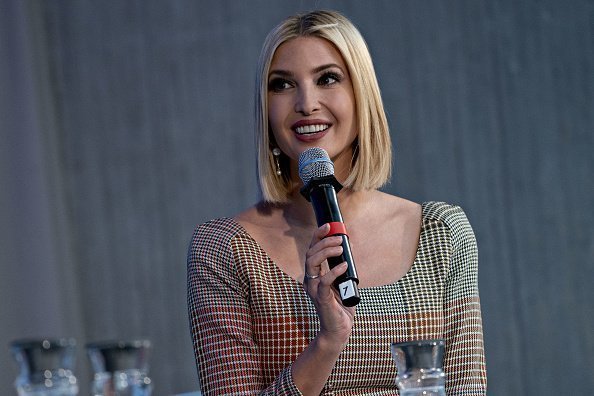 The first daughter of the POTUS, and the Vice President of the United States of America paid a visit to New Hampshire and had time to hang out and enjoy some milkshakes while mingling with residents.
Ivanka took to her Instagram page to share pictures of this outing and how much fun she had. She captioned the photo saying:
"When the VP buys you a milkshake...! On the road with @mikepence!"
.@VP @Mike_Pence and @IvankaTrump stop at a diner in Pease, NH and speak to people inside. pic.twitter.com/aZYBliHiJY

— The Hill (@thehill) February 10, 2020
The series of pictures showed Ivanka and the VP laughing and taking photos with those at the milkshake store. The first image shows Ivanka and Mike Pence smiling as they held large cups of milkshakes in their hands.
The next series of pictures showed the two taking pictures with occupants of the diner while another showed Ivanka shaking hands with the supposed owner of the diner.
Ivanka is on a posting spree this week.
In another similar post, Ivanka shared another series of pictures of herself and those of her mingling with the occupants of what looked to be the Airport Diner.
The first picture shows Ivanka looking all glamorous in her coat, which she matched off with black laced boots and her signature straight blond hair. She captioned the photo, saying:
"Pit stop at the Airport Diner in Manchester, New Hampshire with @vp."
Lovers of the first daughter took to the comments section to praise Ivanka for all the work that she does, with some pointing out how gorgeous she looked. One person, in particular, could not help but marvel at her height, saying she was tall.
It seems Ivanka is on a posting spree this week, seeing as she posted another image of herself and friend Julie. The image showed the two of them with arms around each other standing in front of an airplane.
She captioned the picture with welcoming words for Julie. She expressed that she was glad Julie was back to work after being away on maternity leave, and both of them were ready to roll as they headed out to New Hampshire.
This is not the first time Ivanka wore this coat. The former socialite and runway model had earlier worn this coat in December 2019, although then she paired it with high heeled stilettos.