Tori Roloff Tried to Get Ahead of Mom-Shamers after Sharing Photo of Daughter Lilah Sleeping on Her Stomach
Tori Roloff took to her Instagram Story to share a photo of her daughter Lilah Ray napping, and attempted to get ahead of mom-shamers when the image shows the baby on her stomach.
"Homegirl is going on 3 hours of a nap," Tori wrote in her recent post. "Poor sis has her first cold. Honestly, I'm surprised it took this long. I feel like our whole community has been sick since Christmas!"
In smaller font, the "Little People, Big World" star added "Also. Bye perfect parents" and that her daughter "Breathes easier on her belly right now."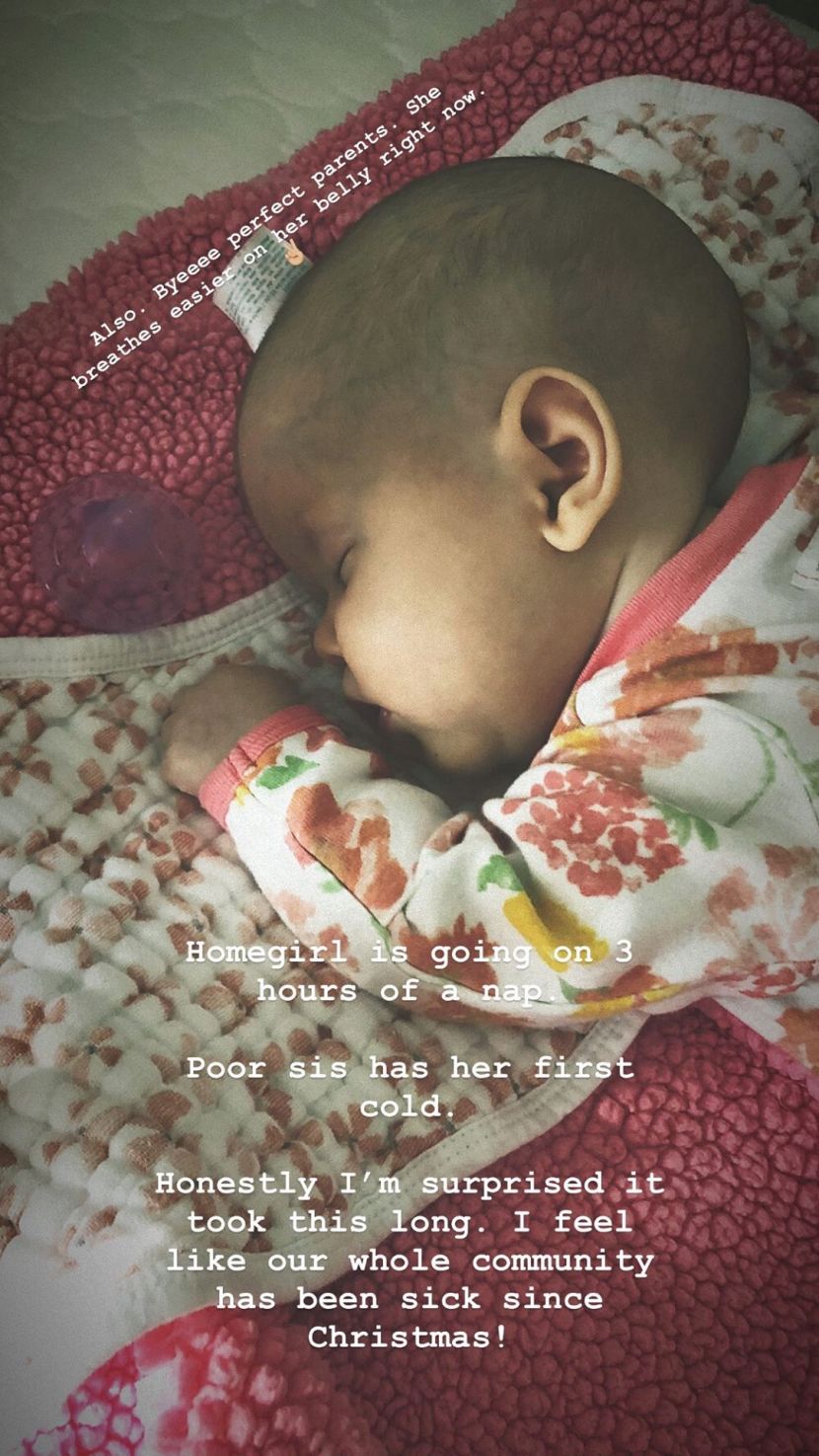 LILAH IS FINE
As recommended by the American Academy of Pediatrics, to avoid the risk of Sudden Infant Death Syndrome (SIDS), parents should "place the baby on his or her back on a firm sleep surface such as a crib or bassinet with a tight-fitting sheet" for sleep.
InTouch Weekly reported that Tori later posted a photograph of the baby girl relaxing calmly in her back on her stroller.
She additionally shared a video of Lilah looking cheerful and like she was feeling much better, which implies she's fine. 
CONSTANTLY CRITICIZED
Being a mother is already a difficult job, but to balance that obligation under the microscopic eye of the public is incredibly hard. 
Like other celebrity moms, Tori is frequently being scrutinized and harassed for her parenting choices. In 2018, Tori wrote on Instagram that "Mom-shaming is a real thing and it's not cool."
The reality star and her husband Zach announced the birth of Lilah on Instagram on November 19.
Alongside a photo of her son Jackson, the mother-of-two explained that they're all doing the best they can, and that's all they can do.
Tori also pointed out that she loves her family very much and that she does what she believes is best for them. 
Tori then encouraged everyone to be caring for one another because there are individuals behind their screens, and they never know what a person is walking through. 
The reality star and her husband Zach announced the birth of Lilah on Instagram on November 19. "Welcome to the family sweet baby girl!" Tori captioned the adorable snap of Lilah.
The beloved couple walked down the aisle at the Roloff family farm in July 2015. During the 2010 pumpkin season, Tori was working on the Roloff family farm when she first met Zach.