Ciara Shares Video of Russell Wilson Sleepily Dancing in Bed with His Eyes Closed to K Camp's 'Lottery'
American singer Ciara took to her Instagram page to share a cute video of her husband, Russell Wilson, sleepily dancing to the song, "Lottery" by K Camp, while still in bed.
In the clip, the "Seattle Seahawks" quarterback was seen in a white towel, shirtless, revealing his black curly hair and a silver neck chain as his wife, Ciara, woke him from the bed.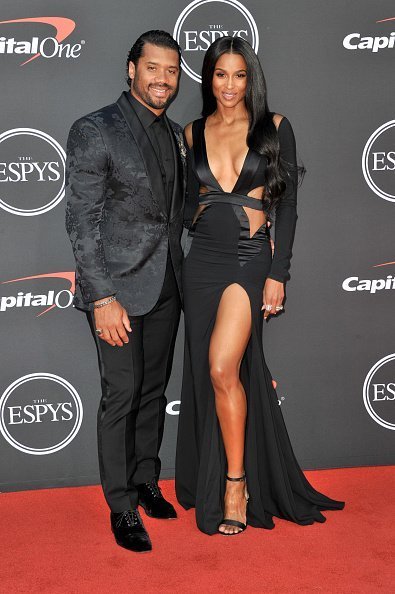 Ciara cheered him on the entire time by exclaiming, "aye" and guffawing before Russell went back to sleep. In the caption, she told her followers that she woke up to her Valentine, adding that, "I Luv Me Some Him."
In two days, the clip has racked up more than two million views and over eleven thousand comments. One of those who found the video adorable wrote:
"Y'all are so cute! Get it, Russ."
Ciara and Russell have undoubtedly been the names on many people's lips within the new year as they kicked the year off by announcing the singer's pregnancy on Wednesday, January 30.
While on their way to the fashion show, the zipper of Ciara's sleek, black gown broke.
The "Goodies" singer's pregnancy hasn't stopped her from going out and having fun along with her supportive husband, Russell Wilson.
The couple has been present at major events, especially award shows, since the announcement of the incoming addition, and their fashion games have also been top-notch.
The 34-year-old mom and her husband, Russell Wilson, stepped out to attend the Tom Ford A/W 20 Fashion Show in Los Angeles, California, alongside the likes of Demi Moore, Jennifer Lopez, Kylie Jenner, and Miley Cyrus.
While on their way to the fashion show, the zipper of Ciara's sleek, black gown broke, and the singer had to be sewn into the dress by her glam squad.
When they got back home, she was seen patiently waiting to be freed by her sportsman partner in a video posted to her Instagram story. A giggling Ciara said, "Right now, my honey is cutting me out of this dress."
Meanwhile, during the fashion show, the "Get Up" singer and soon-to-be mother of three, concealed the mishap, looking gorgeous in the black turtle neck dress that revealed her baby bump.