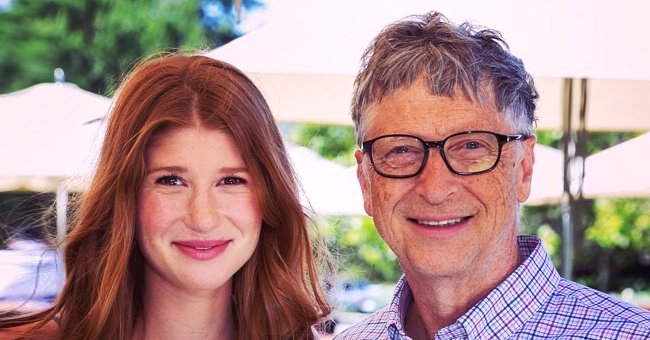 instagram.com/jenniferkgates
Bill Gates' Oldest Daughter Jennifer Is an Equestrian — a Glimpse into Her Life

As the heir to one of the richest men on the planet, Bill and Melinda Gates' oldest child has led a fairly discreet life, but the details about her privileged upbringing keep surfacing.
Eventually, she will inherit enough money from her father, Microsoft founder Bill Gates, to have a safety net for life, but in the meantime, she is making the most of what her family origins have granted her.
23-year-old Jennifer Gates is the eldest of three siblings, followed by brother Rory and sister Phoebe. After attending the best schools and pursuing her sports passion, she is getting ready to give back to others and become a medical doctor.
Now that she is about to start a new chapter of her life as a married woman, learn how she got to this point.
EARLY EDUCATION
Jennifer's brilliant father wanted to make sure that she got started with her education with the same quality that he did, so he enrolled her at the private Lakeside School in Seattle Washington.
It is the same place where Bill graduated from high school in 1973, as well as where he met Paul Allen, with whom he went on to create Microsoft starting off with a school experiment.
Famously dropping out of Harvard in 1975 to fully commit to his business, Bill claims that he learned everything he needed to become the technology giant and billionaire he grew up to be at Lakeside School.
AN EQUESTRIAN
Growing up in a privileged family, Jennifer had the luck to find her passion early in life, falling in love with equestrian sports since learning how to ride at age six, an activity that her wealthy father has always supported.
To make sure that Jennifer's talent and vocation to the sport were met with the best trainers and conditions, Bill reportedly spent $37 million in "the equestrian capital of the world" Wellington, Florida for his daughter to have her own stable.
Before reaching her twenties, Jennifer had already grown a reputation as one of the top young US riders, with remarkable performances at the Thunderbird Show Park, the Las Vegas National Speed Class and the Hollywood Reporter Trophy Class.
COMPETED WITH OTHER FAMOUS HEIRESSES
Horse riding is known to be a popular sport among the wealthy, and it is not surprising that Jennifer has competed with several other high profile rich children in equestrian events.
In 2015, Jennifer took part in the annual Longines Masters show jumping competition along with the daughters of Steve Jobs, Bruce Springsteen, Michael Bloomberg, Steven Spielberg, and Tom Selleck.
In 2016, it surfaced that Bill's historical rival Steve Jobs' widow purchased a ranch for her daughter Eve to house her horses just across the street from Jennifer's compound.
SHE IS WELL-TRAVELED
Another of the luxuries that Jennifer has been able to afford because of her wealthy upbringing is traveling, as her Instagram account documents in detail.
She has visited France, Netherlands, Belgium, Czech Republic, Egypt, Sweden, Costa Rica, Germany, Italy, Australia, Spain, Austria, England, Portugal, Switzerland, and Kuwait, to name a few.
A MINUSCULE FORTUNE
Bill has done everything in his hands to guarantee the best of educations and opportunities for his three children, but he has been careful not to let them take things for granted, expecting them to find their own paths.
He decided that they were to inherit only "a minuscule portion" of his net worth, estimated at $112 billion, with the majority of his fortune destined to fund the Bill & Melinda Gates Foundation in its fight against poverty and hunger.
HIGHER EDUCATION
Unlike her father, Jennifer already has a college degree. In 2018, she graduated from the prestigious Stanford University with a degree in Human Biology.
Then, late in 2019, she got started at medical school at Mount Sinai Hospital in New York, where she currently lives and studies after taking a gap year fully dedicated to horse riding.
SHE IS ENGAGED
Whether or not she has a professional future as an equestrian, apart from the many satisfactions Jennifer has obtained from horse riding, the sport also put her in the right place to meet her match.
Jennifer recently shared the happy news that she was engaged to her boyfriend Nayel Nassar, an Egyptian Olympic Equestrian that is set to compete at the 2020 Tokyo Olympics.
"He's a professional, and I do this as an amateur. So, to be able to share our love and passion for horses with each other is just incredible," Jennifer said
about her fiancé
, whom she met while attending Stanford University.
Please fill in your e-mail so we can share with you our top stories!