Chris Stapleton Gives Impromptu Performance during Tyler Perry's Madea Farewell Tour Stop
American music artist, Chris Stapleton was on hand to give Tyler Perry's long-running character, "Madea," an epic sendoff during his Madea farewell tour stop in Nashville.
Many have come to love Tyler Perry's on-screen alter-ego, Madea, since her first appearance on television in 1999s stage play titled "I Can Do Bad All By Myself."
The actor and movie producer has finally brought a wrap to the long-running screen character with the spin-off, "Madea Farewell," which follows last year's "Madea Funeral."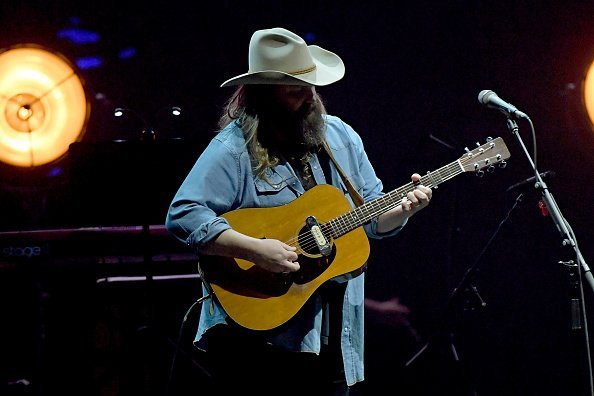 During Tyler's Farewell tour to promote the stage play, singer Chris Stapleton showed up to bid the character a grand farewell and was made to perform "Tennessee Whiskey" after being discovered in the crowd.
The 50-year-old director appreciated the songwriter for making the farewell stop at Nashville a memorable one. Taking to Instagram, he wrote:
"Madea could not come to the end of the farewell tour and have @chrisstapleton in the audience in Nashville, Tennessee, and not have him sing a verse of Tennesse Whiskey! And he killed it! Thank you, Chris."
Since the late '90s, Tyler Perry portrayed the character of Madea, a strict, African-American older woman in several of his movies, including "Madea Family Reunion," "Diary Of A Mad Black Woman," "Madea Goes To Jail," among others.
Months ago, the African-American idol revealed that he was ready to set the character to rest, with two wrap offs, "Madea Family Funeral," and its farewell tour.
While the latter premiered last year, the Madea Farewell tour debuted this year, with its final stop in Augusta, on February 16th.
What better way to retire Tyler Perry's beloved alter ego than have the groundbreaking performance of a lifetime by a country legend.
The guitarist, a father of five, has been a busy dad in recent years, welcoming his fifth child on mother's day last year, eleven months after the birth of his twin boys. Reminiscing on the new addition, the songwriter's wife shared:
"The most perfect mother's day… I wish all you mama's the happiest of days today!"
It can be recalled that like other new additions to the Stapleton clan, the family held back the baby's gender weeks after birth.
In May last year, the fifth time mom took to social media to reveal the baby's gender, declaring that they welcomed another boy, along with a photo of the newborn.
The new baby joined his siblings as the couple's fourth son and the youngest of their brood of five. Little wonder the iconic country singer has been off the radar for a while now.