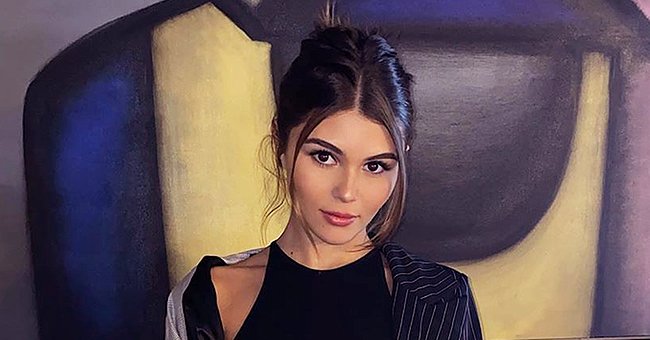 instagram.com/oliviajade
Lori Loughlin's Daughter Olivia, 20, Reportedly Tries to Return to Her Normal Routine
It's been almost a year since Lori Loughlin and her husband, Mossimo Giannuli, were accused of bribing their way into admitting their daughters into USC. Now, their first daughter, Olivia Jade, is trying to return to social media after the scandal broke out.
Months after her parents were charged with fraud for allegedly paying to get her and her sister, Isabella, into the University of Southern California, Olivia Jade was finally back on YouTube with a new video.
Although the young YouTuber seemed to be all set to make her return, she hasn't uploaded any new content in her channel for the past two months.
Lori Loughlin and her daughters Isabella and Olivia arrive at Hallmark Channel's annual holiday event premiere screening of "Northpole" on November 4, 2014. | Source: Getty Images
SHE WANTS TO MOVE ON
In a podcast called "Hot Hollywood" by "US Weekly," a source revealed that the 20-year-old is in a tough place right now but she is ready to make a comeback.
The source also shared how Olivia is trying to put on a brave face despite the fact that she cannot share her side of the story without affecting the case.
Olivia's parents Lori Loughlin and Mossimo Giannulli were arrested in March 2019 for paying to get their daughters accepted in the USC as crew recruits.
However, the couple hasn't pleaded guilty to the charges pressed against them which include fraud, bribery charges, and money laundering conspiracy charges.
SHE WANTS TO MOVE ON
After the news of the college admission scandal broke out, Lori and her family have been under scrutiny. That is the reason why Olivia had discontinued sharing on social media.
The young YouTube star also lost sponsorship and brand deals after the scandal. Besides YouTube, she also made a comeback on Instagram. She has been sharing pictures of herself, going about life.
Lori and her husband are inching closer to their trail day. Meanwhile, actress Felicity Huffman, who bribed someone to boost her daughter's PSAT scores, served her time at the Federal Correctional Institution.
Felicity served under two weeks for the bribery scandal. She was also ordered to pay $30,000 as fine and invest 250 hours in community service.
A HUGE DILEMMA
According to "NBC News," US Attorney Andrew Lelling who is prosecuting the case believes that Lori should get a tougher sentence than Felicity.
Seems like things have taken a wild turn in the college admission scandal case as "US Weekly" reported that Olivia and Isabella will have to testify in the case.
Please fill in your e-mail so we can share with you our top stories!