Carrie Underwood Credits Her Pregnancy Insomnia for Giving Her Time to Write Her New Health and Fitness Book, 'Find Your Path'
Carrie Underwood's soon-to-be-released health and fitness book is the culmination of determination and passion. Having overcome the unique set of challenges it brought, Carrie reflected on how the book came to life.
A mother of two, a wife, a highly successful singer-songwriter, and fitness apparel creator are all things Carrie Underwood balances on her stacked plate. Finding the time to add a published book to the list, reportedly took some doing.
HOW SHE FOUND THE TIME
During a Q&A session in Nashville last week, Carrie said that she wrote "a lot" of the book during her pregnancy with her second son, Jacob. 
The 36-year-old suffered from the "worst" pregnancy insomnia, and it ended up creating the gap Carrie needed to start writing, as she reportedly said:
"[It] actually ended up being a blessing because that's when I wrote the majority of the book —the window from, like, 2 a.m. to 5 or 6."
WHEN WILL IT BE AVAILABLE
The health and fitness book called "FIND YOUR PATH: Honor Your Body, Fuel Your Soul, and Get Strong with the Fit52 Life," will be published through HarperCollins/Dey Street Books on March 3.
Even though Carrie holds a journalism degree and no stranger to writing, the singer soon found out she had "no idea" what she had gotten herself into once the writing started.
THE IDEA BEHIND THE BOOK
In "FIND YOUR PATH," Carrie presents fitness as a journey through a "common-sense approach" to staying healthy and fit every week of the year. A task she set out to do with an open mind, as Carrie added:
"It seemed like a good idea. So it was kinda like, let's give it a try and see if I have anything to say. But, it had its own set of challenges."
When Carrie announced the publishing of her book in September last year, she told PEOPLE that staying fit and living a healthy life had been a "passion" of hers for "years." 
CARRIE HOPES HER BOOK WILL INSPIRE
About to go on a four-city promotional book tour, Carrie hopes that it will lead others to a "positive lifestyle" after it took her time to find sustainable tools to get into her wellness groove. 
The fuel behind Carrie's wellness passion comes from the enjoyment she gets from working out because it makes her "feel good." 
While it helps with weight loss, it's merely a byproduct of Carrie's desire to keep her body strong and healthy while also setting a good example for her two sons Isaiah, and Jacob, with her husband, Mike Fisher.
WHEN HARD WORK PAYS OFF
The 36-year-old recently had more cause for celebration, when her latest album, Cry Pretty, received platinum status. The same album also gave Carrie a place in the history books.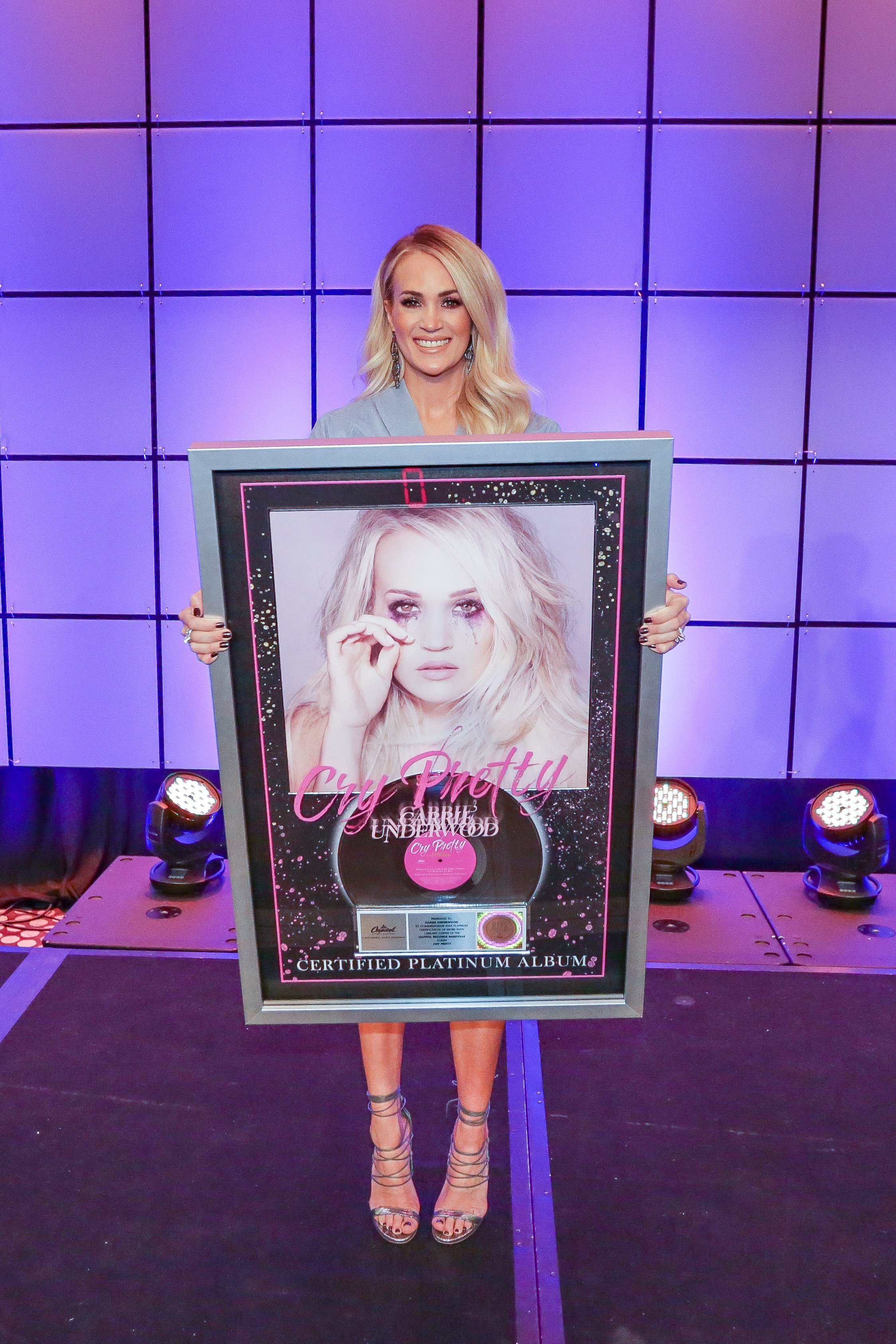 Since Cry Pretty debuted on the top of the Billboard 200 chart, Carrie became the only woman who had four of her country albums take up the No. 1 spot on the all-genre Billboard 200 chart.
Next month fans of Carrie Underwood will get to see her at the "American Currents: State of the Music" exhibit at the Country Music Hall of Fame and Museum.
The exhibit will also feature artists like Jason Aldean, Billy Ray Cyrus, Eric Church, Kelsea Ballerini, among others, and it will open on March 6 and run for almost a year until February 7, 2021.