Oprah Winfrey and Gayle King Get Hilariously Candid about Skinny-Dipping and One-Night Stands Playing 'Never Have I Ever' Game
Oprah Winfrey and her best friend Gayle King sat down for an entertaining game of never have I ever and spilled details about sexting, one-night stands, and plastic surgery.
Oprah and her longtime friend Gayle put themselves in the hot seat for the latest installment of "The OG Chronicles" hosted by Ashley Graham.
SPILLING THE BEANS
Basic rules applied, as Ashley posed a few scenarios, which Gayle and Oprah had to share having done or not honestly.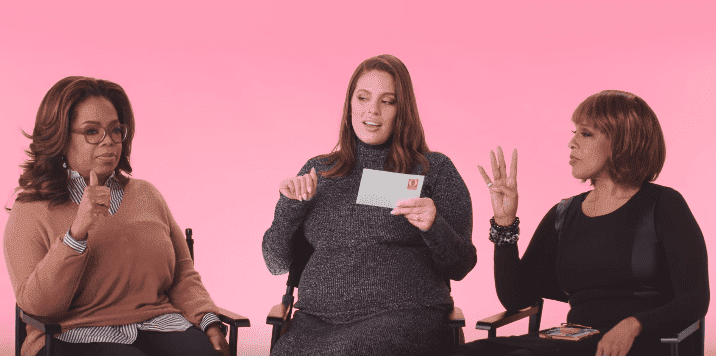 If they had done any of the proposed scenarios, the ladies had to put one finger down; the loser got to down a shot of apple cider vinegar or Oprah's favorite hot sauce.
Gayle technically couldn't say the same, as hers apparently took place in a hot tub. 
Ashley kicked off the game with a question that had Oprah baffled. After asking the two journalists if they have ever stalked someone on Instagram, the 32-year-old had to explain it to Oprah before both she and Gayle denied ever having done so.
WHAT OPRAH PRETENDS TO DO
With both ladies off to a strong start, they also denied having sexted anyone before Oprah volunteered that she has, in fact, pretended to recognize people in the past, as she said:
"I do it all the time. I don't know anybody. I'm walking through the crowds like, 'Hey! How you doing?'"
When it came to going under the knife, both Oprah and Gayle put their fingers down, but not because they have done it, but the thought of doing it has crossed their minds. 
OPRAH HAD TO DRINK UP
Gayle came out as the victor during the first round, which had Oprah down a shot of apple cider vinegar with an appropriate lack of gusto.
Even though Oprah has three pools, she admitted never to have gone skinny-dipping. Gayle technically couldn't say the same, as hers apparently took place in a hot tub. 
One-night stands received a finger down from both, and as the game drew to a close, both Gayle and Oprah denied ever having been to a strip club, neither have they tried their hand at pole dancing. 
BFF'S STAND TOGETHER
The pair know each other long enough to know each other's secrets, as they became friends during their 20s. Now with both in their mid-60s, their friendship only grew stronger with time. 
Not hesitant to stand up for each other, Oprah recently spoke up for Gayle during her appearance on the "Today" show with Jenna Bush Hager and Hoda Kotb.
Tearfully, Oprah explained that Gayle is going through a horrible time after a segment of an interview she had WNBA star Lisa Leslie about Kobe Bryant got taken "out of context" and added:
"She is not doing well because she now has death threats and has to now travel with security. She is feeling very much attacked."
The interview Gayle had with Lisa took place before Kobe Bryant, and his daughter Gianna tragically died in a recent helicopter crash along with seven other people, and in context at the time, "everyone seemed fine."
.@Oprah emotionally responds to backlash her friend Gayle King received over King's recent interview about Kobe Bryant with WNBA legend Lisa Leslie: "She is not doing well because she has now death threats." pic.twitter.com/M8HrCp8vTr

— TODAY with Hoda & Jenna (@HodaAndJenna) February 7, 2020
However, when taken out of context in what CBS News reportedly called a "thoughtful" interview, Oprah said she could understand why people became upset by the clip.
THEIR LONG SHARED TELEVISION HISTORY
Open to scrutiny due to their high profile public life in media; the pair are seasoned vets when it comes to television appearances and interviews. 
Back in the day with Oprah's iconic television series "The Oprah Winfrey Show" in its debut season in 1986, Gayle made her first television appearance on the show. The topic, well, their friendship, of course. 
Relatedly, Oprah Winfrey is currently on her "2020 Vision World Tour," and she stopped over in San Francisco last weekend, where she spoke to Kate Hudson, her celebrity guest for the session.
As the pair talked about life and its struggles, Kate opened up about her issues with weight loss, and she credited WW, who also sponsors Oprah's tour, with helping her get back on track.
After welcoming her daughter Rani Rose with Danny Fujikawa in October 2018, Kate's baby weight wouldn't budge until she got on board with the WW plan. Since then, the actress shed 25lbs.