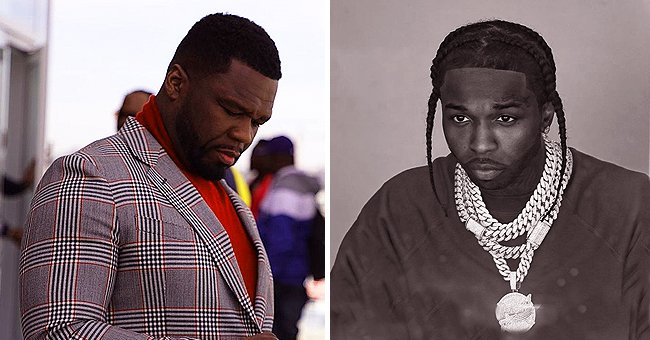 Instagram/50cent // Instagram/realpopsmoke
50 Cent Says He Will Executive Produce and Complete Pop Smoke's Album after His Recent Death at 20
Rapper and Producer 50 Cent has announced that he is going to executively produce Pop Smoke's album. Pop recently passed away and people have mixed reactions about Cent's move.
Taking to Instagram, 50 Cent announced that he was listening to late rapper Pop Smoke's song while on the move and was going to do something for the late rapper. He wrote:
"I'm on the move listening to Pop smoke; i decided I'm gonna executive produce and finish his album for him. #abcforlife #starzgettheapp #lecheminduroi #bransoncognac."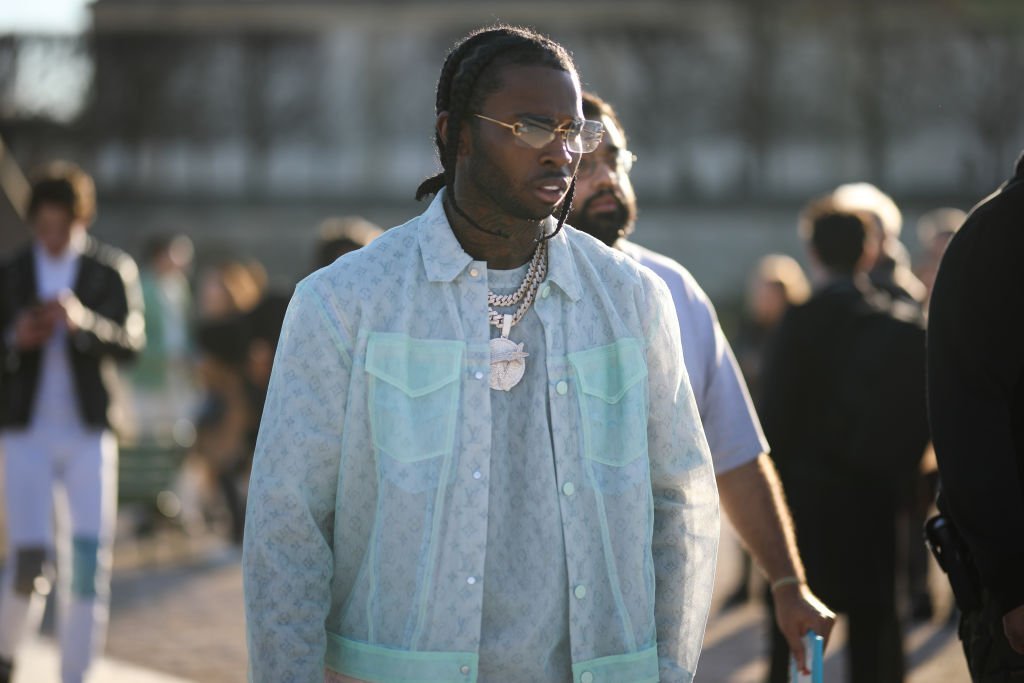 Pop Smoke is wearing a Louis Vuitton look before the Louis Vuitton AW20 Men Show on January 16, 2020. | Photo: Getty Images
The post which showed Cent sitting on the stairs of an airplane and ,another of him giving a thumbs up in the plane, has a lot of people talking about this move with some appreciating it and others criticizing it. Someone said:
"That's big; if you are giving all the proceeds from the album to his family, yeah, that's big."
Following the post, other celebrities commended the rapper for the act of kindness and volunteered to work with him if there was any capacity they could fill.
Shortly after the post, 50 admitted that he wanted to work with some certain artistes on the album. Some of which include Roddy Rich and Drake. Roddy replied with a handshake emoji, while Drake did not give a response.
Upon the arrival of the police and emergency response unit, the shooters had fled, and Pop was dead.
The announcement was met with mixed reactions, with many calling 50's bluff alluding that the rapper could have helped Pop while he was still alive. Although some saw it as an act of kindness, others termed it clout chasing.
One comment, in particular, had many people discussing the reason for 50's recent involvement with Pop. The comment had over 100 replies with a lot of back and forth as regards the real intention of 50 Cent. The comment read:
"...why didn't you think of that when he was alive. Why now that he is gone. To benefit who? You or him. Do things for your friends and loved ones while they alive."
Although 50's real intentions are not known, it is impressive that the rapper is going out of his busy schedule to do something for Pop, who died at such a young age.
Pop Smoke was a 20-year-old rapper that was gradually making his way to the top. He had gone on to record amazing songs such as summer hit "Welcome to the Party," but he was killed in his residence in February 2020.
The event occurred when four masked men stormed the house of the Canarsie born rapper and fired shots at him. Upon the arrival of the police and emergency response unit, the shooters had fled, and Pop was dead.
Please fill in your e-mail so we can share with you our top stories!