Katy Perry from 'American Idol' Reveals How Mom Ruined Singer's Plan for Announcing Pregnancy to the Family
With news of Katy Perry's pregnancy out in the open, the "American Idols" judge shared how revealing the news to her family didn't go according to plan, neither did she suspect Tabasco would become her new best friend.
Katy Perry surprised with fans an epic pregnancy announcement when she revealed her baby bump at the end of her music video to the song "Never Worn White," released on March 4.
WHEN THINGS DON'T GO ACCORDING TO PLAN
Relieved that she doesn't have to keep "the longest secret" she'd ever had to anymore, Katy shared with SiriusXM Hits 1 how the reveal to her family turned pear-shaped thanks to her mom.
It will be Katy and her fiancé Orlando Bloom's first child together, and the "American Idols" judge planned on breaking the news by putting it on a wine label and explained:
"[I was planning to] bring it to a dinner or something or I would give it as a gift to a friend — like, 'Oh, here's a nice bottle of wine,' and then they'd [have] the reaction later."
Before Katy could give her family the special bottles of wine, her mom Mary came for a visit, and while there, she looked at Katy's wine.
A MOTHER'S INTUITION
According to the 35-year-old, her mom "never" looks at her wine, and when she read the label that cat was out of the bag as Katy recalled:
"And she's like, 'What is this?!' And that's how it happened. I was like, 'Well, you ruined the surprise.' I guess moms have intuition unlike any other, right?"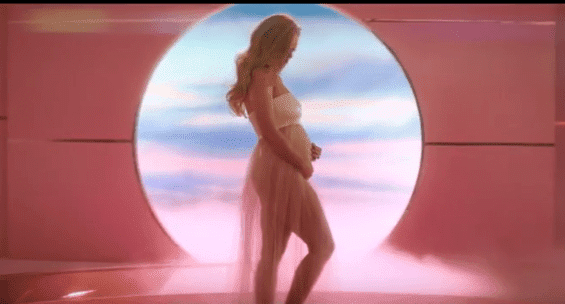 THE CRAVINGS
During an Instagram Live session, Katy said that she and Orlando's new bundle of joy is set to arrive this summer, and elaborated on her pregnancy cravings thus far. 
While Katy "literally never cared" for spices, she can't get enough of it now and has to carry Tabasco sauce in her purse at all times like "that woman." Beef products now "gross" her out.
THE UPCOMING WEDDING
Orlando popped the question to Katy on Valentine's Day in 2019 and shared the news with their fans through a closeup picture of the couple with Katy's massive diamond ring on display.
The happy couple planned on tying the knot in Japan early this summer, but have hit pause on proceedings due to recent health scares, according to a source close to the couple that spoke with PEOPLE.
If Katy Perry and Orlando Bloom decide to postpone their wedding plans, it will be the second time. The couple first planned on tying the knot in December last year.
Despite having fun with the planning of their big day, Katy and Orlando reportedly changed the date due to the location they wanted as the couple plan on having a destination wedding and a local one.