Kate Middleton Pays Tribute to Ireland by Pairing Green Dress with Shamrock Jewelry on Last Day of Royal Tour
Thursday, March 5, 2020, Duchess Kate and Prince William had their last official tour day in Ireland. Kate continued to dress in a color that honored their host country.
The Duchess wore an emerald green gown that featured white polka dot squares created by British designer Suzannah. The vintage-inspired silk-printed Valerie midi-dress had long pleated sleeves and a soft A-line skirt.
The gown was cinched at the waist with a black belt with a shiny buckle. Kate carried a black Jimmy Choo Varenne clutch bag and completed her look with a pair of black Ralph Lauren heeled boots.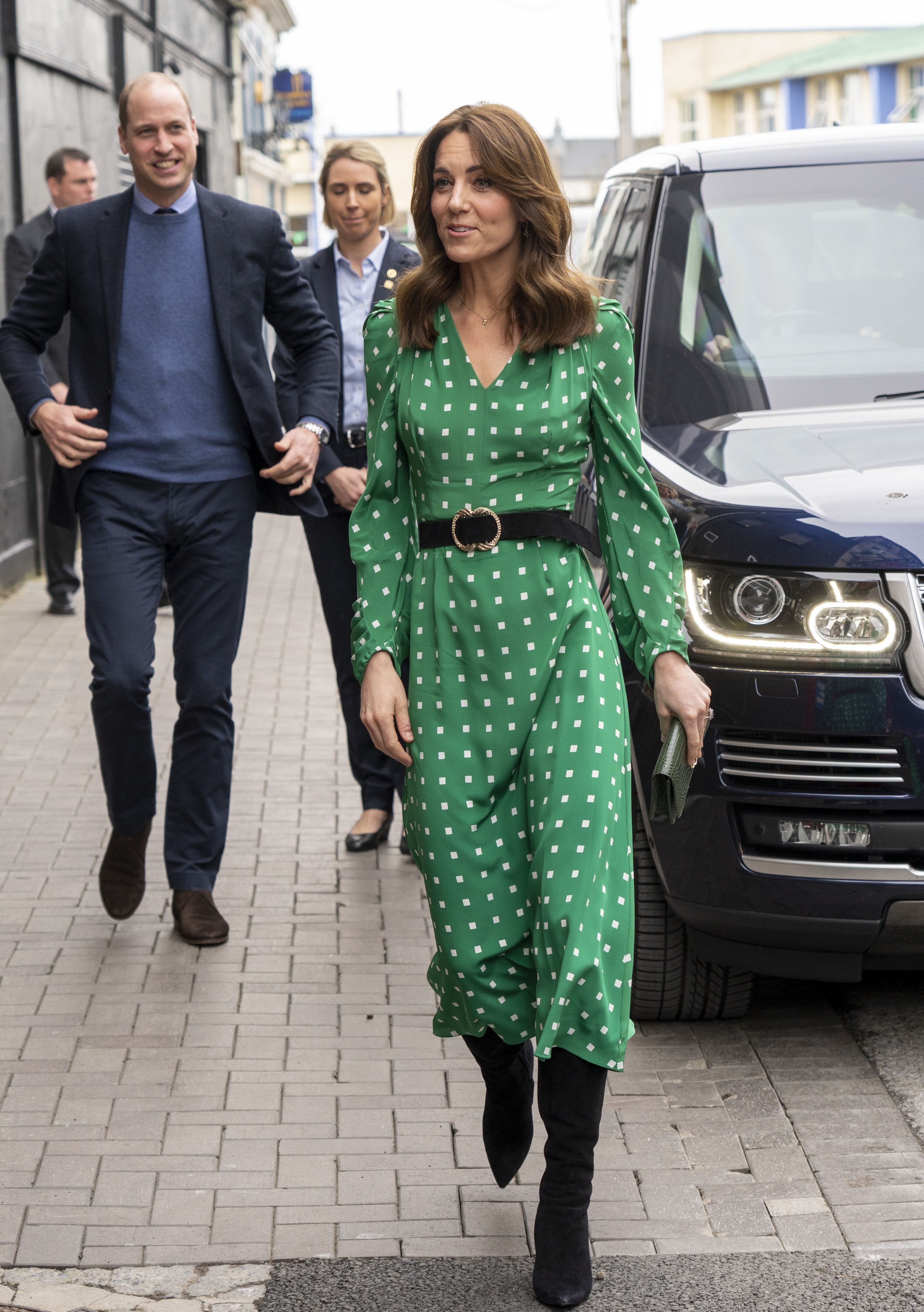 Kate pays homage to Ireland
The color of her dress was a tribute to Ireland. She also wore shamrock earrings, which had been worn earlier on the three-day trip.
Her tribute to the country was also seen in the matching necklace she wore for the occasion. She and her husband, Prince William was attending a special event in Tribeton, Galway.
An eventful last day in Ireland
The Duke and the Duchess of Cambridge watched Macnas, Livefeed, Hoops, and the Galway Community Circus. They had the opportunity to meet with performers, young people, and volunteers who were involved in Galway 2020 European Capital of Culture events.
The royal couple then made their way to the family-owned traditional Irish pub, Tig Coili, in the city center. To keep warm, the Duchess added an olive-colored coat by Alexander McQueen. 
Re-wearing clothes
In January 2020, Kate wore the military-style khaki coat on a visit to Bradford. The Duke and Duchess arrived in Ireland via the Dublin International Airport on March 3, 2020.
First day in the country
They were welcomed by Irish government officials as well as the British Ambassador. They then had a chance to meet with the President of Ireland Michael D. Higgins and his wife, Sabina Coyne, and the Taoiseach of Ireland.
Hanging out with the British Ambassador
A commemorative ceremony was held for the pair at the Garden of Remembrance. A reception was also hosted at the Guinness Storehouse's Gravity Bar by the British Ambassador.
William & Kate pay tribute to the country
For their first day in the country, Kate honored the Irish by wearing a forest green coat, a bright green printed dress, and matching hunter green shoes. She accessorized with earrings and a thick black headband.
William also paid homage to the country's signature color by sporting a green tie.