Jamie Oliver from 'Naked Chef' Is a Doting Husband and Dad-Of-Five — Meet His Family
The popular TV chef has had plenty of ups and downs since he rose to stardom in 1999, from helping launch a successful TV network to seeing his restaurant empire fall, but he has always had his family to take refuge in.
Now that he seems to be gradually recovering from the bankruptcy of his restaurant business in 2019, a 44-year-old British celebrity chef and restaurateur Jamie Oliver has admitted that his family was his "antidote" to the crisis.
"When you're tested as I've been, all that matters is friends, family, and health," Jamie told People recently in an interview marking the release of his first all-vegetarian cookbook, titled "Ultimate Veg."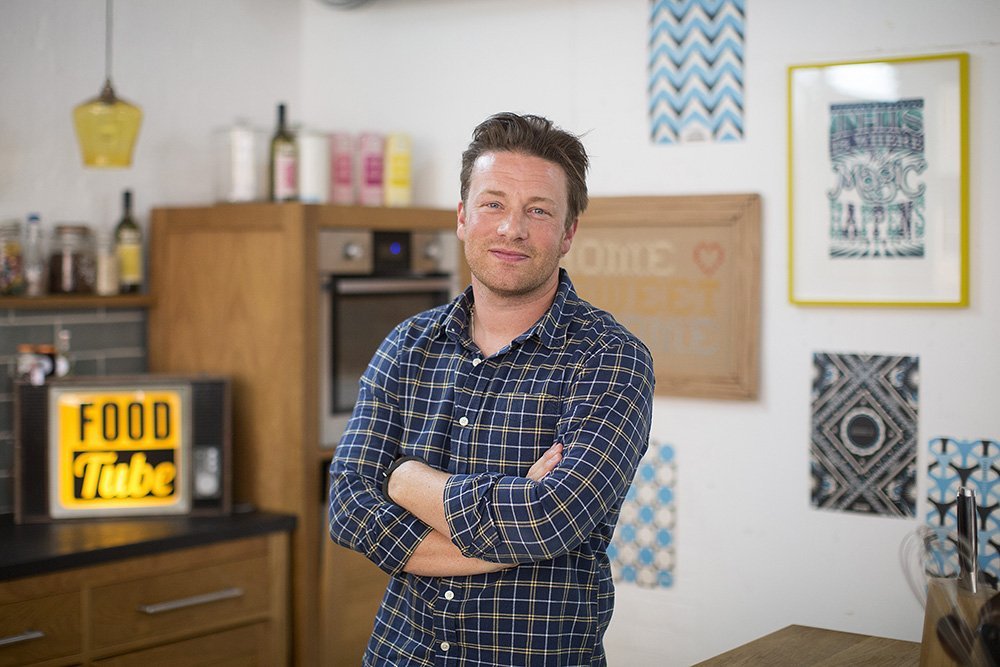 "I go home and see my kids and that always cheers me up," the thankful father-of-five added.
BLESSED WITH A LIFE PARTNER
Married since not long after Jamie landed the TV show "The Naked Chef" in 1999, the famous cook and his wife Jools, a former model, are approaching their 20th anniversary as husband and wife, so he has never been alone in his career.
"It's not always easy. She probably hates me 40 percent of the time, but 60 percent is pretty good," Jamie joked in the aforementioned interview.
As a proof of how happy they have lived together for nearly two decades, the husband and wife are planning to renew their vows this 2020, "outside and barefoot," as 45-year-old Jools shared with Daily Mail recently.
THE JOYS OF PARENTING
In the course of their long marriage, Jamie and Oliver have welcomed five children, ages 17 to 3, and while the couple has always tried to keep them away from the spotlight, they have made the occasional public appearance.
Taken from interviews and social media posts over the years, it is safe to say that Jamie is a devoted father that has always gone out of his way to be there and to share quality time with his children, who have become the focus of his life.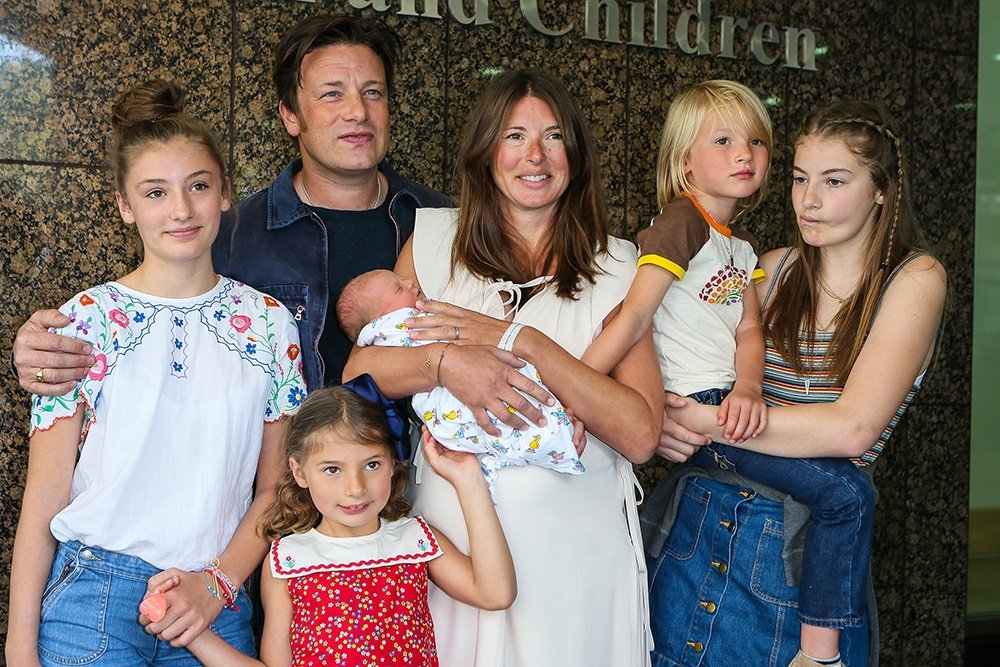 "Since Poppy was born, I just have to start at five, finish at 10 at night, Monday to Friday. I have my structured holidays, my structured weekends, and I try to be a good boss and a good dad."
-Jamie Oliver, Hello! Magazine, June 17, 2019.
IT ALL STARTED WITH A TEENAGE ROMANCE
Both Jamie and his wife Jools, born Juliette Norton, Grew up in Essex, England, where they met at age 17, with Jamie immediately falling for her and starting to woo her in the most romantic way.
"When I was 17 I worked in Tokyo for three months and every single day Jamie sent me a letter or fax without fail!" Jools recalled in an Instagram post 17 years after the two tied the knot.
MARRYING
Jools and Jamie exchanged vows in the latter' home village of Rickling, Essex, on June 24, 2000, after eight years of dating.
They chose the historic All Saints Church as the site for the ceremony, and the reception was held at the chef's parents' house, not far from the place of worship.
"My wedding day was one of the best days of my life, we kept it private and surrounded ourselves by loving friends and family and what a joy it was…" Jamie wrote about the special day 19 years later.
"Jools, thanks for being the best friend a wonderful wife and truly amazing mother to our Oliver clan. Without question you've been the backbone behind anything good I've ever done, what a journey we've had," added in an Instagram post.
HANDLING TWO TEENAGE DAUGHTERS
Jamie and Jool's first two children are daughters Poppy Honey Rosie Oliver and Daisy Boo Pamela Oliver, 17 and 16 years old respectively, meaning that the parents have already experienced what it is like to deal with a teenager.
"Jools and I have struggled at times. You have to retune from having a child to a young woman. Whether we're pulling back or tightening up…especially with social media," Jaime told Hello! Magazine.
"We're the first generation of parents having to feel our way through that. If we have too many blips at home, I'll take their phone away for a day," the chef added. 
Poppy is planning to go to college and is reportedly looking forward to studying music as one of the subjects of her higher education. According to her mother, she also has a strong interest in English.
As of Daisy, she is going to be finishing high school soon, and we are yet to find out what plans does she have for her life from now on. 
Meanwhile, we can tell that Daisy is passionate about surfing, which she has been practicing for several years, making her parents very proud.
THIRD DAUGHTER PETAL
In 2009, Jamie and Jools welcomed a third daughter named Petal Blossom Rainbow Oliver, and is going to be 11 years old next April.
"Jamie and Jools are both completely smitten with Petal already and Jamie is looking forward to two weeks paternity leave to spend quality time with his four beautiful girls," a representative revealed at the time.
According to People, Jamie was hoping for a boy, while Jools wanted another girl, which was ultimately granted to her.
As with the rest of Jamie and Jool's children, Petal has a long and colorful name, which was their mother's choice, as she later revealed.
"They all have more than one name because I couldn't decide. I'm not sure where Petal Rainbow came from - apparently it's a My Little Pony! I wanted to call her Rainbow but Jamie told me to calm down," Jools told Telegraph.
THEIR FIRST SON
In March 2010, Jools and Jaime announced that they were expecting a child for the fourth time, and six months later, a delighted Jaime took to Twitter to share the news that he had finally welcomed his first male child.
"It's a baby boy guy!!! in shock, we're all very happy, mum was amazing and both are well and happy x4 kids!!" Jaime tweeted on September 15, 2010. The child was named Buddy Bear Maurice Oliver and is now 9 years old. 
"With Buddy, it was quite fun choosing a boy's name, as I hadn't done it before. And I hate people's opinions on names. Whatever you call your baby is your decision," Jools said in reference to her baby's name.
And then this just happened guys !! IT'S A BABY BOY ! Everyone in the Oliver family is very surprised & beyond happy pic.twitter.com/EPhzhPZ5R3

— Jamie Oliver (@jamieoliver) August 8, 2016
ANOTHER BOY ARRIVES
After having Buddy, Jaime and Jools lived as a family of four for six years before they surprised their fans with the arrival of their fifth and last child to date, a second baby boy named River Rocket Blue Dallas, born in 2016.
"And then this just happened guys!! IT'S A BABY BOY! Everyone in the Oliver family is very surprised & beyond happy," Jaime tweeted.
The baby of the family, River is already 3 years old, and his older siblings are loving the latest addition to the household, as their parents' social media make evident.