Meghan Markle Gets Sweet Compliment from a Student during Her Visit to Robert Clack Upper School
During her surprise visit at the Robert Clack Upper School in east London, a student called Meghan Markle "Beautiful."
Meghan's last royal engagement was at Robert Clack Upper School. She visited the school for International Women's Day, according to her and Prince Harry's Sussex Royal Instagram account.
During her powerful speech, Meghan likewise encouraged a student from the crowd to go up to the stage and speak about what he thinks the significance of International Women's Day is.
SPEAKING THE TRUTH
A young man named Aker Okoye immediately made his way out of his seat and toward the Duchess of Sussex up on stage. 
Not long after the former actress welcomed him with an embrace, the student said before starting his discourse:
"She really is beautiful innit. I had to say that. I had to speak the truth here." 
INSPIRING SPEECH
Okoye then added that for him, International Women's Day is a suggestion to everybody that women can do everything.
He continued that this is more of a message to everybody and that possibly this day could be the one day people don't see women as objects.
Meghan also shared a sweet anecdote about her child with the students.
WOMEN OF OUR FUTURE
As the student embraced her and left the stage, Meghan said that Okoye did a good job, pointing out his extraordinary confidence.
Meanwhile, during her speech, the doting mother discussed the greatness of advocating for sexual orientation and racial equality, not just on days like International Women's Day, but consistently. 
She said that when someone speculated about what she wanted to do for International Women's Day this year, for her, it was especially imperative to be with the women of our future.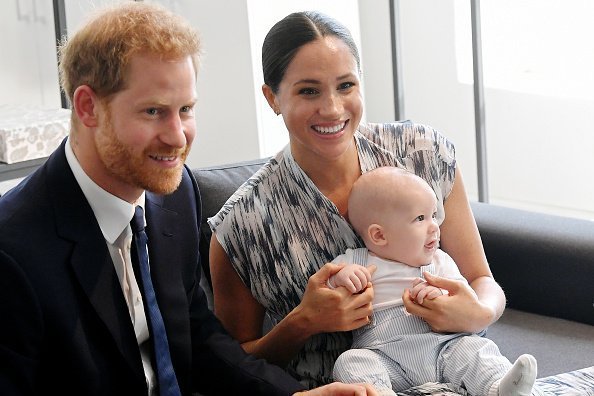 She added, "And that is all of you young women here, as well as you, the young men, who play a very large part in this."
As reported by E! News, Meghan also shared a sweet anecdote about her child with the students. She revealed that her ten-month-old son Archie was beginning to make his first steps. 
She also gushed about her first kid with Harry at the Endeavour Fund Awards as of late. According to Hello! Magazine, an attendee said that Meghan told her baby Archie is into everything.
Archie was born on May 6, 2019. He is the seventh in the line of succession to the British throne. The royal baby has only made a handful of public appearances since his birth.