Melania Trump Opts for Belted Plaid Jacket and Tan Pants for National PTA Conference
First Lady of the United States Melania Trump attended the National PTA Conference in Alexandria, Virginia, sporting a belted plaid jacket, which she matched with tan pants. 
FLOTUS Melania Trump always brings her style A-game on whenever she steps out in public, regardless of the event, and did just that when she attended the PTA conference in Virginia. 
This time the First Lady stepped out in a business casual look, wearing a plaid blazer, which was cinched with a brown leather belt. She also wore tan-colored pants, and for her feet, went with pointed snakeskin-embossed pumps, which had stiletto heels.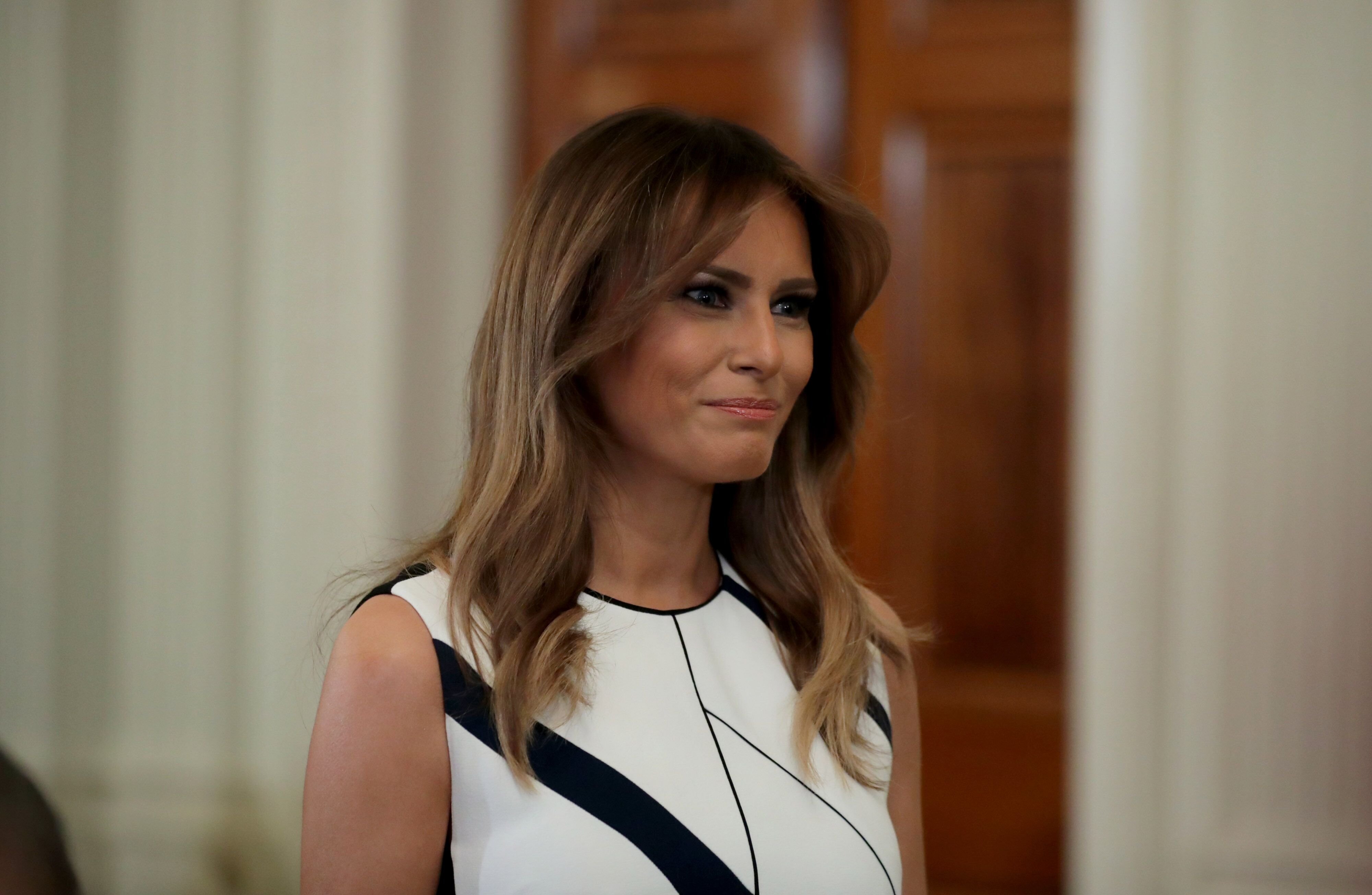 At the PTA Conference tagged, "PTA Takes Action for Kids," Melania spoke about her "Be Best Initiative," a project that is focused on the wellbeing of children, safety in cyberspace, and the prevention of opioid abuse.
She took to Instagram to post two photographs of herself speaking at the Conference, and captioned the post:
"... Our country is blessed to have hardworking parents & teachers who dedicate their lives to ensure that our nation's youth ... #BeBest."
Highlights of the First Lady's speech, which lasted about ten minutes, saw her discuss the success that her initiative has had since its launch. 
She explained that her first objective in starting the initiative was to raise awareness of the three major issues facing children in the present day.
Melania Trump is yet to speak publicly about Coronavirus, with many people saying that she is thoughtless about the issue
Melania further stressed that her second objective was to shed light on the programs and people all over America and the world at large, who could help in fighting those issues. Continuing, the 49-year-old further said:
"Three years later, I am proud to say we have made great strides in fulfilling this mission."
The First Lady, however, failed to mention or speak about the Coronavirus, which continues to ravage many countries and has led to the close of many schools in the United States. 
The deadly virus was among the topics scheduled to be discussed at the Conference, and even before Melanie's introduction, Leslie Boggs, the President of the National PTA, asked the 300 parents attending the conference what they were fighting. 
In reply, the audience asked, "Corona?" Boggs went on to praise the work of the parents, further telling them that they were on the frontlines of work for all the children, and thanking them. 
Melania Trump is yet to speak publicly about Coronavirus, with many people saying that she is thoughtless about the issue. More than 19 people have died in the United States as a result of the virus.