Melania Trump Dazzles in Gorgeous $4,000 White Belted Coat as She Hosts the Governors' Spouses' Luncheon
Melania Trump dazzled in a designer winter coat dress at she hosted Governor's Spouses' during an annual luncheon held in the White House's Blue Room.
The day after Melania Trump joined her husband, President Donald Trump in hosting the annual Governor's Ball at the White House, she took the stage for a luncheon with the Governors' Spouses'.
The first lady enjoyed the intimate event in the Blue Room, where she arrived wearing a winter white coat that matched the pink and white décor of the room.
Melania dazzled as she entertained her guests in a $4000 designer wool coat by Gucci. It was detailed with large pockets on the front with a matching belt that showed off the brand's famous logo.
According to Daily Mail, the 1970's inspired coat, which had large collars and zip-up pockets on the front is from Gucci's pre-fall 2019 collection.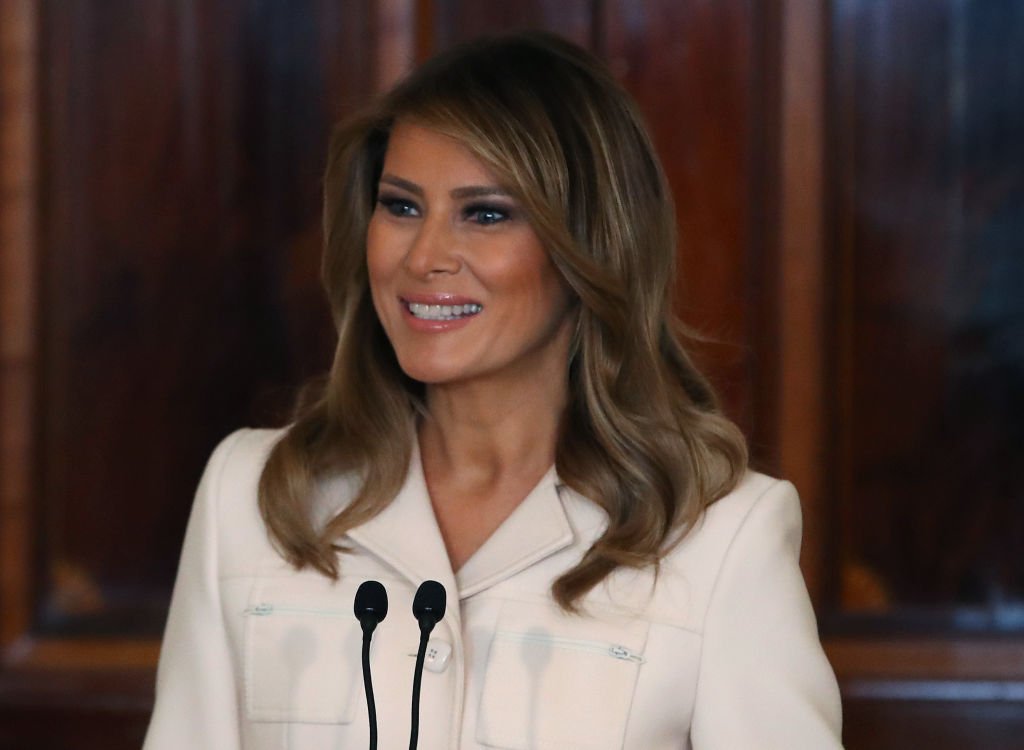 Melania kept her make-up simple with her go-to smokey, and glossy nude lip. Adding a pop of color to her look, she wore a pink stiletto heel that matched the paisley pink table cloths at the event.
Her neutral fashion choice for the luncheon did little to hide her glowing tan, as she looked summer ready with a dark blush and blonde highlights in her wavy hair.
In the past, #MelaniaTrump has said she is aware that some are skeptical of her focus on online bullying because of President Trump's Twitter behavior.https://t.co/sQNNeIGXAM

— USA TODAY Life (@usatodaylife) February 11, 2020
The focus of the event was to promote her "Be Best" initiative. In her speech she spoke about cyberbullying and online safety. Sharing about the work she has been doing with the families affected, and partnership with Billy Ray Cyrus, she said:
"I know the many issues associated with online safety will be hard to stop, but there is a need now more than ever to teach our children healthy behavior to secure a safer future for all of them."
Donald, who recently celebrated his 15-year wedding anniversary spoke for the first time about Melania's initiatives, and praised her for the work she had been doing with children, he gushed:
"Our magnificent first lady has launched the Be Best initiative to advance a safe, healthy, supportive and drug-free life for the next generation online, in school and in our communities."
The night before, she looked elegant in a black $4000 Carolina Herrera gown as she joined her husband in hosting the dinner for the annual Governor's Ball.
According to PEOPLE, CNN White House reporter, Kate Bennett, who wrote an unauthorized biography about Melania's life said she lives the life of a wealthy stay-at-home mother. However, she revealed that the first lady takes pride in carefully planning annual events.