7 Times Melania Trump Sparked Debate over Her Choice of Outfit
Melania Trump's wardrobe choices as the First lady of the U.S have been heavily criticized at times. From a jacket with a way too literal message on it to wearing clothes that were culturally inappropriate in Africa, here are seven of Trump's most controversial outfits.
Like every other first lady, Melania Trump's fashion choices have been put under a magnifying glass for the past four years.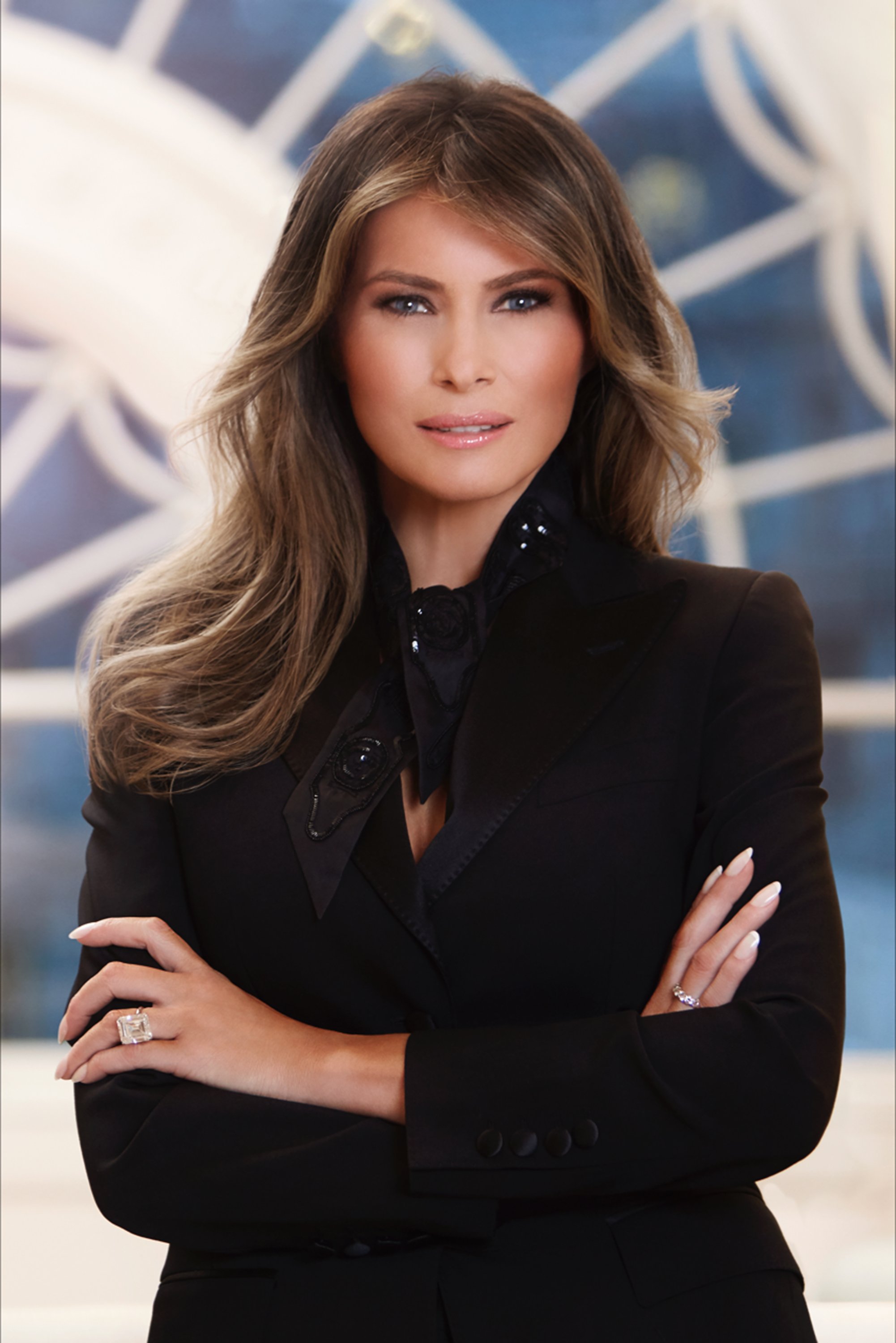 A former fashion model, Trump seems to be fond of European designers and tailored designs that often stand out for their price label.
And although she's been criticized continuously for rocking way-too-expensive clothes at times, the first lady has already stated she'd like people to focus more on her work and less in her wardrobe.
That's a daring request for a first lady, especially when many people believe she says more with her clothes than with her own words.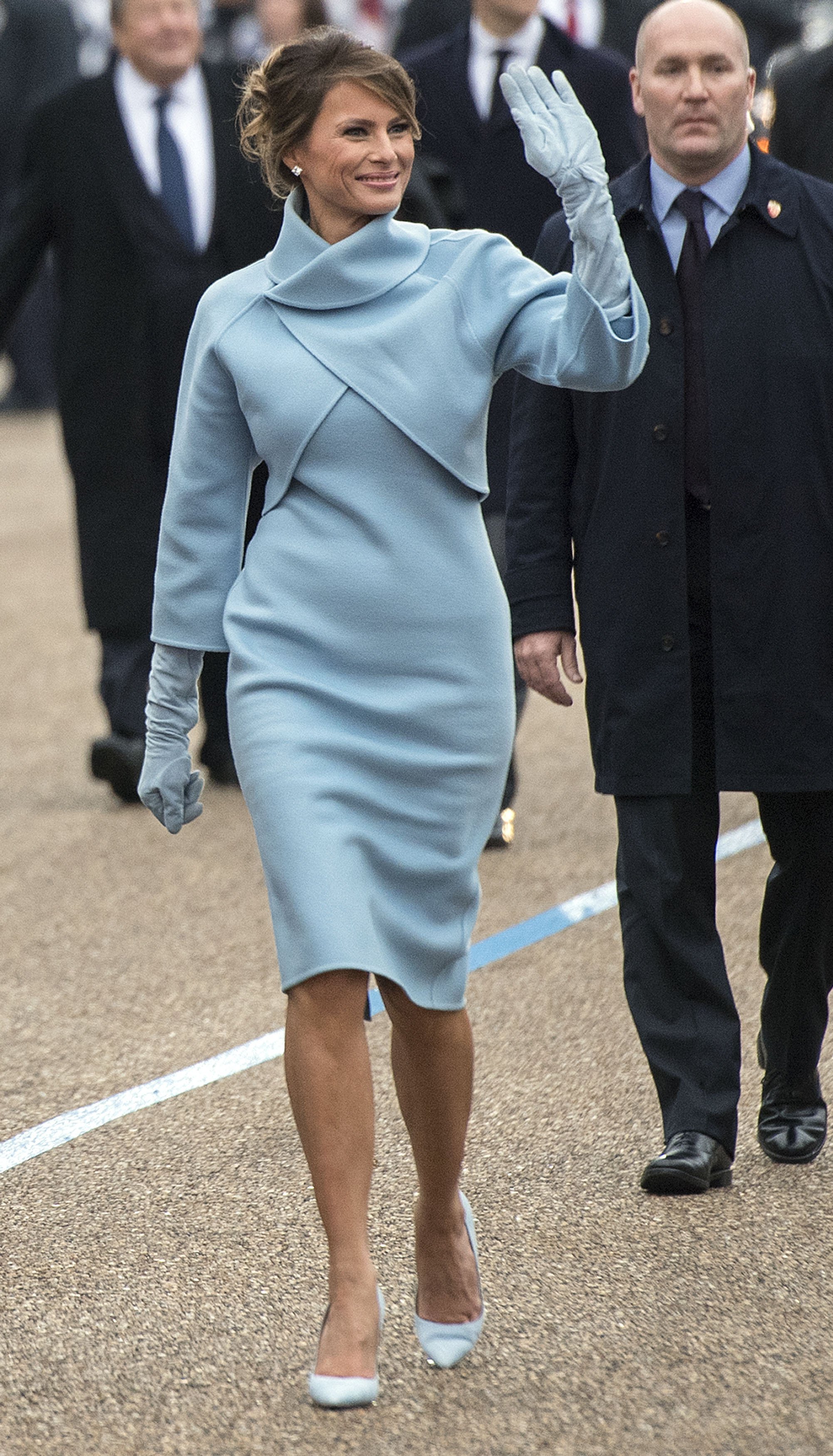 Here are seven of Trump's most controversial outfits, which people thought send a clear or sometimes ambiguous message to the public.
May 2017
During a visit to Sicily, in Italy for the 2017 G7 Summit, Melania Trump stepped out in a Dolce & Gabbana floral embroidered jacket, a seemingly safe choice considering that the fashion house is Italian.
However, people were enraged to learn that the jacket retailed for over $50,000. But this was not the first or the last time the first lady sparked controversy for her pricey choices.
On top of that, since Dolce & Gabanna have their own history with controversy—including a racially charged ad that insulted Asian people, and some remarks about body positivity activists—some people called out Trump to stop donning the brand.
Melania Trump makes a splash on her international trip, drawing attention in Sicily with her $51,500 designer jacket https://t.co/6EZRM8eNNM pic.twitter.com/ua6tfs5nh1

— CNN (@CNN) May 27, 2017
August 2017
A photo of Melania walking beside her husband to board a flight to Houston, Texas caught the attention of many and not in a good way.
The couple was headed to visit the areas affected by Hurricane Harvey. While the President wore khakis, a windbreaker, and ordinary shoes, Melania became the center of criticism for rocking a pair of black stilettos.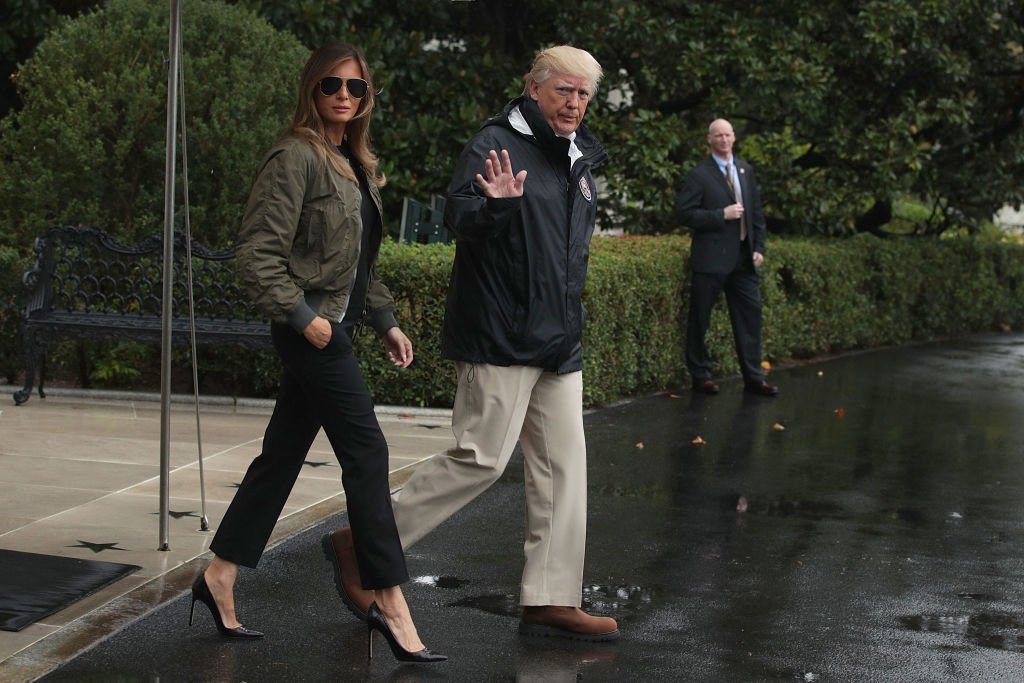 People on social media called the move "insensitive," but it was later revealed that Trump had changed on the plane, and she arrived wearing a pair more appropriate shinning white sneakers.
Update for everyone who is obsessed with this: Melania Trump is now in tennis shoes. pic.twitter.com/6nwboiEZfk

— Kaitlan Collins (@kaitlancollins) August 29, 2017
January 2018
Trump made her first appearance of the year at the State of the Union just a few days after The Wall Street Journal reported that her husband, Donald Trump, had paid hush money to an adult film actress.
Melania looked pristine in an all-white pantsuit, but as usual, her outfit caused controversy because it heavily contrasted against the all-black outfits from the majority of the female congressional democrats, who chose the color in solidarity with the Time's Up and #MeToo movements.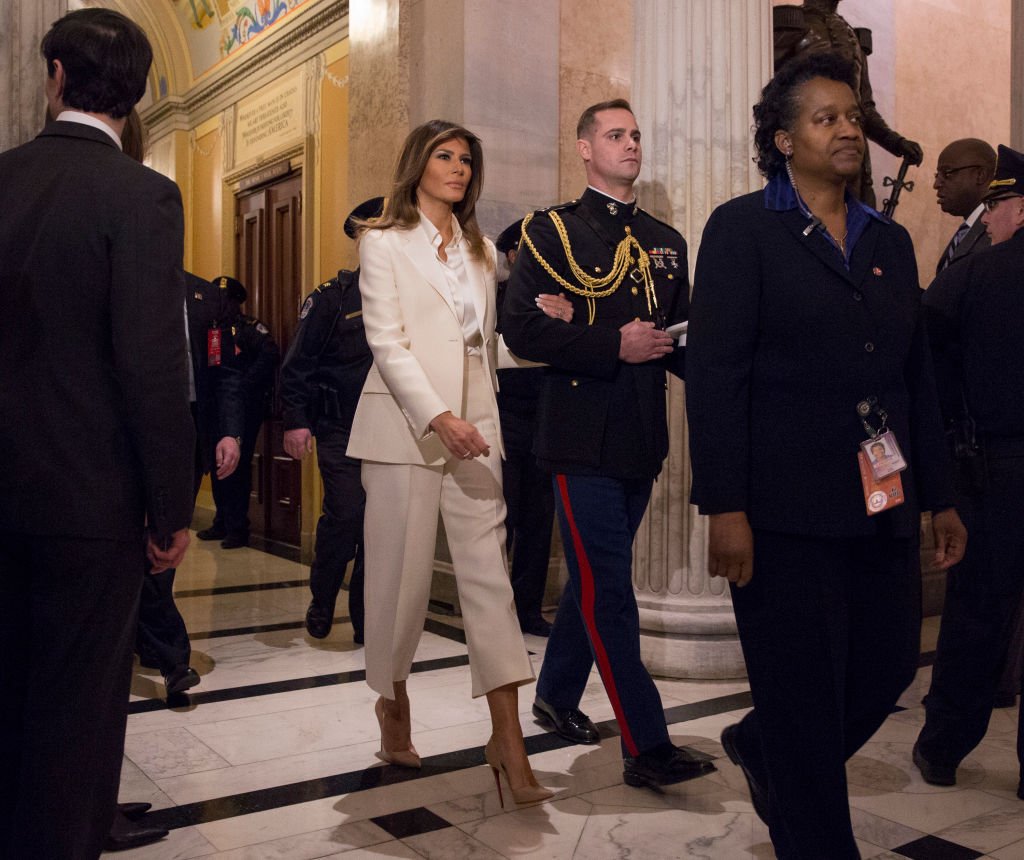 October 2018
In her first solo trip overseas, Melania Trump visited Kenya and enraged local people with her fashion choice during a safari.
Melania sported a white pith helmet, which is usually associated with colonialism in the continent. According to The Guardian, European explorers used to wear that type of hat in the 19th century, and later, military officers adopted the style too, emphasizing its oppressive symbolism.
First Lady Melania Trump criticised for 'colonial' hat choice in Kenya https://t.co/8wSuvNOjJW

— Sky News (@SkyNews) October 6, 2018
December 2018
Melania's nude leggings caused many people to take a double-take to her outfit as she walked alongside her president.
Paired with a green coat and matching stilettos, the leggings played a visual trick that had many people believing, at first sight, that the first lady was showing off her legs for the world to see.
However, the wrinkles and seams of the leggings can be seen if you pay close attention. This outfit wasn't offensive but baffling.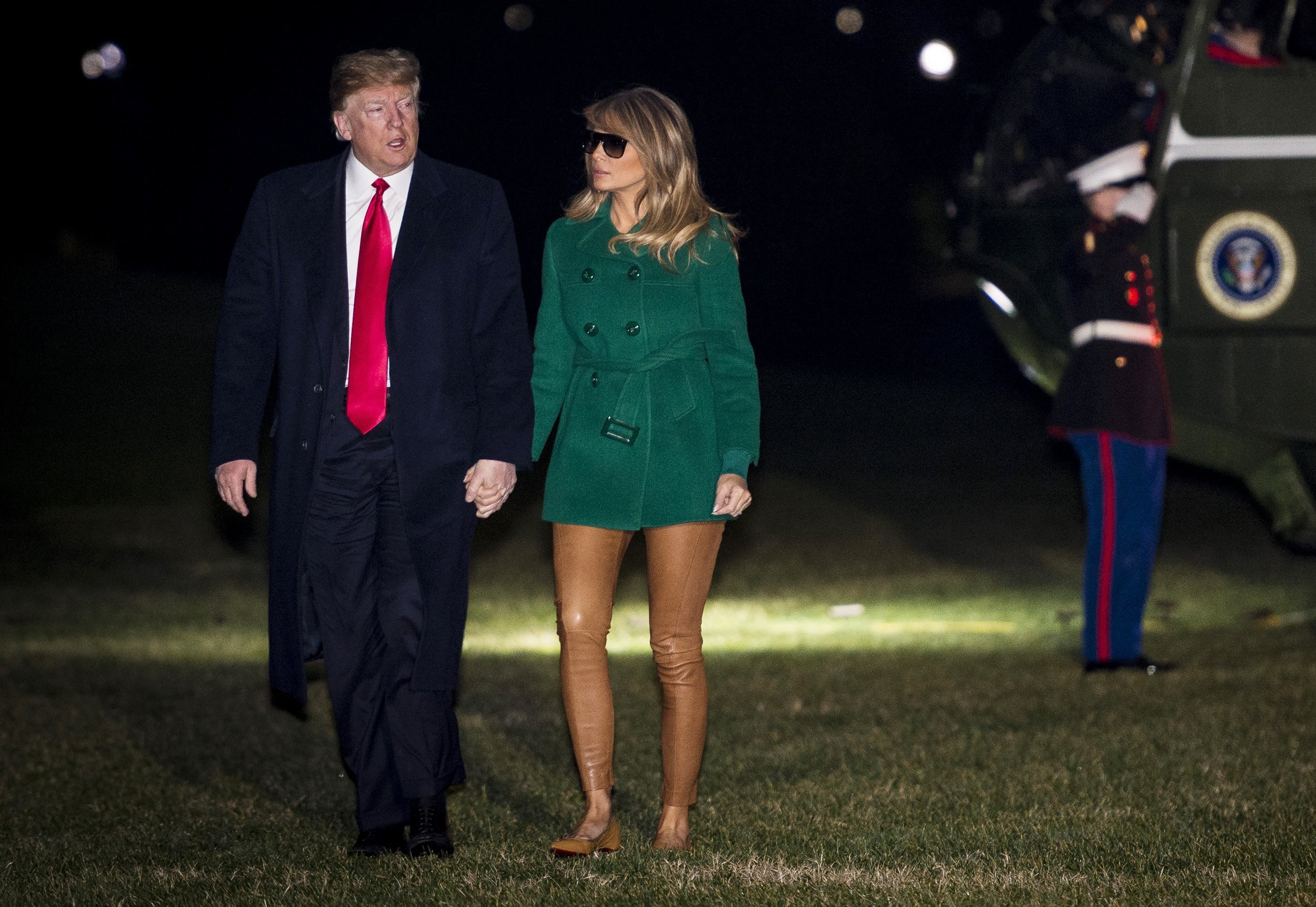 September  2019
Another optical illusion that caused quite the stir on social media came from a photo FLOTS tweeted on the 18th anniversary of the September 11 terrorist attacks.
In the pic, Melania and the president were photographed from the back at the Pennsylvania memorial, and stitching detail on her navy blue coat caught the attention of people.
We will #NeverForget #September11 pic.twitter.com/UjjhV07Li4

— Melania Trump 45 Archived (@FLOTUS45) September 11, 2019
Many pointed out that the detail resembled a tower—the World Trade Center—with an object impacting on it from the side—a plane.
Of course, people on social were raging and calling the first lady insensitive for overseeing the details, which was just a weird optical illusion created by the white stitch and button detail.
I'm sure I'm not the first one to spot this but who in the world thought it was a good idea for Melania to wear this coat in the 9/11 photo. It legit looks like an object is flying into a tower or the Washington Monument pic.twitter.com/w2qOpxP15G

— Ashley Spivey (@AshleySpivey) September 11, 2019
June 2018
Last but not least, perhaps Melania trump's most controversial piece of clothing to this day was the $39 Zara jacket she wore while visiting children that had been separated from their families at a detention center on the Mexican border.
The jacket had a text on the back that read "I Really Don't Care, Do U?" and it was deemed cruel considering that her husband's politics on immigration caused the children she was visiting to be left alone in the first place.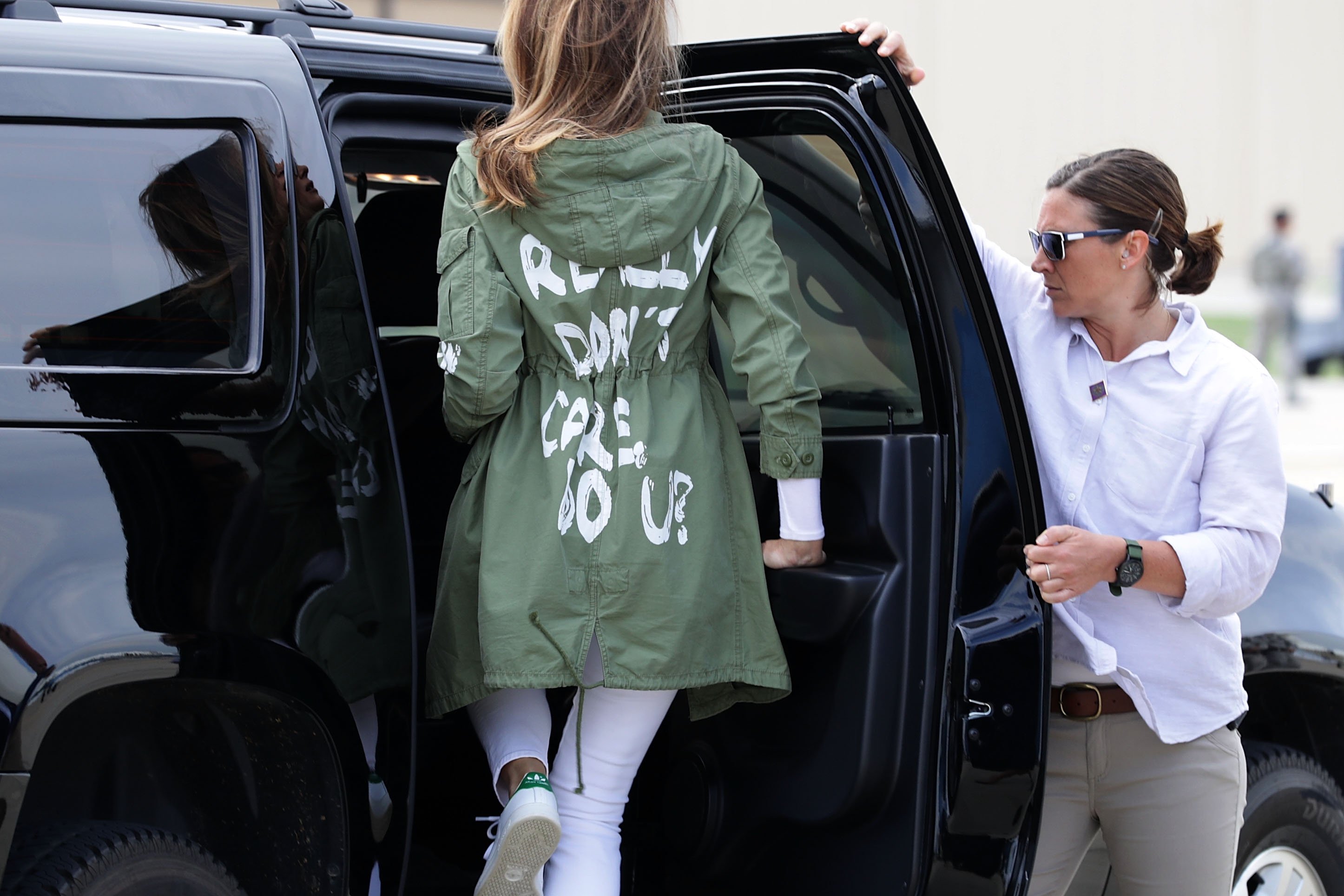 At first, Melania's spokesperson denied the jacket had any hidden meaning. Still, the first lady herself later admitted to ABC News that the message from the jacket was aimed at her critics on the left-wing media, saying:
"It's obvious I didn't wear that jacket for the children ... It was for the people and for the left-wing media who are criticizing me. I want to show them that I don't care. You could criticize whatever you want to say. But it will not stop me to do what feels right."
She also confessed in the same interview that she had regrets about the jacket because it took off the focus from her initiative to visit the kids.