Chris Brown's Daughter Royalty Strikes Pose like Professional Model during Photo Shoot in New Pics
Chris Brown's five-year-old daughter looked like a supermodel posing with a friend in a pink tutu inspired dress for a children's fashion brand.
Chris Brown's five-year-old daughter, Royalty, is more than just a young entrepreneur, social media influencer, but she can add a professional model to her budding career.
She recently shared photos that were taken by professional photographer Patty Othon. While posing alongside her friend Dayci, the caption said, "When we hear "Super Model, Fierce fave!" This is what we give!"
Toning down her usual bubbly and bright personality, Royalty, didn't smile for the snaps as she channeled her inner model and gave demure facial expressions.
She was dressed in a pink tut inspired dress by Tutu Du Monde; the design had layers of tulle with a sheer silver caplet. The look was complete with a shiny sheer butterfly shaped bow on her head.
Royalty and Dayci weren't the only stars in the shot; the two young girls also posed with a white stuffed rabbit that had a small bow on its ear and a pink tutu with matching shoes.
Patty Othon preposted a few pictures from the photoshoot and shared an uplifting message that she hoped the adorable pictures would help uplift people's days, as she shared details on the latest collection.
With the support of her parents, Royalty has started her own nail collection and been the face of many children's brands.
After a very contentious and public paternity and child support battle over Royalty, it appears that Chris Brown and Royalty's mother, Nia Guzman, have finally come to a good place in their relationship as parents.
According to Hollywood Life, after ending their legal battles, the former couple has finally put aside their differences, a source said:
"Chris and Nia have come a long way in terms of how well they co-parent and it's all comes down to what's best for their daughter."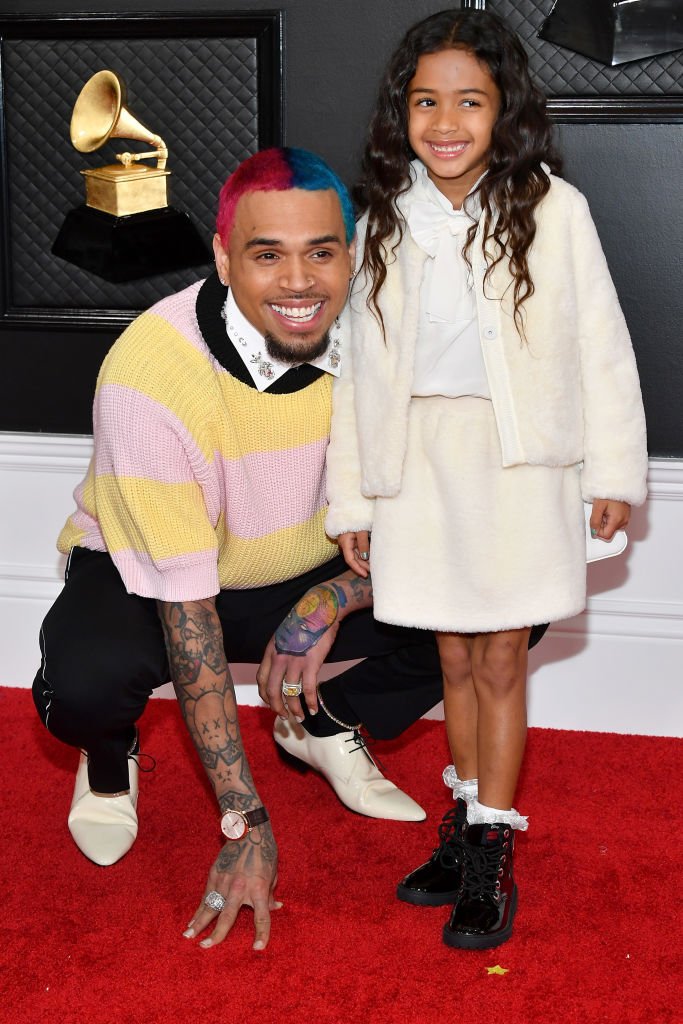 Chris
 and Royalty share a special bond, and while he hasn't been seen on the red carpet with any female since ending some of his profiles relationships with Rihanna and Karrueche Tran, his daughter has been by his side at some of his red carpet appearances.
It is reported, father-daughter duo melted hearts when they arrived at the 62nd Grammy awards together as each other's dates.