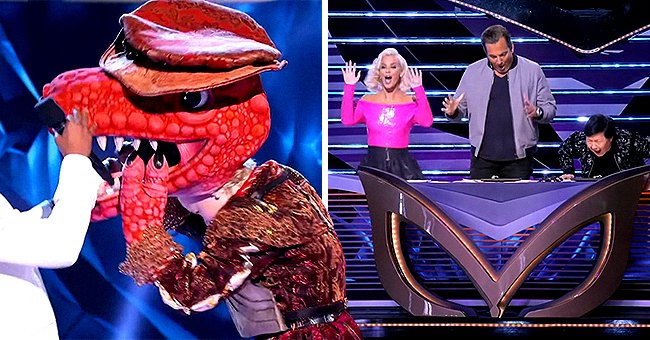 YouTube/The Masked Singer
JoJo Siwa Unmasked as Celebrity in T-Rex Costume in Latest Episode of 'The Masked Singer'
"The Masked Singer" reveals the identity of T-Rex as the remaining four disguised stars in their group went up against each other for a spot in the Super Nine.
Wednesday night's episode of "The Masked Singer" saw the last four stars from Group C go head to head during en epic evening of performances.
The show kicked off with a group performance by Night Angel, Rhino, Astronaut, and T-Rex, to "Let's Get Loud" by Jennifer Lopez, and guest judge Will Arnett couldn't help but say that it was "one of the weirdest things" he's ever witnessed.
Fans of the show will remember the show's shocking season 3 premiere right after the Super Bowl when The Robot was revealed to be rapper Lil Wayne.
Following the group performance, each star brought their individual A-games after their clue packages shared several hints about their identities.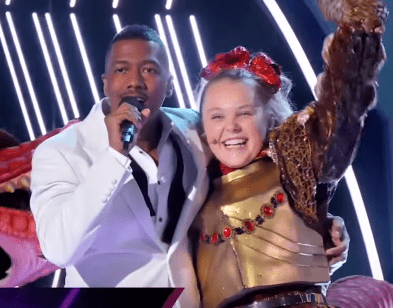 JoJo Siwa revealed to be the T-Rex on "The Masked Singer" on March 25, 2020. | Source: YouTube/ The Masked Singer.
Judges Ken Jeong, Jenny McCarthy, Nicole Scherzinger, and Robin Thicke, had no trouble figuring out the identity of T-Rex after her performance failed to impress the voters.
Night Angel delivered the night's best performance as voted by the judges and the audience - who cheered on as T-Rex slowly took off her mask - revealing none other than "Dance Moms" alum Jojo Siwa.
Currently, on her tour called D.R.E.A.M. The Tour, in support of her LP, the 16-year-old couldn't let the opportunity pass on competing in the show, as she said after the big reveal:
"I actually paused my tour to do this. I was like, 'Pause, I want to do this!'"
Last season's ending had people stunned when Fox's identity turned out to be Wayne Brady. Known for his talents as a comedian and actor, he sang his heart out, impressing the audience all season long.
Following his win, Wayne told PEOPLE that he found their astonishment not all that surprising, she the picture of him they have is of being the "funny guy," and added:
"At the same time, I was doing that, I was making records. I've put in a lot of work as a vocalist, but that's not the picture that's been painted."
Last week saw the elimination of the Swan, and the unmasking revealed 22-year-old Belle Thorne, the beloved "Shake It Up" alum.
As one of her care package clues, Bella hinted that she had worked with Ken Jeong, one of the judges, who starred with her in the 2015 film "The Duff."
Please fill in your e-mail so we can share with you our top stories!