'Law & Order: SVU' Fans Praise Garland's Performance While Complaining about Another Break
The latest episode of "Law & Order: Special Victims Unit" was so intense that fans couldn't help but gush about it on social media. Demore Barnes' performance was particularly praised.
Titled "Garland's Baptism by Fire," the 18th episode of "SVU" season 21 circles around the alleged crimes of Reverend Dominick Chase. Spoiler alert from this point on.
People complained about NBC's decision to take a one-week break.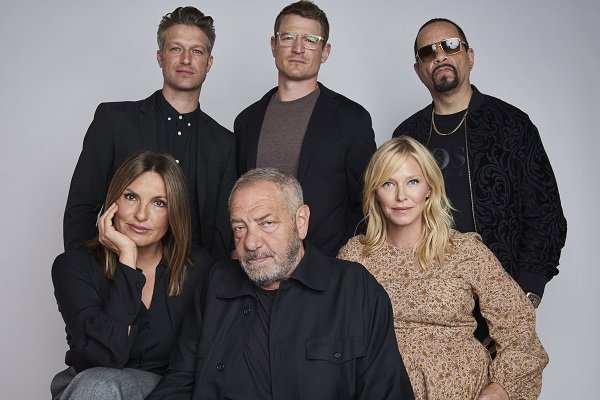 EPISODE'S RECAP
Detective Amanda Rollins got a new case about a church embezzler willing to turn on Reverend Dominick Chase, who according to her, was a sex offender. However, there was a problem: the Reverend in question knew Deputy Chief Christian Garland.
Detectives Dominick Carisi and Rollins went to Garland's home to tell them about the accusations, and he revealed that he indeed knew Chase as he officiated at his wedding.
"You turned her against me?"
"No, you did that." pic.twitter.com/JPfbYSsnWN

— 𝐋𝐀𝐖 & 𝐎𝐑𝐃𝐄𝐑 (@lawandordertv) April 3, 2020
Even though Garland initially didn't believe that Chase was guilty because the informant had reasons to lie, he allowed the investigation. Olivia Benson and Carisi found a payment of $250,000 made to a young girl named Renee.
The team also interviewed a group of girls who were paid off. While some denied everything, one of them revealed that Chase used to talk to her in a perverted way.
I loved it. Garland was SO good! Can we have more of him please?

— Megara 💜💛 (@sassybibrarian) April 3, 2020
Eventually, Renee confessed that Chase offered to be her private tutor but that his conduct was improper and that she even had a video of him undressing her. Chase knew it, so she gave him the money to delete the video, which she didn't.
Renee was called a liar and faced criticism by several people, so she backed up and was not willing to testify against Chase. She didn't want the video to be shown in court either.
Laura, the Reverend's wife, told Benson that she contacted all the victims of her husband, asked for their forgiveness, and urged them to cooperate with the police. The girls did so, and Chase ended up behind bars.
Garland visited Chase in jail, and the Reverend told him that it was a test sent from God. The Chief corrected him and said that his actions put himself in prison and, after telling Chase that he would pray for him, he cried.
The Emmy goes to.....

— Proud Democrat (@KrystalWnek1) April 3, 2020
PEOPLE'S REACTION
Shortly after the episode ended, several fans took to social media to share their thoughts on it and to praise Demore Barnes' performance.
One of them pointed out that the type of crime shown in it happens in real life and that she was glad that the pastor was behind bars. The user added that the thing that shocked her the most was that Chase didn't believe that there was something wrong with what he did.
I loved it. That's real life. Everybody that claims to be for God isn't for God at all. Wolves in sheep's clothing. Glad the Pastor is behind bars, but he is crazy,he didn't even see his wrong doing in all of this. Talking about he was sent there to preach. SMH.

— Nailah-Aisha (@nailah_aisha) April 3, 2020
Another netizen admitted that it was an incredible episode and that even though Garland had shown himself as a very tough chief, he is only a human being. She wrote:
"He has heroes & mentors too. It was difficult for him to see that his pastor friend fell from grace & he played a part in it."
Incredible episode. Garland puts on the very tough demeanor as police chief, he's no different than anyone else. He has heroes & mentors too. It was difficult for him to see that his pastor friend fell from grace & he played a part in it. #GarlandsBaptismByFire #SVUWatchParty

— Laura Navins ✌🏽✌🏻 (@laura_navins) April 3, 2020
While the episode attracted a lot of good critics, people also complained about NBC's decision to take a one-week break. The next episode of "Law & Order: SVU" will not air on April 9 but on April 16!
One of the main things that fans condemned was that the show came back from another break only two weeks ago.
CHRIS MELONI'S RETURN TO THE "LAW & ORDER: SVU" FRANCHISE
Earlier this week, people got the wonderful news about Chris Meloni's return to the "Law & Order" universe. The actor will reprise Elliot Stabler on an upcoming Dick Wolf's TV show.
Another exciting hint shared about it was that, since Elliot will be leading the NYPD organized crime unit, he is very likely to work next to Mariska Hargitay's character Olivia Benson.
Mariska is definitely thrilled about it as she took to Instagram to wish Chris a happy birthday and to congratulate him on his forthcoming project. "Welcome home Elliot Stabler, #It'sBeenAWhile #MissedYou #ElliotStabler," she wrote in the caption.
Everything suggests that, with Chris' arrival to the "Law & Order: SVU" universe, fans will get to see what they have wished for since he left in 2001: Benson and Stabler working together again.