Nearly 120 Kennedy Family Members Paid Online Tribute to Late RFK's Granddaughter & Her Son
About 120 members of the Kennedy Family recently conducted an online prayer service for Maeve Kennedy McKean and her son Gideon. The mother-son duo who went canoeing last week was declared missing and is now presumed dead.
Robert F. Kennedy's granddaughter, Maeve McKean, and her 8-year-old son were both victims of a canoeing accident that happened on Thursday last week.
About 120 members of the Kennedy family recently held an online service on Zoom to pay their respect to Maeve and Gideon, who has now been presumed dead.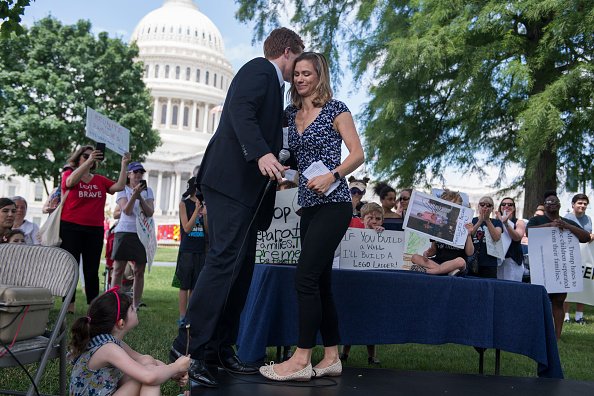 Robert F. Kennedy Jr., Maeve's uncle, took to his Instagram to share photos of the prayer service.  One photo in the Instagram post captured a lot of sympathy cards that adorned a tree outside the house of late Maeve and Gideon. The post was captioned, 
"Some 120 Kennedy / Shriver / Lawford / McKelvey / Allen / Schlossberg / Schwarzenegger / Cuomo cousins attend family prayer service on Zoom."
He added that the service was lead by a cousin, Timothy Shriver.  Andre Cuomo, New York Governor, whose daughters are cousins of the late McKean's, expressed his sadness at the news.
He lamented on the fact that the family could not physically be together during such trying times and called the condition a "tragedy."
The incident happened as the mother-son duo were having fun playing kickball in their D.C home amid the quarantine due to the coronavirus pandemic.
David paid respect to his late wife, calling her his "best friend" and explained that she was magical.
One of them had kicked the ball in the water, and they boarded the canoe to retrieve it. Unfortunately, the boat was overtaken by wind and drifted into the open bay. It was later found capsized with no signs of the Maeve and her son around.
After continuous extensive searches were held for them, the two were assumed to have passed. Kathleen Kennedy Townsend, Maeve's mother, confirmed the announcement and said, 
"the search for my beloved daughter Maeve and grandson Gideon has turned from rescue to recovery."
Maeve's husband, David McKean, explained that the chances of their survival had become "impossibly small."
David took to social media to announce that all active rescue efforts for his wife and son would be suspended. He wrote, "It is clear that Maeve and Gideon have passed away."
He paid respect to his late wife, calling her his "best friend" and explained that she was magical. McKean also spoke about his other two kids with Maeve, Gabrielle, and Toby, and he mentioned that they were all heartbroken at the news.