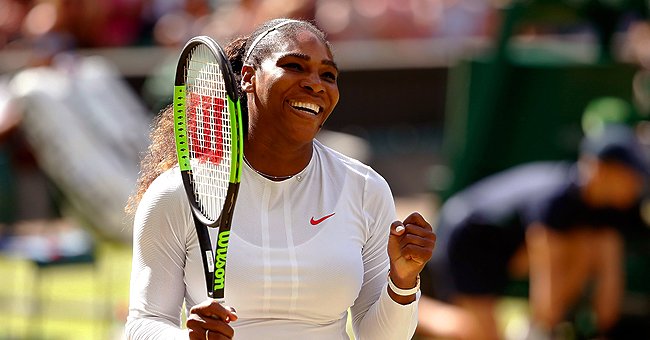 GettyImages
Serena Williams & Alexis Ohanian's Daughter Olympia Steals Dad's Hat and Runs in a New Video

The toddler seems to have inherited her mother's athletic abilities, considering how she outruns her father in a hilarious Instagram clip shared a few days ago.
On April 4, 2020, 36-year-old Alexis Ohanian, Reddit co-founder and the husband of 38-year-old tennis pro Serena Williams, took to social media to share a video featuring the daughter he shares with his wife of nearly three years.
In the adorable clip, we can see 2-year-old Olympia running away from her father on the family home's tennis court after mischievously stealing Alexis' hat, with the investor admitting in the caption that:
"@olympiaohanian is the reigning champ of Keep Away in our household. I'm going to need a new hat, @eclipsefoods because I'm still chasing this kid."
The post prompted Alexis' fans and followers to leave positive comments about the special father-daughter moment.
"So cute! Dad life suits you well!!" expressed a user. "Great training for all sports as well," another person pointed out. "Do I see a track star?" added yet another commentator.
BEAUTY ROUTINE
Olympia is no stranger to social media. In fact, she has her own Instagram account (kept by her proud parents) with more than 600.000 followers, apart from regularly stealing the show on her parents' publications.
Late in March, Williams took to her Instagram stories to share her skincare routine with her fans amid the coronavirus quarantine, and her daughter couldn't resist joining her on camera to try to do her own makeup.
Williams had no option but to acknowledge the girl's precocious eagerness to put some makeup on by herself, but before she let Olympia play makeup artist she made sure she washed her hands as a safety measure.
The results were as chaotic and funny as expected, and although she encouraged her daughter and told her how cute she looked, she worried about having to clean all that lipstick from Olympia's face.
A WORKING MOTHER
Williams, like many professional women, struggles to satisfy the demands of motherhood and a high-profile sports career, and despite her fame and wealth, it is the average working mother that keeps her inspired to go on.
"I think of what they do literally every single day to support their family and to be a rock for their family. And it helps me keep going. There is not a day that goes by that I don't think that women are just really amazing," Williams told Today.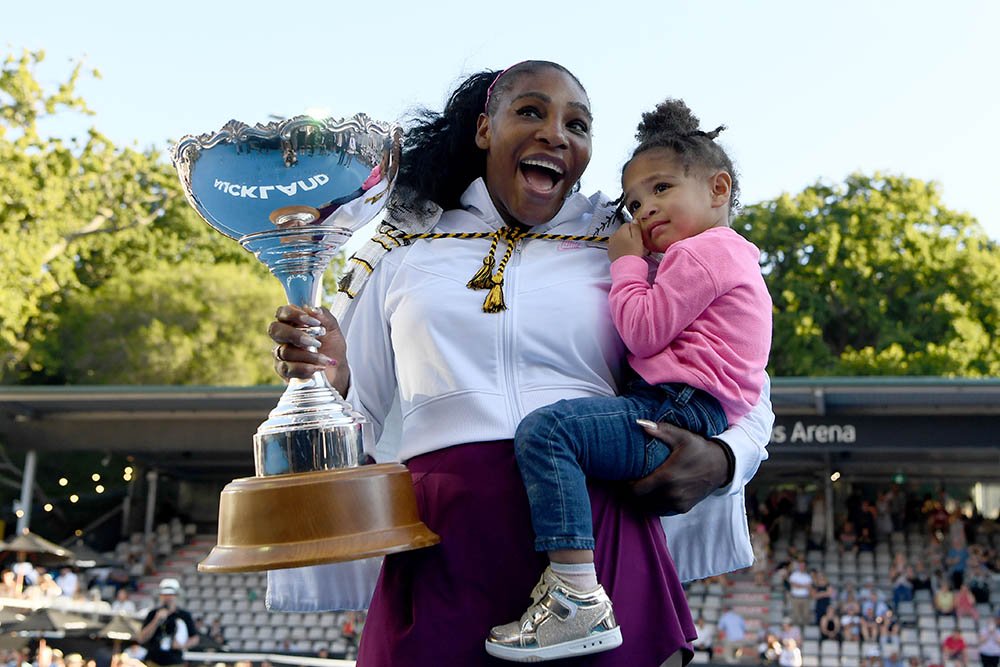 Serena Williams of the USA celebrates with daughter Alexis Olympia after winning the final match against Jessica Pegula of USA at ASB Tennis Centre on January 12, 2020 in Auckland, New Zealand. I Image: Getty Images.
"I'm fortunate enough that I have days off, and I get to make my schedule and then can spend the rest of the day with her. And that's still hard," Williams added, recognizing how fortunate she is.
A SUPPORTIVE SPOUSE
Williams also has the great support of her husband Alexis, who is not only her biggest fan but also a devoted and loving father with whom the sports star can count to take good care of Olympia.
Alexis and Olympia can be often seen admiring Williams' tennis excellency from the seats, and back in January the two walked into the court to congratulate the player for her 2020 Women's ASB Classic win against Jessica Pegula.
Alexis also encourages Olympia to explore her creative side, and he doesn't have any problem with lending his nails to his daughter to experiment with nail painting, as he shared in another Instagram video late in February.
Please fill in your e-mail so we can share with you our top stories!