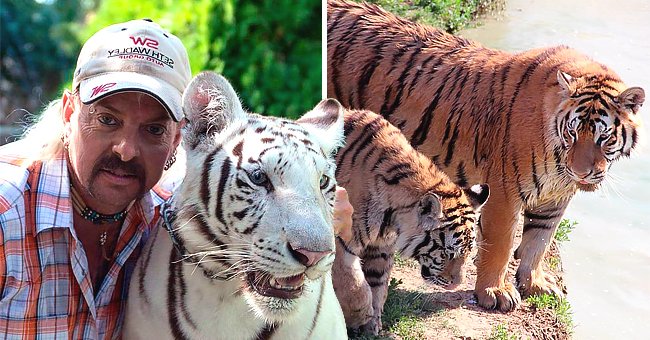 instagram.com/joe_exotic
Joe Exotic Was Reportedly Terrified of Lions and Tigers despite Being Star of the 'Tiger King' Documentary
Netflix dropped a new episode of "Tiger King" titled "The Tiger King and I" recently. The episode rejoined eight individuals highlighted in its number one docuseries.
The greatest disclosure was when Rick Kirkham, the TV producer of Joe Exotic, told host Joel McHale that Joseph Maldonado-Passage, better known as "Joe Exotic," is really scared of big cats.
"He was scared to death of lions and tigers. And in the shots that you see in there," Kirkham said, "where he's in with the two tigers, the white one and the other one - the white one is blind and the other one is on tranquilizers."
Kirkham added that it's silly to think how Joe Exotic has gotten popular as "The Tiger King" when he's extremely petrified of big cats.
The producer continued that he laments ever meeting the former roadside zookeeper. He related an especially upsetting story about him killing a horse he saved for tiger meat.
As reported by Daily Mail, GW Exotic Animal Park owners Jeff and Lauren Lowe believed Joe Exotic is right where he belongs inside the Federal Medical Center in Fort Worth. Jeff likewise denied ever setting him up.
Maldonado-Passage is currently serving 22 years in jail for slaughtering five tigers. He also illegally sold tigers across state lines, according to National Geographic.
Joe Exotic has earned a new point of view subsequent to being in prison for a year and a half.
Meanwhile, during his trial, Joe Exotic clarified that in his two decades as a zookeeper, he had buried in excess of 50 tigers at the back pasture. He said nobody called him out about his ways before.
Joe Exotic filed a federal lawsuit worth $94 million against government entities and his former business partner. He accused them of violating his civil rights, false arrest, and causing the demise of his mom.
Besides the lawsuit, Exotic wants to get out of prison to watch the documentary he was in. His husband, Dillion Passage, said he was happy about the publicity he got from it.
Joe Exotic has earned a new point of view subsequent to being in prison for a year and a half. He has understood that he ought to be "ashamed" of the conditions of the creatures he kept in his zoo.
Meanwhile, actor Sylvester Stallone may turn out to be a fan of the "Tiger King" documentary. He and the rest of the family glammed up in brilliant outfits as they took delight in the show.
Please fill in your e-mail so we can share with you our top stories!