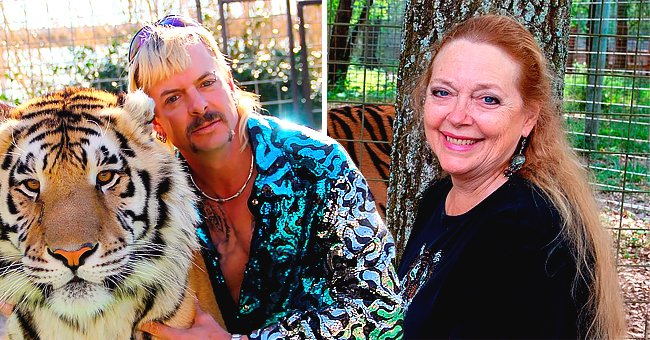 instagram.com/joe_exotic/twitter.com/MrJerryOC
People: 'Tiger King' Stars Joe Exotic and Carole Baskin's Relationship Was the Worst Kind of Love Story
Behind Netflix's "Tiger King: Murder, Mayhem, and Madness" is a deep feud between Joe Exotic and Carole Baskin. They had the worst kind of relationship.
Exotic is now serving 22 years in prison after he was found guilty in 2019 of paying a man $3,000 to kill Baskin, the founder of Big Cat Rescue. Exotic, whose real name is Joseph Maldonado-Passage, and Baskin has bad blood between them, as reported by People.
Kelci Saffery, who formerly worked in Exotic's Oklahoma zoo, said that he has a deep obsession with Baskin. "Carole was the first thing on his mind every morning and the last thing on his mind every night," Saffery said.
KILLING TIGERS
In 2017, Exotic was reported to have unlawfully killed at least five tigers in his zoo. Shooting aging tigers was a violation of the Endangered Species Act, as reported by People.
Exotic said his business to keep and "humanely euthanize" tigers inside his zoo did not bother people before. His way of handling the engendered species was heavily criticized by Baskin, an animal rights activist.
During his trial, he explained that in his 20 years as a zookeeper, he had buried more than 50 tigers at the back pasture. He said no one called him out about his ways before.
TURNING THE TABLES
His beef with Baskin getting worse, Exotic finally said one day that he's done with her. He wanted to move forward with his self-declared war with her, as reported by People.
"It's now time to turn the tables and Joe get out of jail a free man and exonerated from all these charges," Exotic said. He filed a federal lawsuit worth $94 million against government entities and his former business partner.
The seven-part docu-series garnered a lot of good feedback.
TAKING REVENGE
He filed the lawsuit last month. Exotic accused them of violating his civil rights, false arrest, and causing the death of his mother.
Aside from the lawsuit, Exotic wants to get out of prison to watch the documentary he was in. His husband, Dillion Passage, said he was thrilled of the fame he got from it, as reported by People.
The seven-part docu-series garnered a lot of good feedback. Exotic was said to be enjoying the celebrity-level of exposure, and now calls himself "Tiger King."
Exotic has gained a new perspective after being in jail for a year and a half. He has realized that he should be "ashamed" of the conditions of the animals he kept in his zoo.
Meanwhile, Hollywood legend Sylvester Stallone may become just a fan of the "Tiger King" documentary. He and the rest of the family glammed up in colorful costumes as they took delight in the show.
Please fill in your e-mail so we can share with you our top stories!