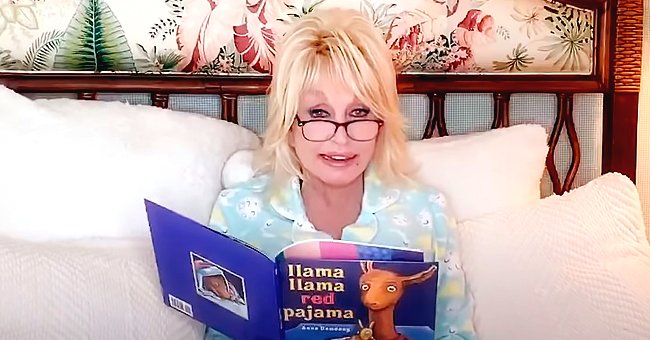 YouTube/Dolly Parton's Imagination Library
Dolly Parton Reads Bedtime Story for Children in a Video

Having dubbed herself "The Booklady," country legend Dolly Parton entertained with the reading of her 3rd bedtime story for children as a part of her "Good Night with Dolly" segments during the novel coronavirus pandemic.
On Thursday, Dolly Parton live-streamed a reading of the children's book "Llama Llama Red Pajama" by the author Anna Dewdney while cozy in bed.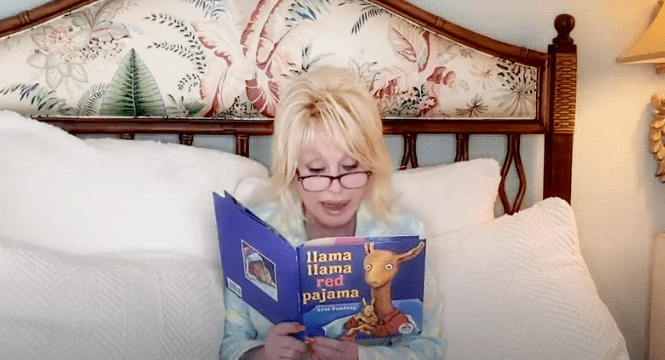 Dolly Parton reads the children's book "Llama Llama Red Pajama" as a part of her "Good Night with Dolly" segments. | Source: YouTube/ Dolly Parton's Imagination Library
"Hello! It's Dolly, the book lady, and I'm all comfy and cozy. How about you?" the 74-year-old told viewers with a smile before she started reading the 2005 book, which became a part of the long-running "Llama Llama" series.
Dolly's book choices for the segment, which she began with the classic children's book "The Little Engine That Could" comes from her Imagination Library charity.
To promote literacy, Dolly started the charity in 1995, which mails free books to households where there are children under the age of five.
Happy to have made her "Good Night with Dolly" segment a reality, the legendary singer previously said in a statement, "This is something I have been wanting to do for quite a while, but the timing never felt quite right. I think it is pretty clear that now is the time to share a story and to share some love."
Dolly also promised to read a new children's book every Thursday via live streaming at 7 pm ET/ 4 pm PT. But that is not all the legendary singer has been up to - she also joined the fight against the novel coronavirus.
On April 1, Dolly announced her donation of $1 million to aid coronavirus research in finding a cure at Nashville's Vanderbilt University.
Hoping that it would encourage others that are financially able to donate, Dolly said that her longtime friend, Dr. Naji Abumrad, informed her of their "exciting advancements" in working towards a cure.
However, it's not the country singer's only philanthropic efforts. In addition to her workings with the Imagination Library, she also heads up the Dollywood Foundation - which provides local high school students with scholarships and supports various charity organizations.
Dolly Parton had also been spreading positivity amid the novel coronavirus pandemic with a lighthearted song she made-up late last month.
Posting a video of the song on social media, where Dolly urged her fans to "keep the faith." Cheering up her followers, she sang about her "climbing the stairway to heaven" because COVID-19 "scared the H-E-L-L out of us."
Please fill in your e-mail so we can share with you our top stories!